We are excited to share our 2021 Product Roadmap to give our customers visibility into our development plans and priorities for the upcoming year.
First, we will continue our investment in our secure infrastructure, making monthly server updates, and taking on incremental improvements. We understand that our primary role is to process transactions, and to ensure customers receive their money on a timely and secure basis. We have a proud tradition to uphold with 0 downtime and 100% on time payments since 2015.
Second, we will continue to listen to our customers and their needs and adapt as we see opportunities to help our customers. This means our plans may shift and change – although we expect less of that than what happened in 2020! We expect to make 1,500 – 2,000 releases of our platform in 2021 – some related to the high level projects listed below and some that will just improve the usability or performance of the system.
There are 4 major buckets of development that our team will be working on in 2021:
Ticket Events
GiveSignup's purpose-built ticket platform for nonprofits already has a lot of advantages over Eventbrite. However, we have only just begun in terms of providing a wide set of tools that nonprofits commonly need. Here is a partial list of what is on deck in 2021:
Free Integrated Photos – Nonprofits can set this up to have assigned photographers taking pictures and uploading them into albums, or open up for attendees to also post their own photos easily from their phones (perfect for virtual and hybrid ticket events!).
Standalone Store – Today attendees can purchase additional items when they are buying a ticket, but in 2021 we will expand store capabilities to allow a standalone store featured on your ticket event website. This makes it easy to sell swag and items year-round, as well as sell items to supporters unable to attend the event.
Free Self-Serve Auction / Raffle – This will enable store items to be sold online in an auction type of format with real time escalating bids. We'll incrementally add features like invoicing and credit card auto-charge to offer robust and flexible payment options.
Fundraising – We provide easy donations during ticket purchase, and we will be adding the ability to create fundraising pages for supporters, as well as easy donations to those fundraisers. Our free and data-driven websites will let you display Top Fundraisers, Donation Goals, and calls to action across one or multiple websites.
Ticket Management – A variety of small features that will make it simpler to manage your tickets – importing, editing ticket holder information, copy, renew, etc.
Donations
Nonprofits continue to upgrade from PayPal to GiveSignup for donations. We will continue to add reporting functionality and features that help you grow donations in 2021.
E-Cards – In December we released the first version of Donation E-cards for donation websites that allow your donors to send a custom message to the person or family they are making a donation on behalf of. In the first quarter of 2021, we'll add more E-card functionality that allows your donors to select a card image.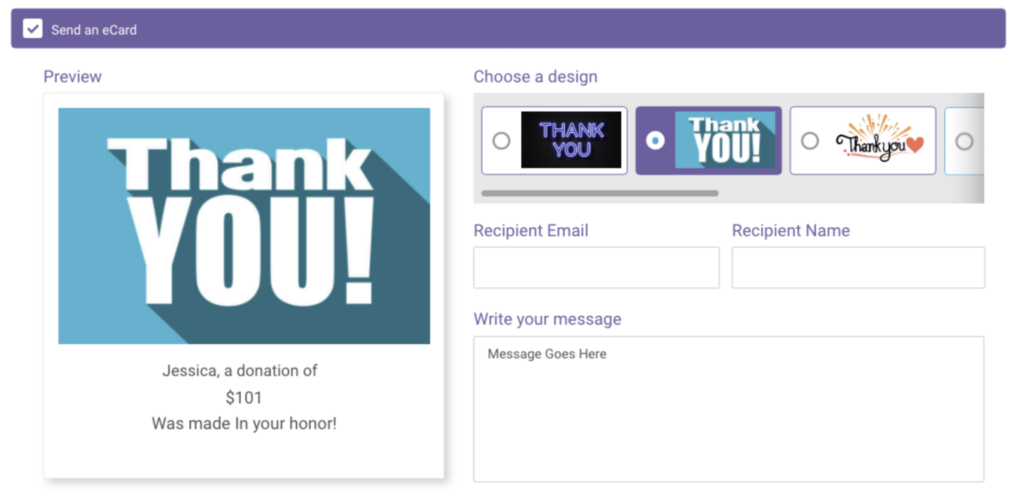 We will offer a variety of default cards, as well as the ability for you to create and upload your own E-card images. Here are a few of the designs coming in the first release: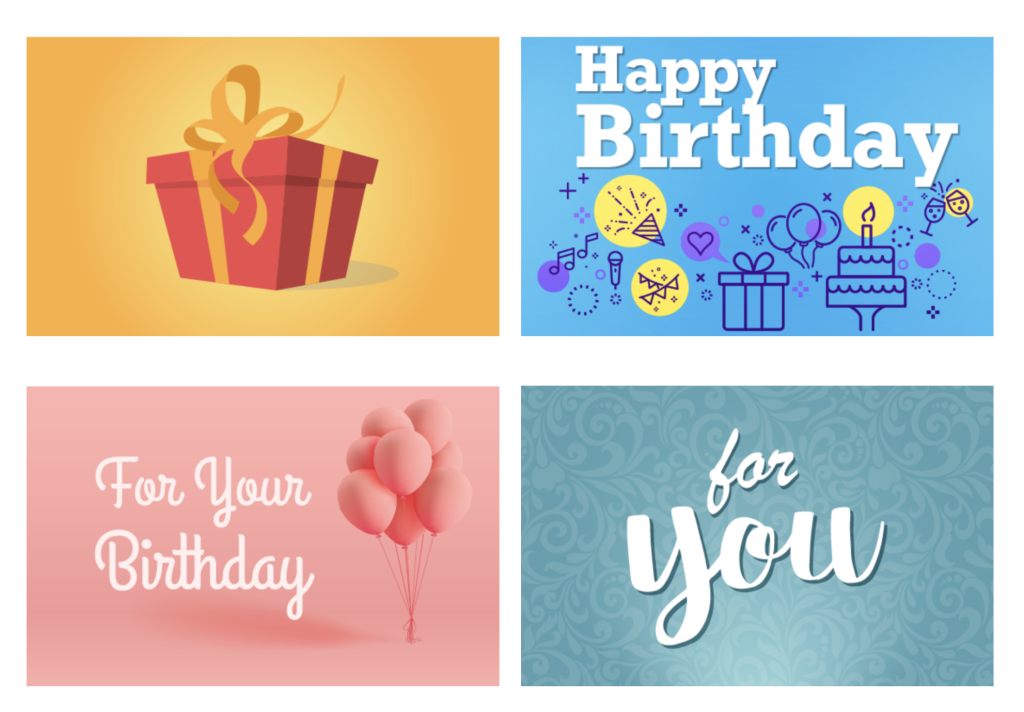 Text to Donate – We plan to add flexible text to donate options that allow your supporters to text DONATE to a short code. This saves time for donors because they don't have to type in a full URL or navigate to a website.
Notifications – We will continue to add customizable notifications for both donors and nonprofits, including donation summary notifications (nonprofit), custom notifications for recurring donations, and more.
Fundraising Campaigns
In 2020 GiveSignup introduced standalone fundraising campaigns. This gives nonprofits the flexibility to enable DIY fundraising and create campaigns (with the power of free Facebook Fundraiser integration) that aren't attached to events. In 2021 we will add more features and functionality to standalone fundraising campaigns.
Simple Fundraising Campaign Wizard – Similar to our new Donation Form Wizard, we will add another simple wizard to create one or multiple standalone fundraising campaigns (right now, you can create unlimited fundraising campaigns from your Donation Website dashboard). This makes it even easier for nonprofits to create one or multiple campaigns.
Campaign and Fundraiser Slideshows – We will bring the popular fundraiser slideshows from run/walk/rides over to the new standalone fundraising campaigns. In addition to allowing fundraisers to upload their own photos and images on their pages, nonprofits will also be able to add slideshows to campaign pages: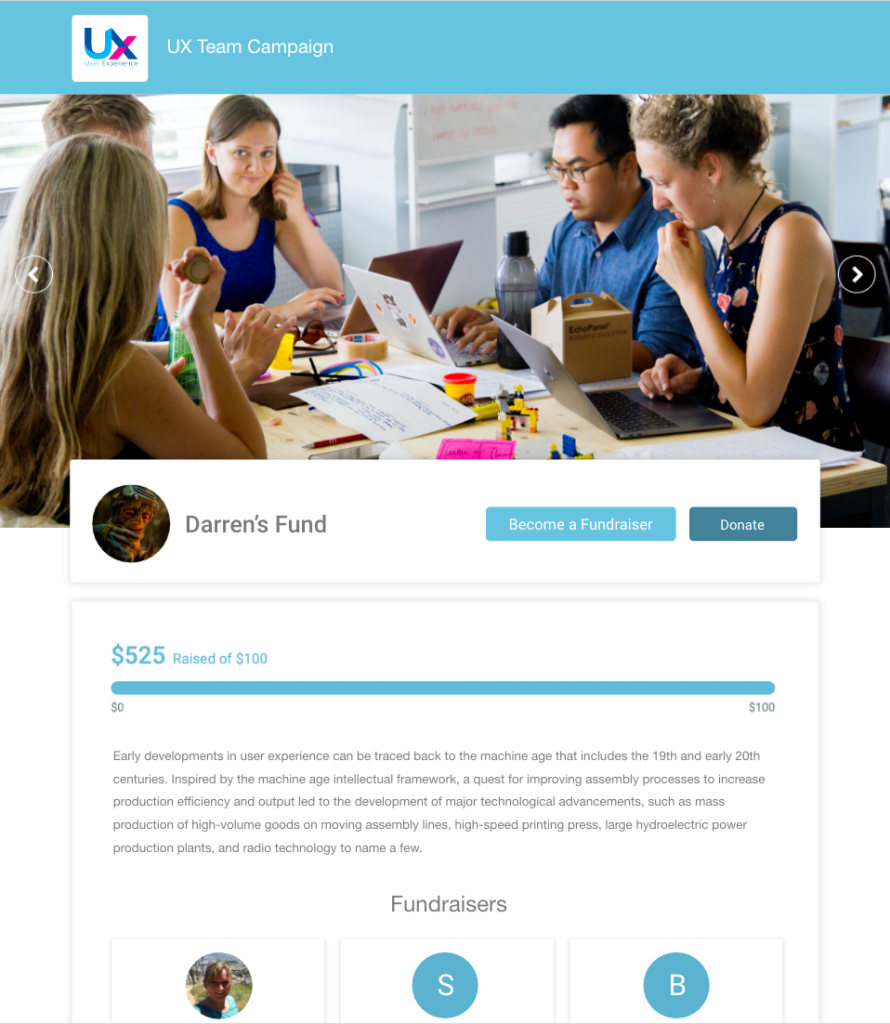 Notifications – We will add additional customizable notifications to fundraising campaigns, including donation summary notifications (nonprofit) and fundraiser notifications.
Milestones and Milestone Notifications – We created a next generation of milestones and notifications for virtual challenges in 2020. We will bring over these new milestone and notification features to standalone fundraising campaigns.
Run/Walk/Ride
The large increase in new nonprofit customers in 2020 was driven by virtual events and virtual challenge fundraising campaigns. 2021 will be the year of hybrid events – you can keep updated on the latest tips and features for a successful hybrid event here: https://www.givesignup.org/hybrid.
Many nonprofits host run, walks, rides, and other events that require registration but are untimed and focused on fundraising. In 2021, you will notice updates to change the word "Race" to "Event" when you use the GiveSignup URL. The Wizard has already been updated from Race Wizard to Event Wizard when you create a run/walk/ride from GiveSignup.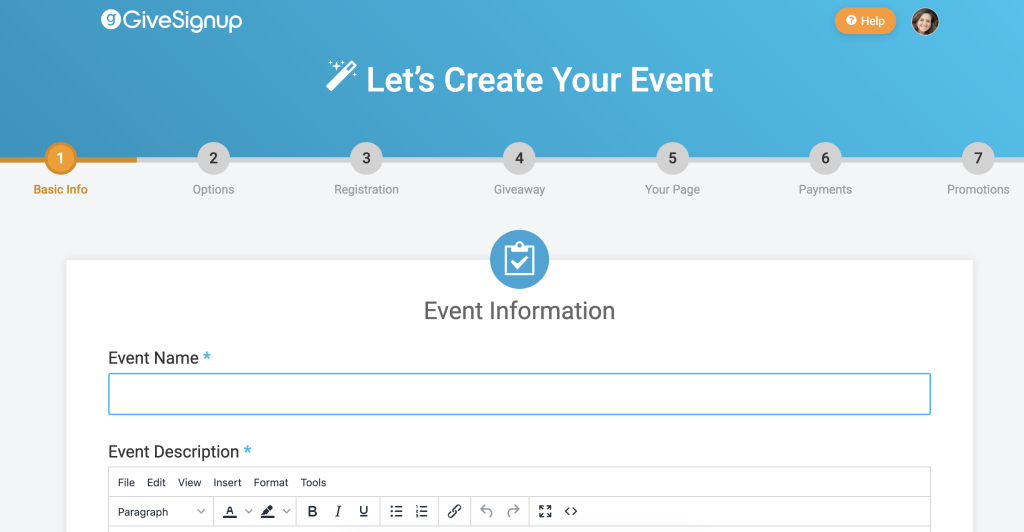 Subsequent updates will focus on changing "Race" to "Event" in the following places:
URLs
Participant-facing pages
Dashboard pages
Financials
The last time we did a major upgrade of the financial system was in 2015. At that time, we became a Payment Facilitator, which has been a major reason why customers select GiveSignup | RunSignup. We are able to leverage our unique payment facilitator platform to keep costs low for customers and provide new features and capabilities. Integrated payments let us deliver fast payment processing, fully integrated and reliable financial reporting (that your CFO will love), low cost processing fees, free refunds, referral rewards, and more.
We are doing a pretty complete overhaul of how we process transactions from how we onboard new customers to how a transaction is processed to the reporting of those transactions. This upgrade has already begun, with some work already occurring below the surface – like how we can choose the payment processing engine we send the transaction to, and some that are above the surface like a partly upgraded Payment Account dashboard page.
The key to the upgrade will be supporting new payment engines from Adyen and Payroc. There are many improvements that will come from this change, but the two most important are better supporting split payments and the ability to failover if one payment processor is down.
Transaction splitting will unlock several applications. For example, multi-race bundles will be able to split the money between two or more separate organizations. A common use case is that three race organizations may create a bundle where participants can sign up for 3 races at once and get a 10% discount. We will be able to split that transactions into the respective payment accounts.
Failover is a goal we also have. The idea is if your transactions are being processed on Adyen and their service is not available for whatever reason, we can process the transaction on Payroc. While we have been fortunate that our current vendor has not really had issues of availability, this will make our system just that much more robust.
As we make the move to the new payment processors, we are also updating our underwriting process where we look at new customers to ensure they are legitimate organizations and eliminate fraud for our entire community. We also hope to make the onboarding process better for users and reduce potential fraud.
We will be doing a number of updates to financial reporting to make things easier to understand, and for CFO's to reconcile their revenue as accurately and quickly as possible.
There are 2 additional updates that will add greater power and functionality for nonprofits:
Controlled DIY for NonProfits – We will be giving nonprofits a real alternative to GoFundMe this year. Right now, your supporters will use GoFundMe to do their own local programs to benefit your nonprofit. With GiveSignup, we will give you the ability to allow them to do that under your umbrella. So you will get immediate access to all of the supporter data since it is all on your platform. In addition, you can control the flow of funds with either all funds coming directly to the nonprofit, or doing a split of payments so your supporters can cover their costs if they are putting on an event.
Fiscal Sponsors – We are currently working on a set of reports and tools for Fiscal Sponsors. This will allow a Fiscal Sponsor to manage hundreds of small organizations with a full toolkit – simple Donation Forms, complete Donation Websites, Fundraising Campaigns, Ticket Events and Run/Walk/Ride capabilities. And the financial reporting will all be consolidated and simple for the fiscal sponsor and their organizations to work with.
Finally, we are making updates to our back end processes to increase efficiency in our finance organization and position ourselves to handle over $1 Billion of transactions per year for our customers.
We expect this project to gradually roll out and be mostly available by the spring.
Content Management
GiveSignup offers powerful website features for Nonprofit Tickets, Donation Websites and Fundraising campaigns with free hosting, BYO URL, free SSL, highly customizable cover pages with dynamic data components like fundraising goals. In 2021 we will be rolling out fuller content management capabilities similar to what we provide on RunSignup race websites.
This will allow nonprofits to create content, pages, menus and order them in any way they would like. In other words – a full website! With the advantage of being completely free and fully integrated with your real time data like fundraiser pages and donation totals and donor lists. We will be doing this with a new, integrated method rather than the somewhat disjointed one used in Races. Here is a design preview of what we are working towards: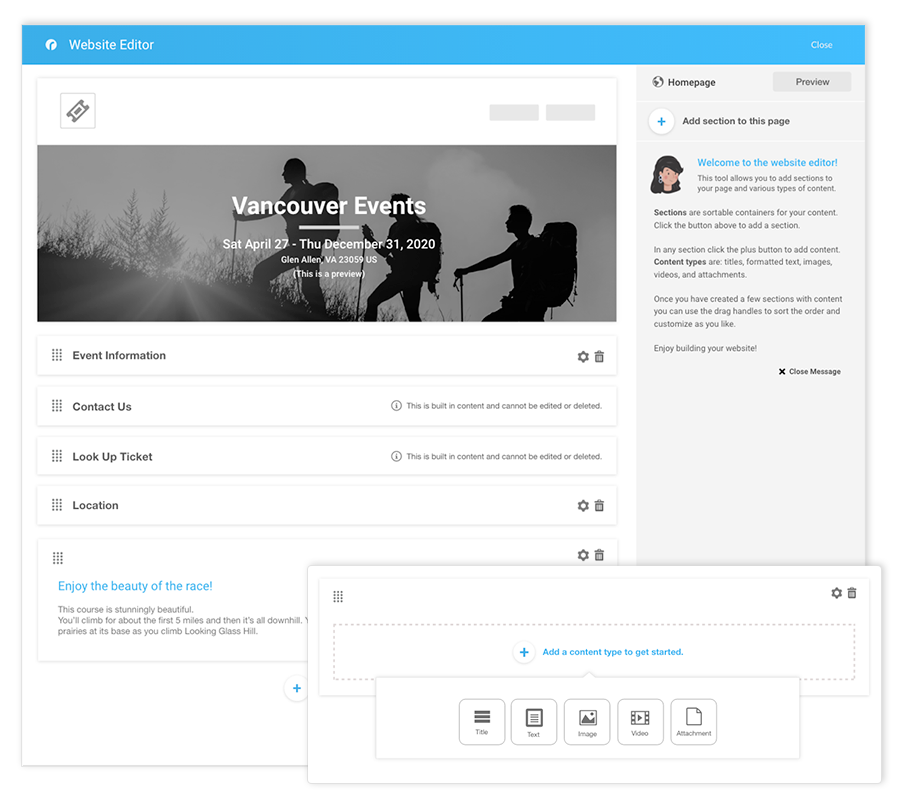 Supporter Engagement
We are going to roll out this term in 2021 – Supporter Engagement Platform. We have built systems to engage many types of supporters – participants, donors, fundraisers, sponsors, volunteers, members, spectators, attendees, and more. And we have a variety of tools that engage your supporters like free photos, results, engaging websites, and email. And we help you manage your supporters, from race day tools to volunteer shift management to sponsor visibility analytics and invoicing.
We are introducing this graphic to explain our overall platform – with the type of supporters on the outer edge interacting via our tools into a common database where you own the data and it is open via reports or API to integrate with other CRM and donor management systems.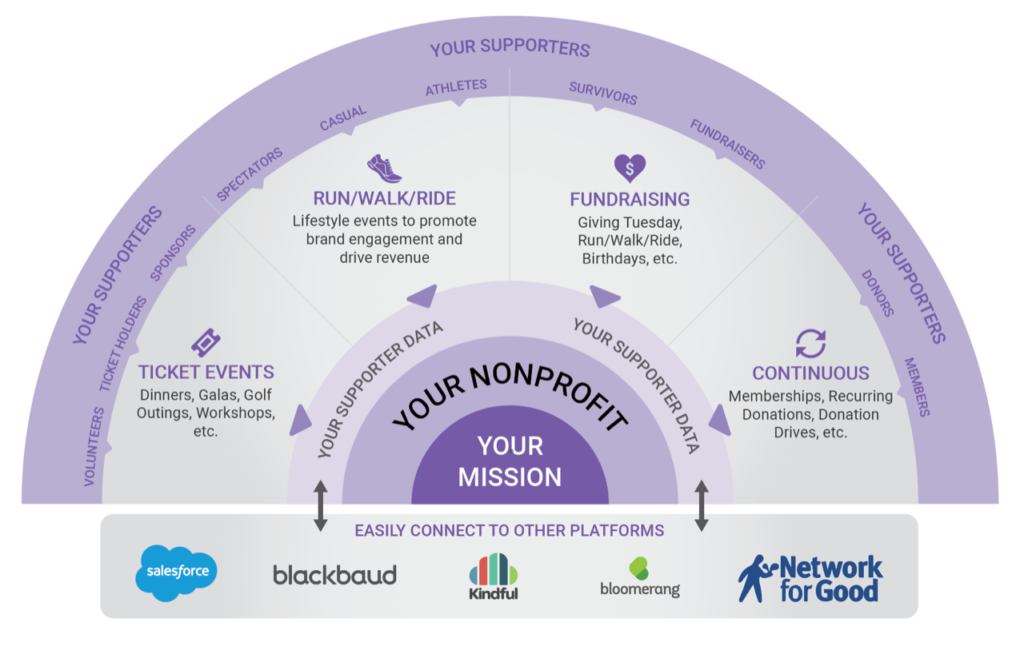 We are building a new set of capabilities that will give you a Single Supporter View. Many organizations struggle with figuring out that one person may be coming to their gala, participating in their half marathon, making a donation, and volunteering at the open house.
The initial piece is an advanced supporter consolidation algorithm that leverages our entire database to match to a single supporter. Security is built in so each organization can see the data for that supporter's engagement in with that organization. We create over a dozen hashes (an anonymous alphanumeric) from each user in our system. For example, one hash might be based on first name, last name and email. Another might be based on email and physical address. We then look for matches of the hashes to match various users in the system into a single supporter view.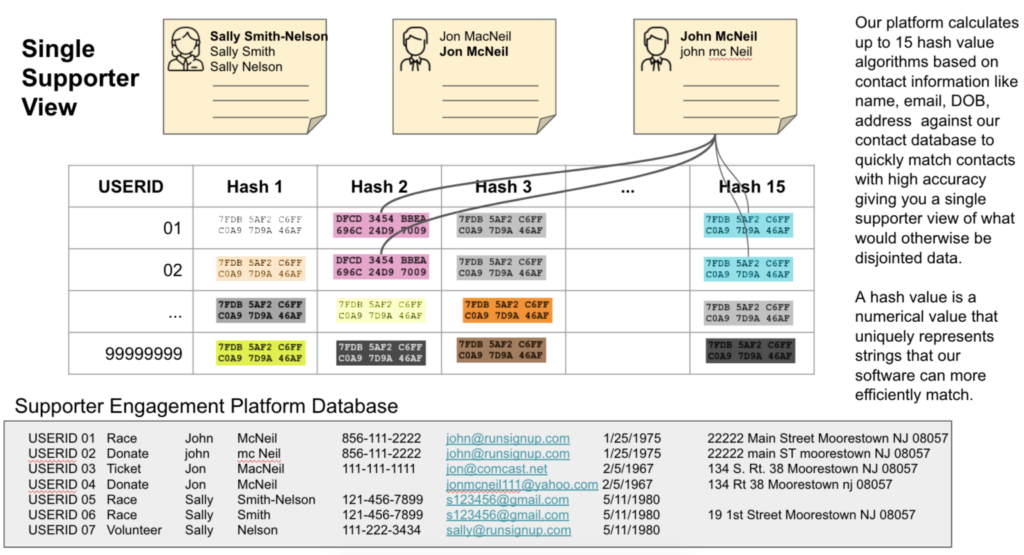 The advantage of this method is that it keeps information private, secure and separate from any particular organization's view. And it allows us to use our entire user base. For example if Bob signed up for a race and made a donation for one organization, none of the hashes might match. But Bob's registration might match another organization's hash of Bob and then that other organization might have another hash that matches the first organization's hash of the donation Bob made. Using the whole database improves the matching algorithm because of the tens of millions of user engagements across tens of thousands of organizations. Genius technology, but it is simple for you – you just see that Single Supporter View.
This results in a single consolidated view of the various engagement methods of that supporter: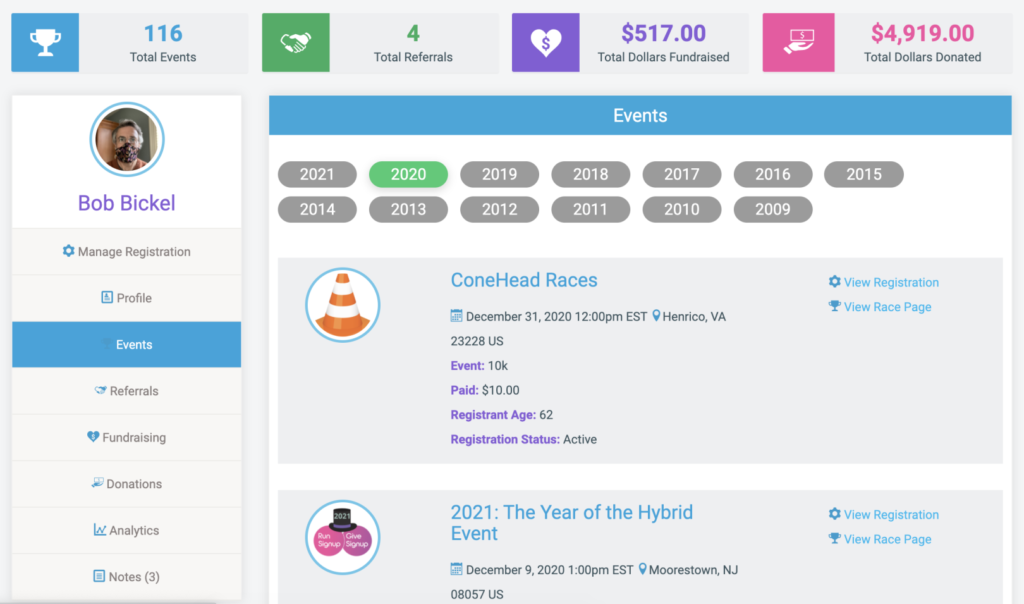 Once we have the that Single Supporter View project done (Q1-Q2 in 2021), we will begin to build Supporter Filters. These will enable your organization to build dynamic custom lists based on supporter types. For example, you will be able to see supporters who participated in more than 3 events, came to more than 2 ticket events, and donated more than $100. You will be able to build lists for any combination of attributes. Eventually over 200 filter options will be supported.
Once you have lists, you will likely want to send those people an email. While we have a very complete email marketing system that we offer for free to our customers today (and that they use to send 25 million emails a month), we will be creating a next generation email system. It will be tightly integrated with the new Supporter Engagement Lists – so it will be easy to send custom emails to any combination of your various Supporter Lists. We will also be upgrading all reports in the system to include an email option, as well as adding new email templates.
This email system will start simply and gain functionality over the next two years to be a superset of what we offer today in our email marketing system.
Summary
We look forward to getting back to a more normal and planned development schedule. We have grown the team, with Bruce Kratz joining us as our VP of Development (a major upgrade over Bob doing it…), as well as Rich Sbarro, Joel Peterson, and Justus Fee. We also have another two developers joining us in early 2021. Our team continues to get better and grow so we can create more great technology to help our customers. And we love it.