Technology for Cycling Events…
GiveSignup makes raising more easy with integrated donations and peer to peer fundraising. But we're also here with free technology to help you manage your Cycling event from promotion to Event Day.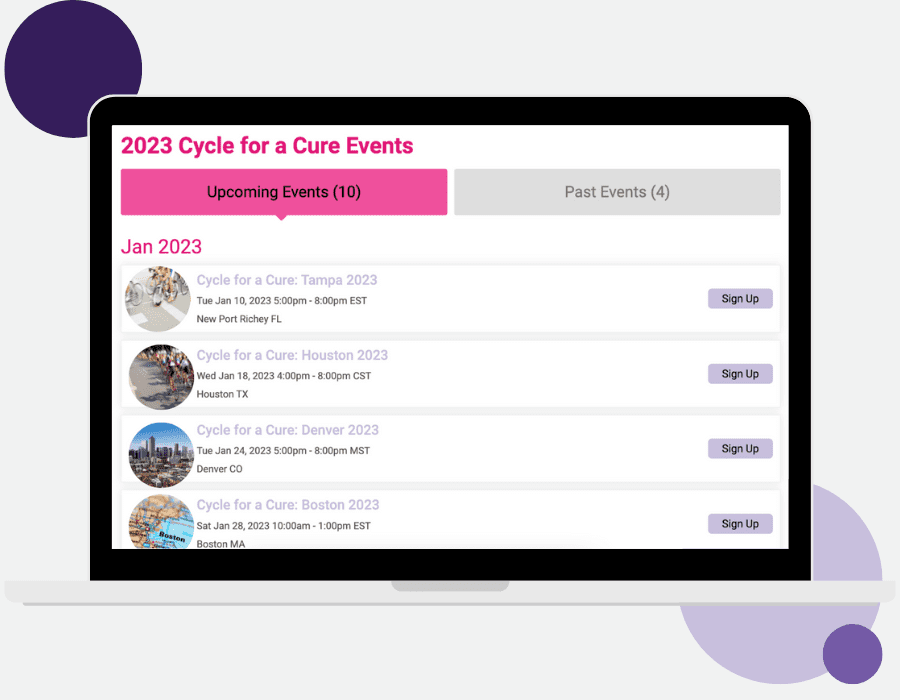 Regional and National Cycling Events
Keep all of your regional or national cycling events on one platform. GiveSignup gives you centralized reporting and email marketing across all of your events. Create websites for each event location's registration and fundraising, with location-specific FAQs, content, and photos. We make it fast to copy websites and get all of your locations set up. Feature all locations in a dynamic event list that automatically updates so that your websites always show correct information.
Key Features for Cycling Events
EventDay Tools
On-site logistics are key for any cycling event. Make the experience seamless with the GiveSignup's EventDay Suite, including:
Bib Management with flexible options to assign your bibs at registration, import your bib numbers, or allow for dynamic bib assignment on-site
On-Site Registration makes it simple maximize participation with a streamlined process for race day registrations
EventDay CheckIn App eliminates lines and ensures speedy check-in of all your participants and volunteers; display fundraising data to personalize the EventDay experience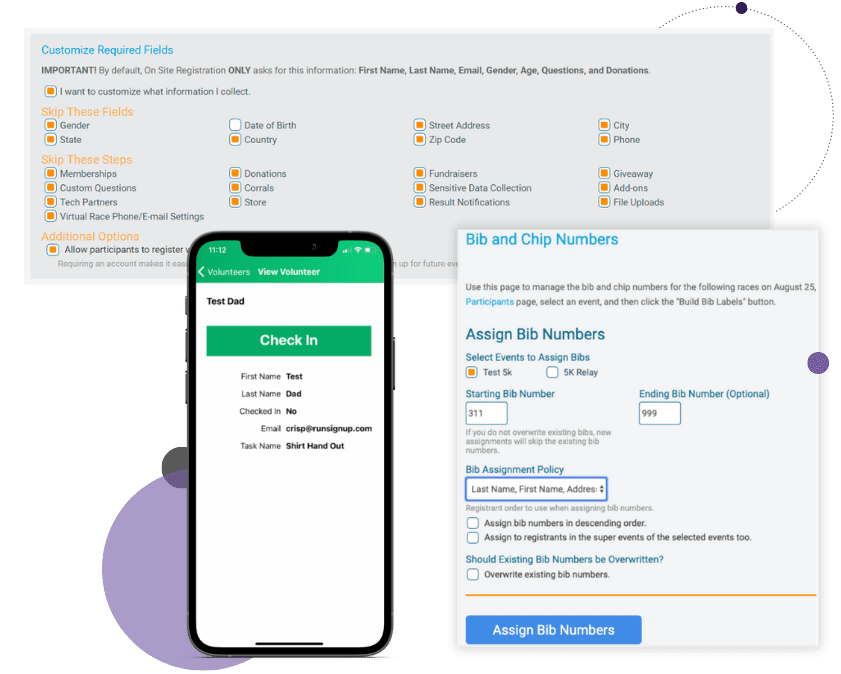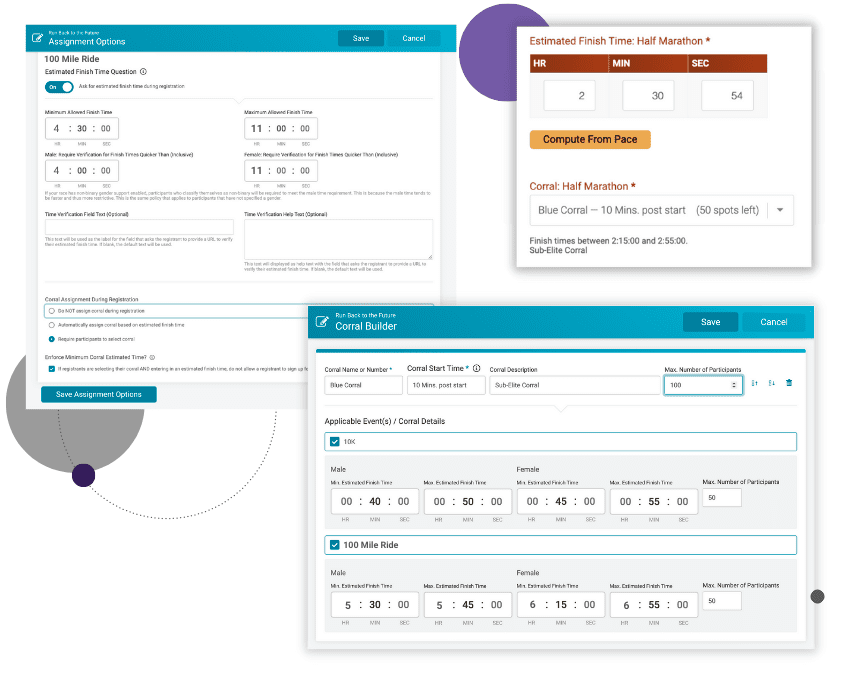 Corral/Wave Management
Easily handle multiple waves and different start times with a built-in corral management tool. This includes:
A Corral Size Estimation Tool and Corral Time Builder to help you define the best parameters for your event
The ability to assign corrals during registration, wait to assign corrals later, or allow participants to choose their corral
Smart time entry with the ability to require a verification link and minimum time requirements for participants choosing their own corral
Donations and Fundraising
Raise more for your cause with integrated donations and the ability to engage participants as fundraisers.
Enable donation options with customizable donation levels and simple checkboxes at checkout
Activate fundraisers with personalized fundraising pages and access to email templates
Harness the power of social connections with team fundraisers that work together towards a common goal
Gamify your fundraising with automated fundraiser leaderboards, digital trophy cases, and refund rewards for meeting specific donation thresholds
Opt to require a minimum fundraising amount for participants (or not) and auto-charge the difference based on your parameters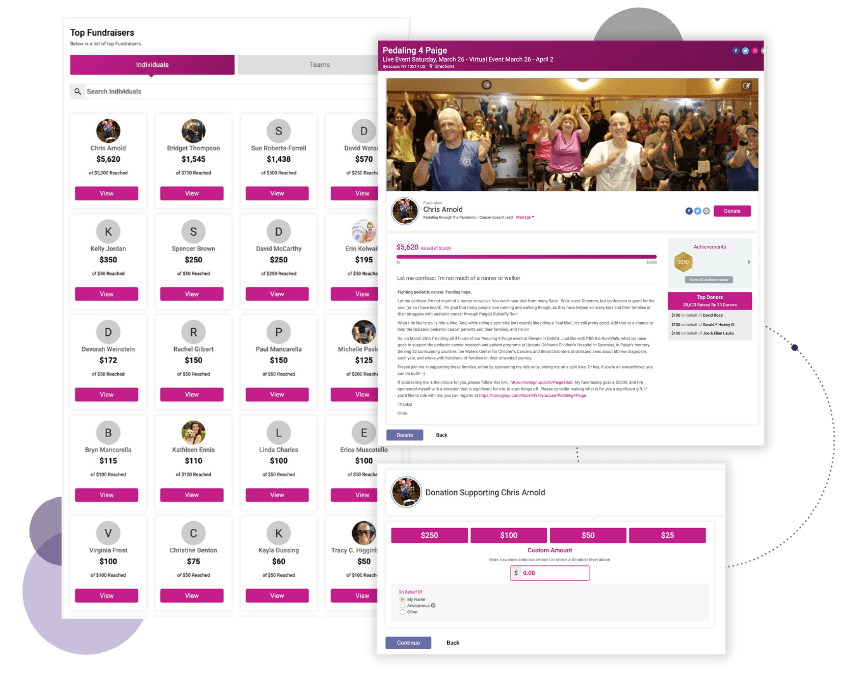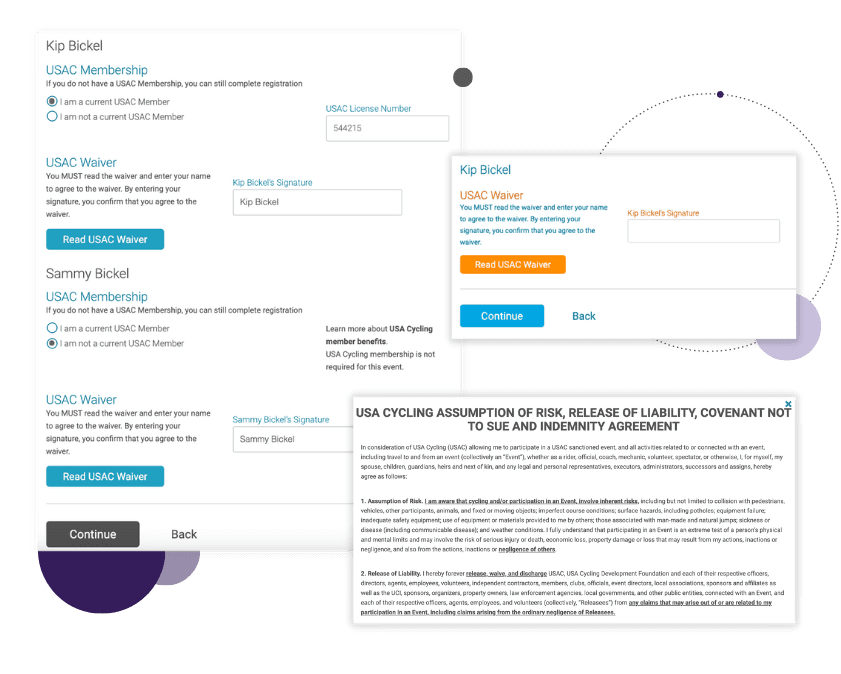 USAC Waiver and Membership Support
If your event is sanctioned by USA Cycling, we make it easy for you to comply with USAC requirements for waiver signature and member number collection and validation. This is for cycling and gravel events using USAC for insurance purposes (USAC has an exclusive contract with BikeReg for competitive, categorized USAC races). Features includes:
Enable or disable the requirement for each participant to validate their membership
Member validation is done in real-time based on the latest download of member information that USAC has given to us
Automated inclusion of the USAC Waiver with required acknowledgement that the participant has read the waiver
Easy to download reporting to show USAC member numbers as well as whether they signed the USAC and Race Waivers
More Technology for Cycling Events…
Looking for something else? Here are a few other features that make life easier for triathlons.
Customer Spotlight
Pedal Event Fundraisers
Pedal event fundraisers are a fun and creative way to bring supporters together for an indoor cycling event that can easily offer both in-person and virtual options. With GiveSignup's free tools including free Email Marketing, free websites, and integrated fundraising and donations, nonprofits can raise more and engage supporters with a unique and creative pedal fundraising event.
Pedaling 4 Paige

Peleton 4 Parkinsons

Pedal With Purpose