Technology for Kids Events…
GiveSignup's free event software is perfect for kids events. We make it easy for parents to register their kids, and for nonprofits to organize kids' events:
Key Features for Kids Events
COPPA Data Protections
GiveSignup's policies around registrations for kids events are designed with the Children's Online Privacy Protection Rule ("COPPA") in mind, particularly for those under 13.
Anyone registering a minor under 18 must confirm that they are the parent or guardian of the child in question.
Children's profiles on GiveSignup are created as sub-accounts of the parent's profile, ensuring that the parent receives all event communications.
Publicly available information about children under 13 is limited, with names in results & participant searches truncated to first initial and last name, and additional identifying information like a street address withheld.
Photo uploads are prohibited by any profile that indicates the user is under 18.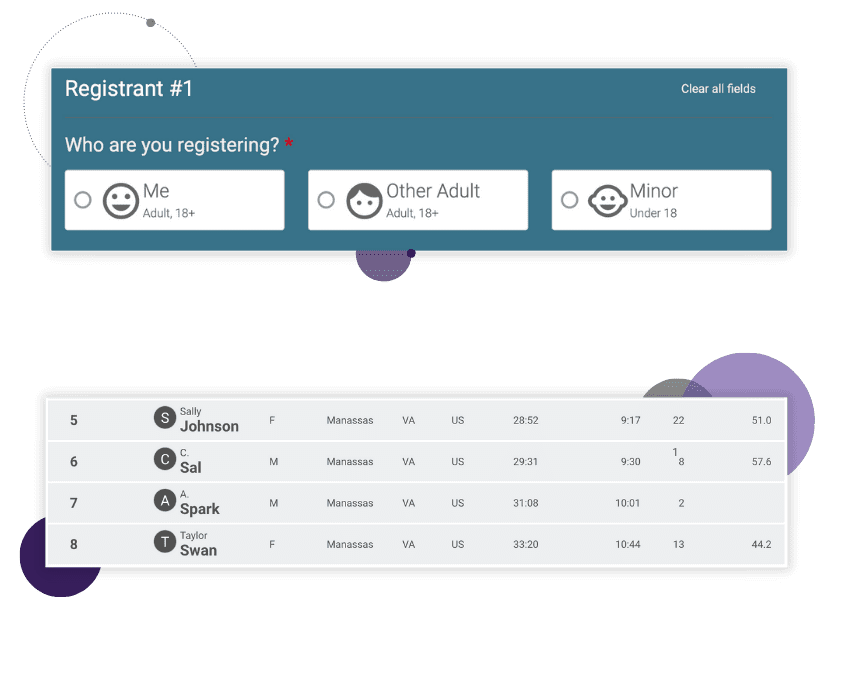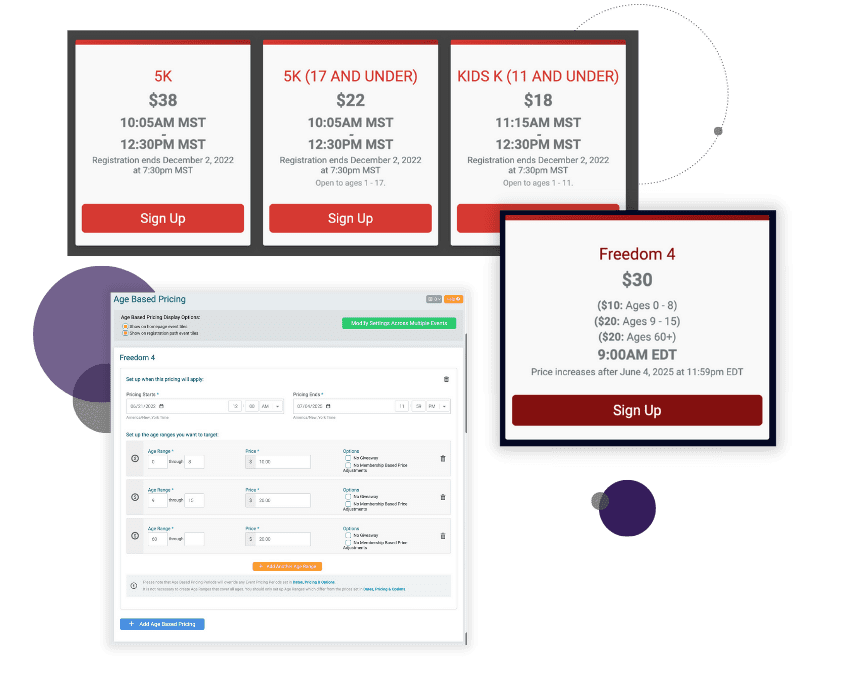 Age-Based Pricing
Pricing is your strongest call to action. Implement age-based pricing to give young participants a break – and make it easy for parents to recognize the deal they're getting.
Age-based pricing is automatically implemented, with the discount given based on the age of the participant in the profile. No issues with "oops, I forgot to enter my coupon code later"!
Display the age-based pricing directly on your event tiles to make it clear that kids can save.
Make all your events kids events with family-friendly pricing that makes it viable for parents and kids to both run your event.
Flexible Waivers & Information Collection
Collect all the information you need to ensure your kids event is safe and adult information is accessible
Require multiple waivers when multiple parties need specific waivers (such as the event management organization and the school that it sponsors)
Ask for additional emergency contact information for each child who registers
Use custom questions to record additional details about specific needs of each child.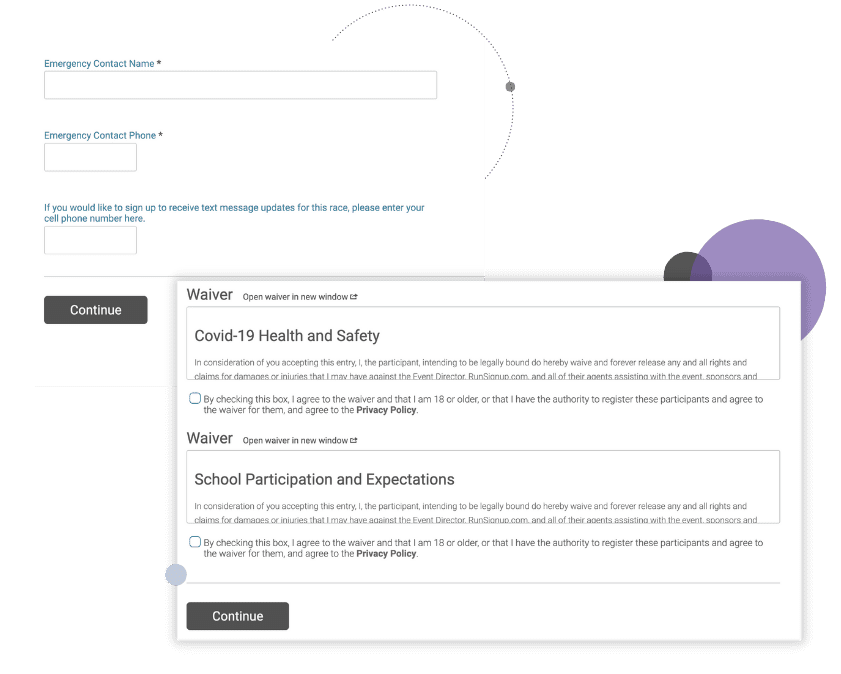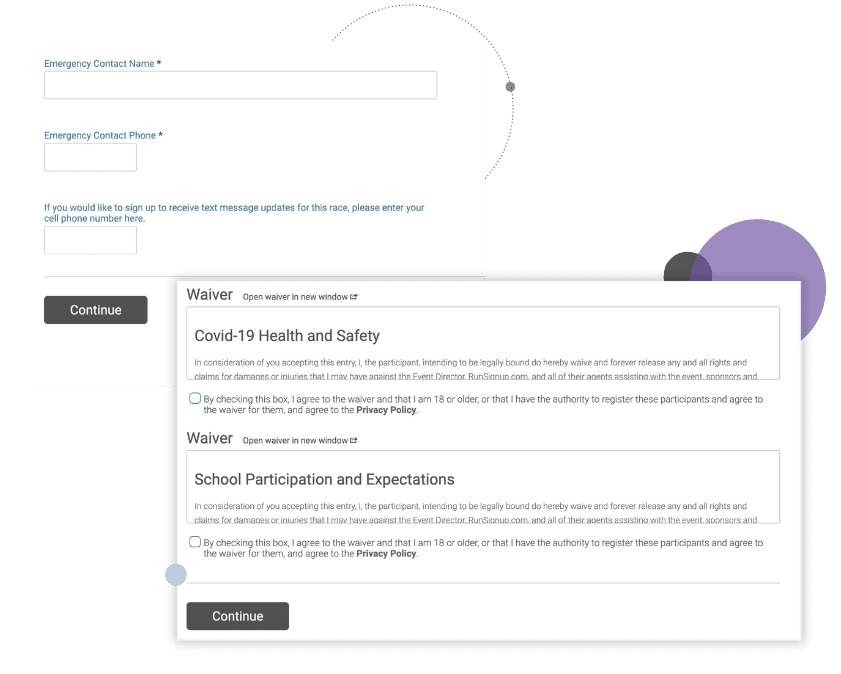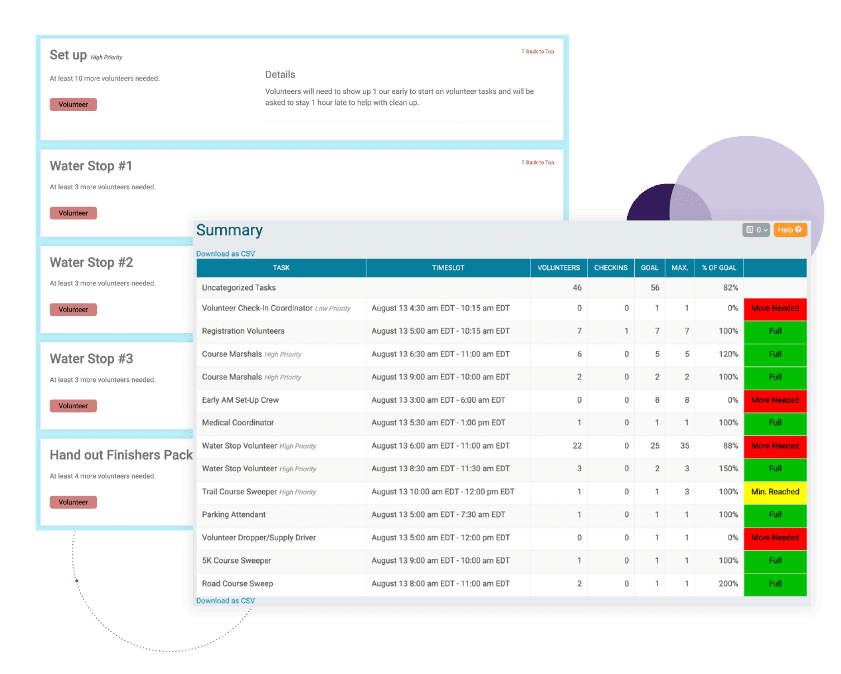 Volunteer Platform
Keep your kids race fully staffed with a volunteer platform built directly into your race dashboard.
Organize your volunteer needs with individual volunteer tasks, timeslots groupings of tasks into categories, and dedicated volunteer and task coordinators
Optimize your assignments with minimum and maximum numbers of volunteers needed
Add custom questions with information and waivers from your volunteers
Easily communicate through free email and automated volunteer lists (and sub-lists by task or category)
Take advantage of vouchers to offer your volunteers discounted entry into future events
Customer Spotlight
Seaside School Foundation
The 20th annual Seaside School Half Marathon + 5K is back in person this year with a hybrid event to raise money for the Seaside School, Inc., one of the oldest public charter schools in the state of Florida. The race weekend kicks off with an unofficial pre-party: Taste of the Race, a dinner that features the top chefs and restaurants from the Gulf Coast.
10% Increased donations

500 Dinner Gala Attendees

3,000 Participants