The Seaside School Foundation uses GiveSignup to host a half marathon and 5k peer to peer fundraising event and a dinner gala ticket event. This year, their event has grown to more than 3,000 participants and more than 500 dinner gala attendees. By hosting their ticket event on GiveSignup's purpose-built ticketing platform and asking dinner gala attendees to make an optional donation, they increased donations by more than 10% and saved money with GiveSignup's free and unlimited Email Marketing.
The 20th annual Seaside School Half Marathon + 5K is back in person this year with a hybrid event to raise money for the Seaside School, Inc., one of the oldest public charter schools in the state of Florida. The race weekend kicks off with an unofficial pre-party: Taste of the Race, a dinner that features the top chefs and restaurants from the Gulf Coast.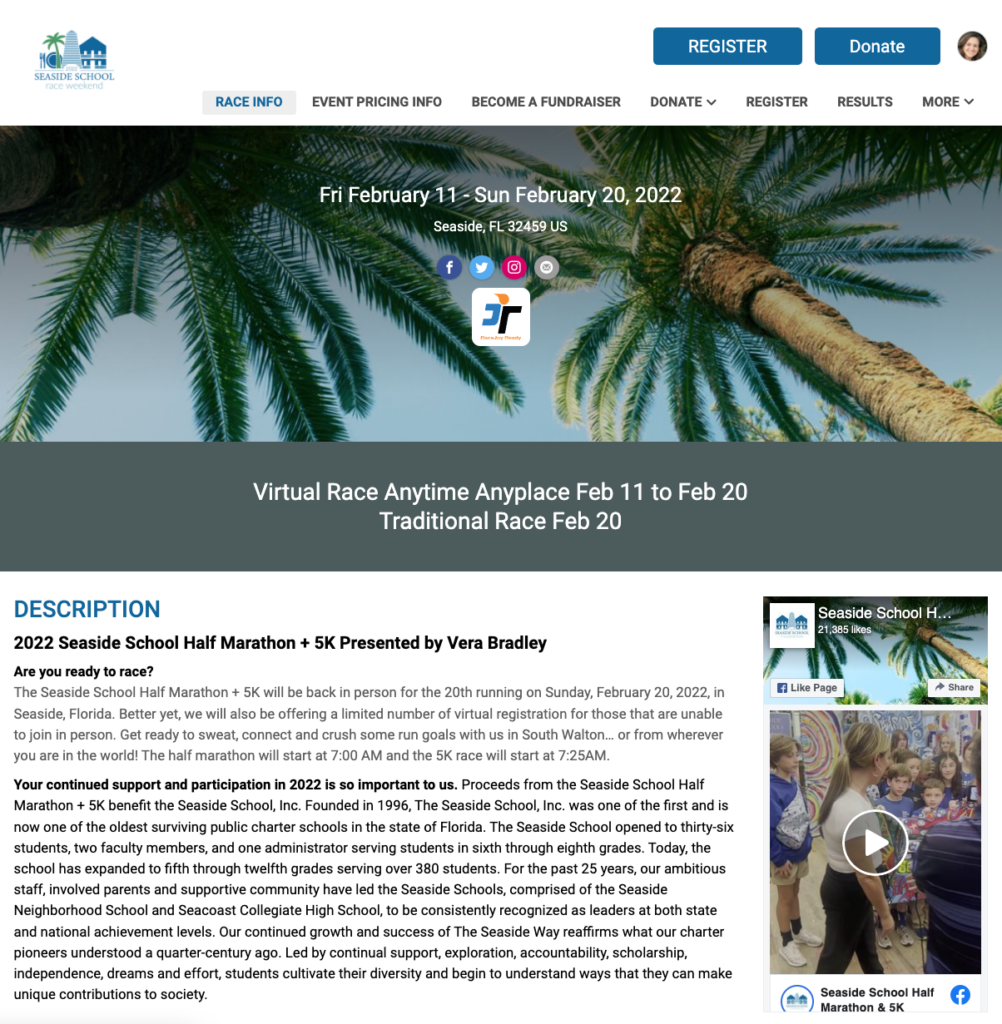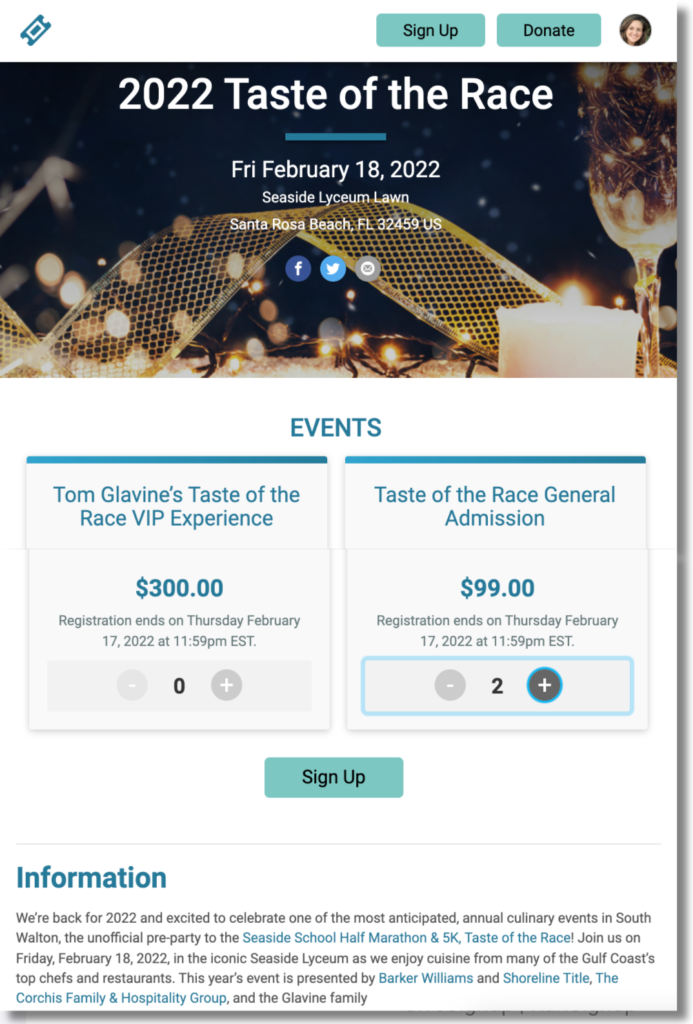 The Seaside School Foundation has used GiveSignup for registration for their half marathon and 5k since 2016. With GiveSignup's purpose-built ticketing platform, they're now able to have both events on the same platform. This makes it easy to have all money raised go to a single payment account with easy to reconcile financial reporting. They're also able to leverage GiveSignup's free features across all of their events to raise more money and engage their supporters.
Integrated Donations and Fundraising
The Seaside School Half Marathon + 5k is a peer to peer fundraising event that gives participants the option to donate and/or create a fundraising page when they sign up for the event. While GiveSignup has features to require fundraising minimums and autocharge credit cards for unmet minimums, some nonprofits like the Seaside School want a light-weight and optional fundraising solution – and GiveSignup has the features for that too!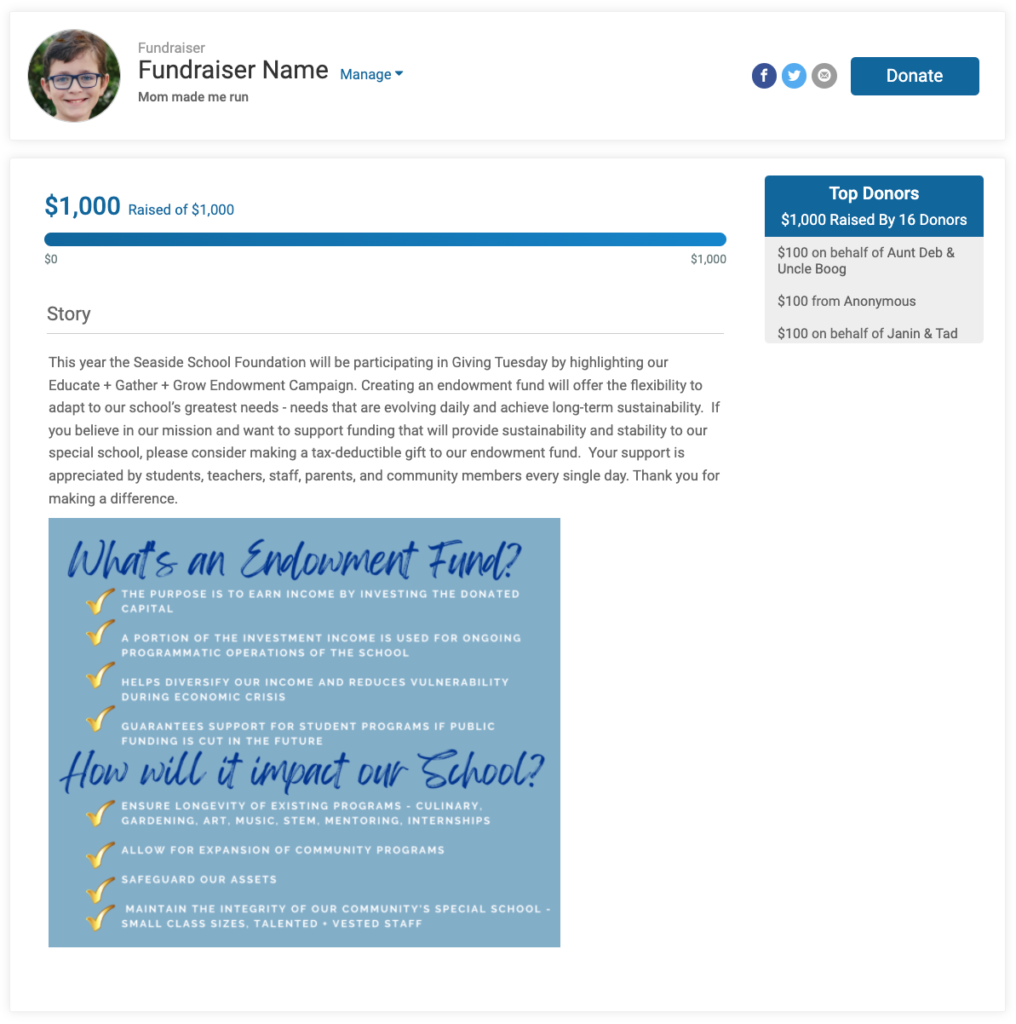 Seaside School Foundation grew their donations by more than 10% because GiveSignup's purpose-built ticket platform allows them to ask attendees to make an optional donation.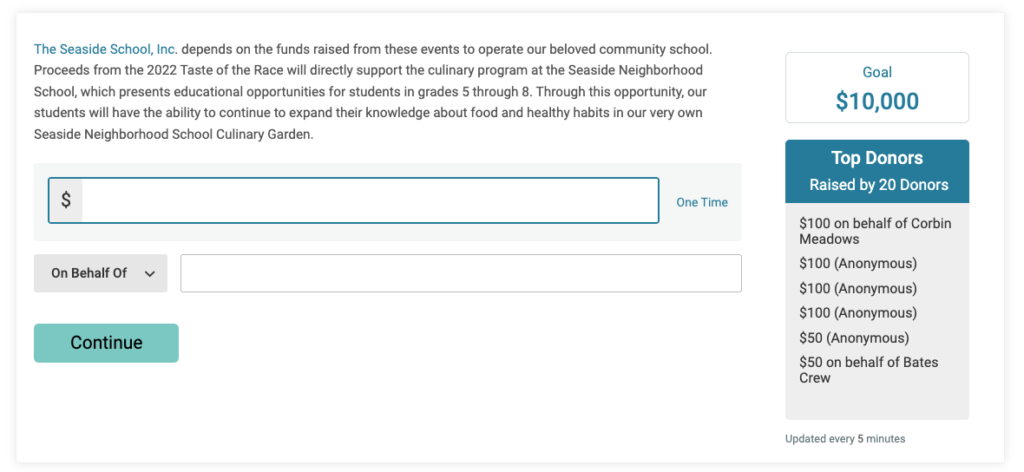 Free Email Marketing
Seaside School Foundation uses GiveSignup's free Email Marketing to send both marketing and event communication emails to thousands of participants, attendees, donors, fundraisers, sponsors, and volunteers. With data replacement tags and list segmentation, they're able to promote discounts to key groups, send Event Day information like Bib Numbers and QR codes for fast CheckIn, and thank donors and fundraisers for their support. They also upload custom contacts to ensure key marketing emails reach their entire supporter network – with GiveSignup, there are no limits to the number of contacts you can upload or emails that you can send!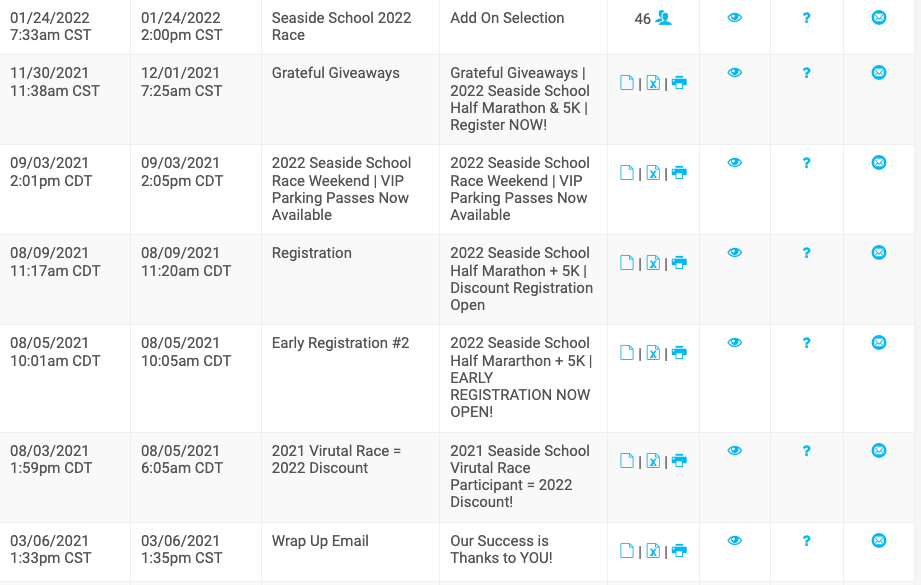 With GiveSignup next-generation Email Marketing, the Seaside School Foundation has even more power, with options to send emails across ALL contacts (i.e. participants AND ticket attendees from ALL events) from a purpose-built Email Marketing Dashboard.
Information Collection
The Seaside School Foundation uses questions to collect additional information that helps them to better understand their supporters and determine how to spend their marketing budget.
GiveSignup makes it easy to add and ask questions in peer to peer fundraising events and ticket events with flexible question types, displays, and customizations.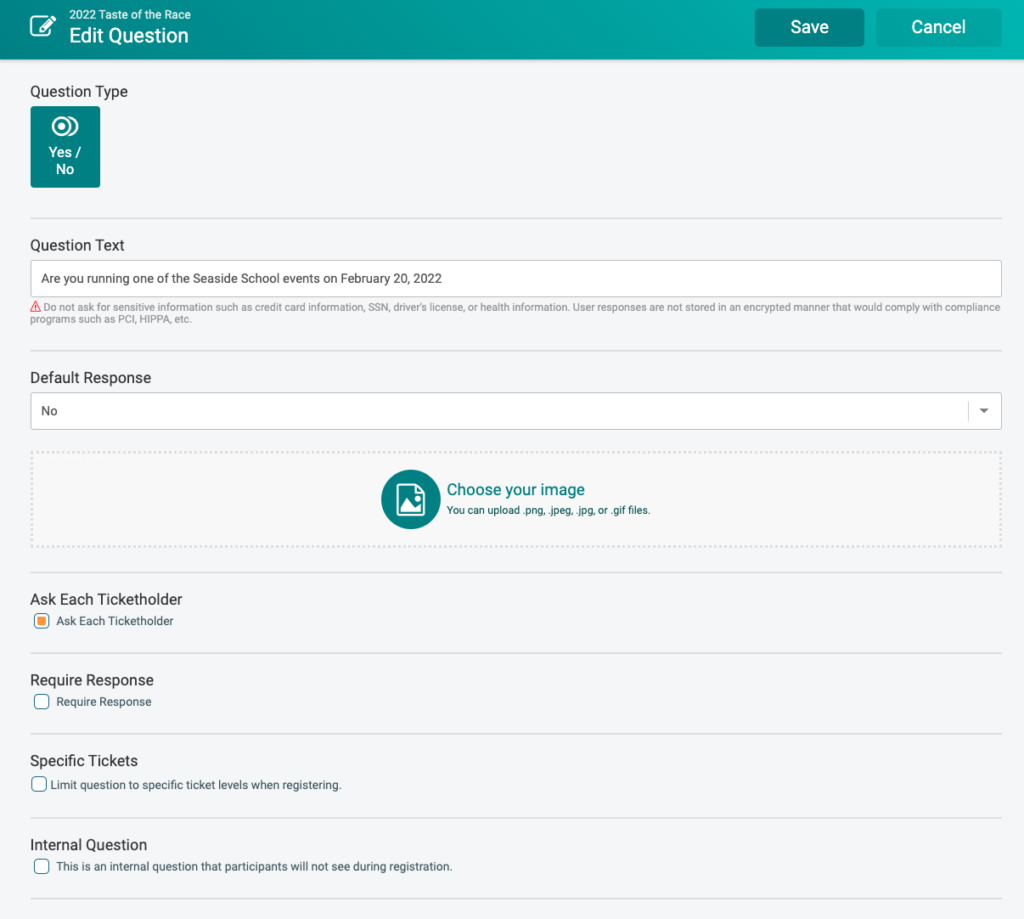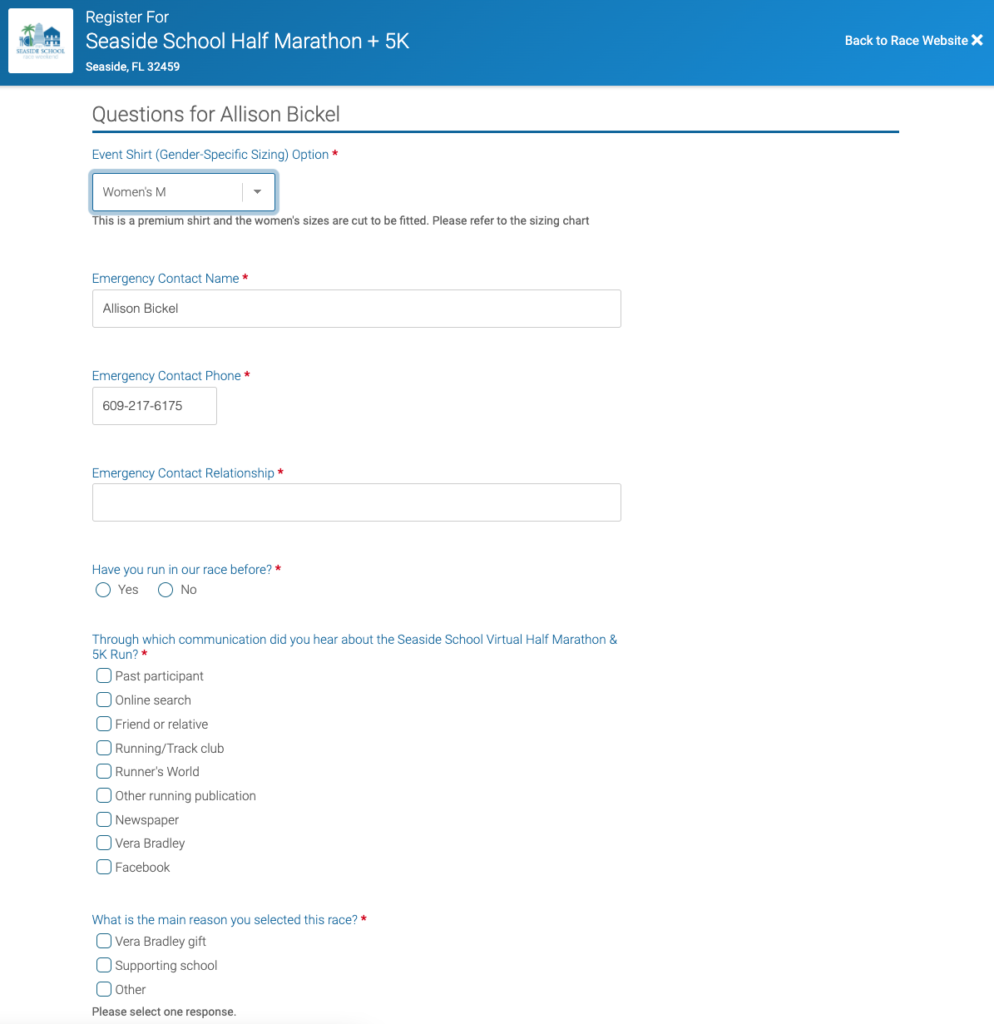 Responses per participant or attendee are easily viewed in reports. Seaside School Foundation can also get quick summary statistics from the real-time dashboard.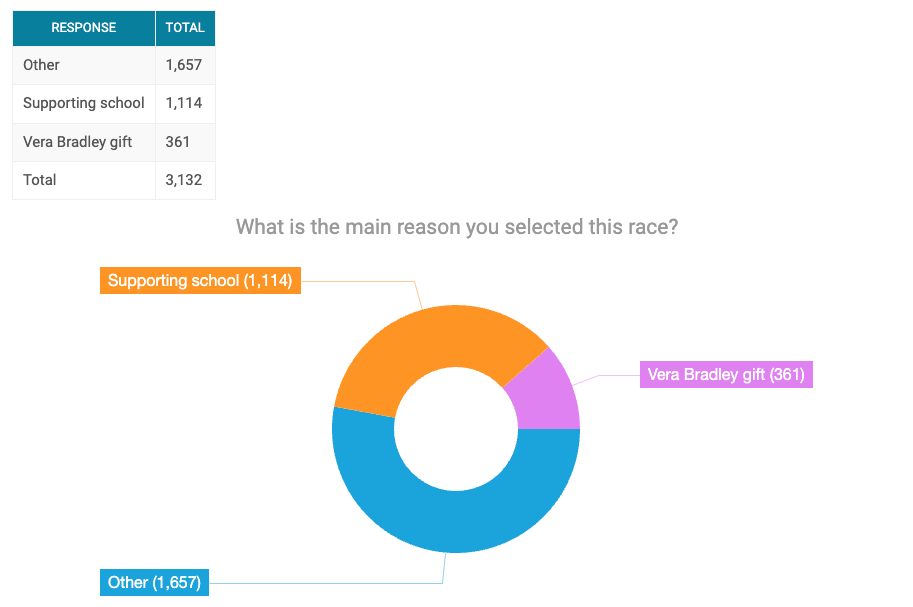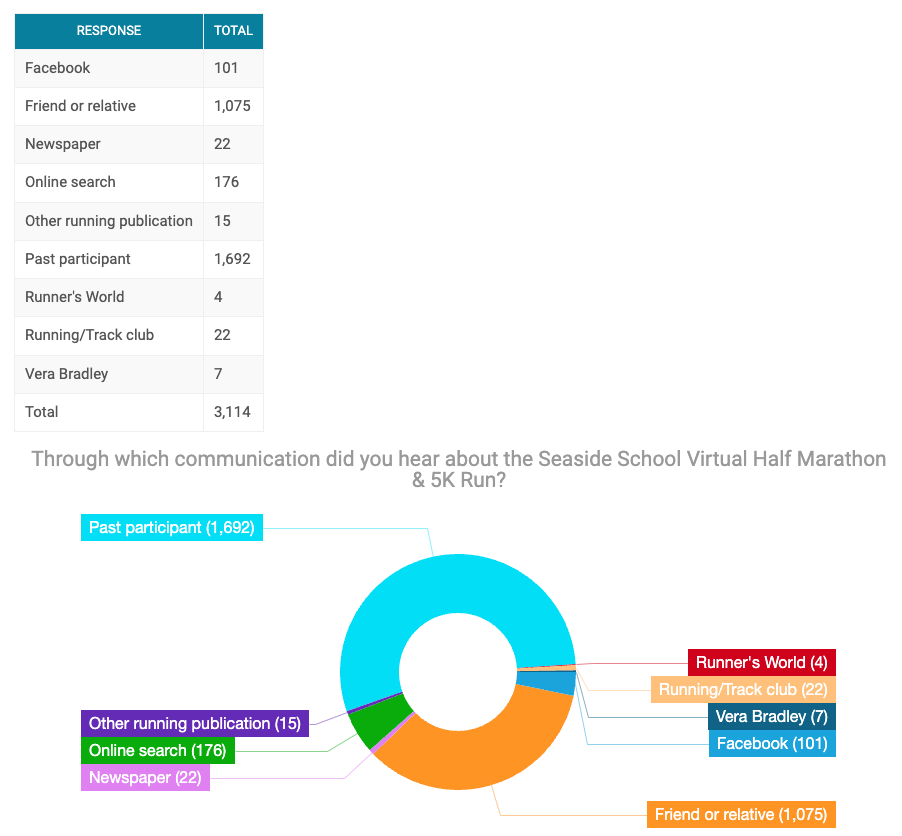 The Seaside School Foundation activates supporters with their annual Half Marathon + 5k and dinner gala. These events give all types of supporters an option to participate, whether it's attending the dinner, volunteering at the race, making a donation, fundraising, or participating in the half marathon or 5k. GiveSignup provides the free and purpose-built technology to help the Seaside School Foundation grow their event, manage Event Day, and engage all different types of supporters.