Key Features for Peer to Peer Fundraising Events…
Raise More. Easy.
Integrated Donations…
Customize your donation appeal to easily collect donations during and outside of registration:
Flat 4% processing fee (including credit card fees!) for donations with the option to absorb, pass on, or ask donors to cover it with a custom prompt
Increase giving with a custom donation appeal and levels that tie each donation to the impact of the gift
Easily import unlimited offline donations for free
Custom donation receipts
Automate registration discounts when participants donate a set amount or greater
Double the Donation integration for corporate matching gifts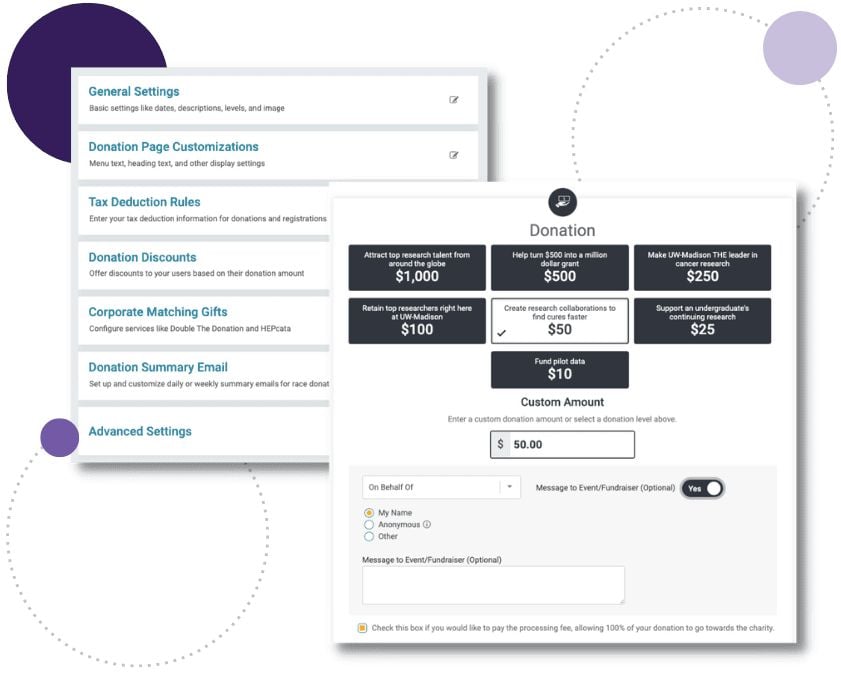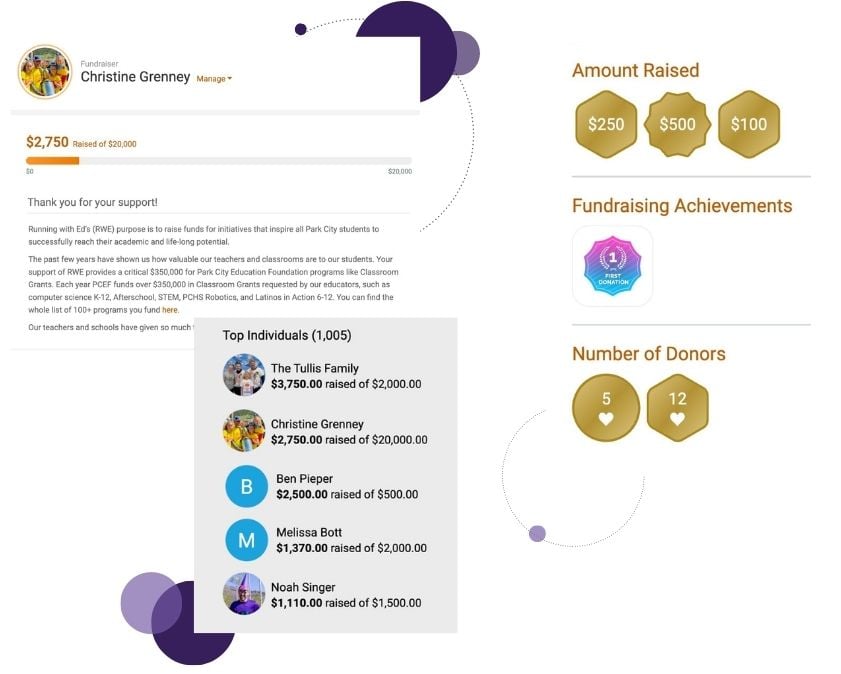 Individual Fundraising…
Allow or require individuals to become fundraisers for your event:
Automatically create a fundraising page for each participant or allow participants to opt-in
Set default messaging and images that fundraisers can customize for a personal appeal
Design beautiful slideshows of fundraisers' images and photos and maintain your nonprofit's brand across all pages
Set suggested or required fundraising goals and auto-charge unmet fundraising minimums
Team Fundraising…
Teams have more fun and raise more:
Allow or require fundraisers to create or join a team
Set default content for team pages with flexible options for team captains to customize
Support multiple team captains
Roll up all individual donations to the team, with ability to prevent or allow donations to the team without selecting an individual
Customize data for team captains in team roster reports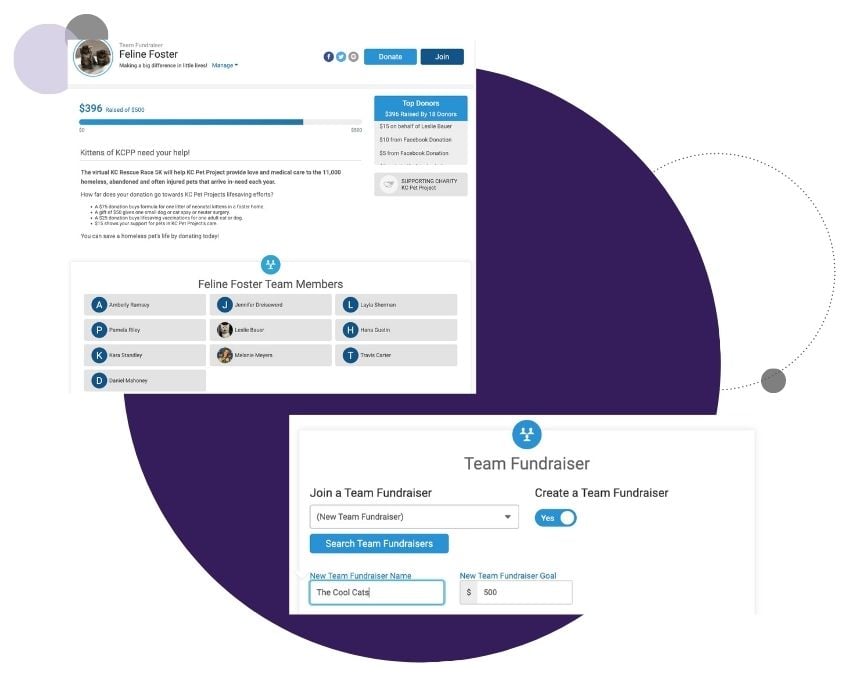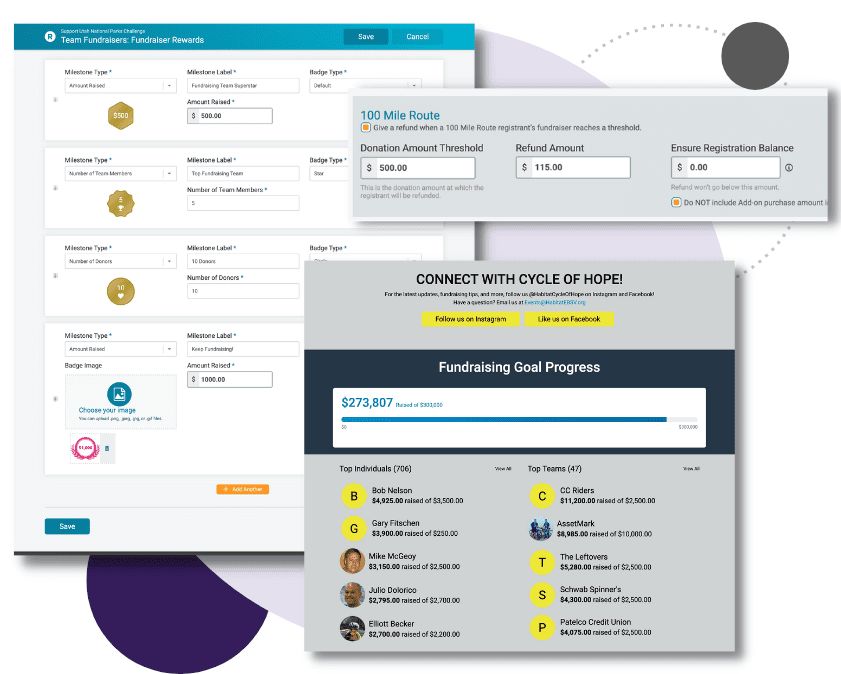 Fundraising Rewards and Gamification…
Incentivize fundraisers with rewards, leaderboards, badges, and more:
Feature fundraiser leaderboards and donation thermometers throughout your event website
Award milestones and badges to individuals and teams for amount raised, number of donors, Facebook Fundraiser connected, team captain/member
Reward fundraisers who meet a pre-determined fundraising threshold with an automated discount or a refund
Social sharing, auto-join fundraising team URLs, and a fundraiser email hub help individuals recruit team members + donors
Fundraising Reports and Analytics
Track your progress and keep in touch with your supporters with comprehensive fundraising reports.
Donor reports for individual fundraisers and fundraising team reports for captains
Backend reporting of all online and manually added donations, including Facebook Fundraiser donations
Individual and team fundraiser reports with easy export options
Real-time website analytics to track which promotions, emails, and other websites drive registrations and donations
Add limited or full report access for your nonprofit's staff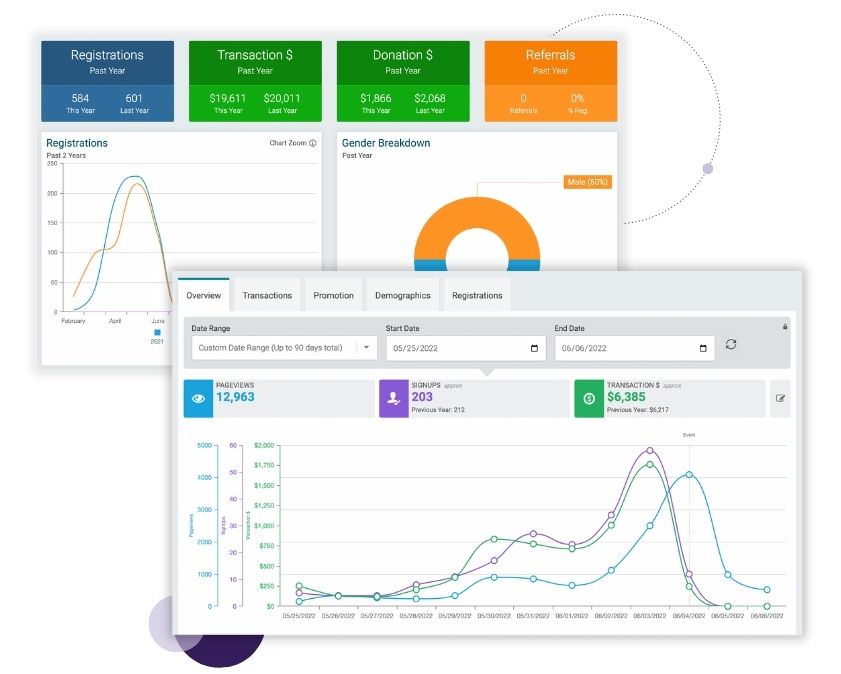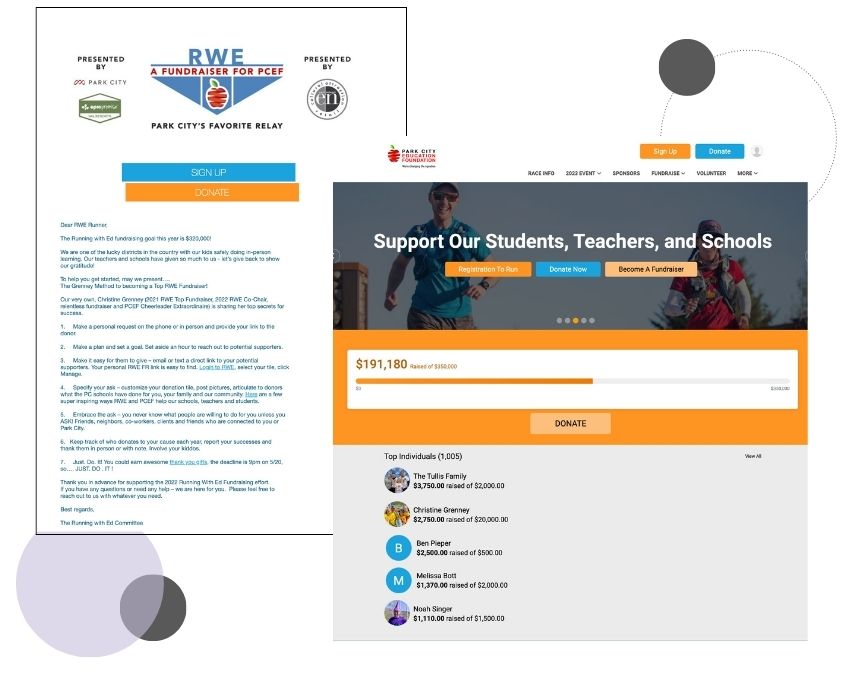 Free Marketing Tools
Free MarketingTools…
Attract new attendees and communicate clearly with a free event website, free email marketing, and integrated promotion tools. Options include:
Free email with unlimited contacts and sends
Free custom website (branded for you)
Automated referral rewards to encourage sharing
Social media pixels to track returns
Every Peer to Peer Fundraising Event Includes…
Fundraising Video Page
More of a "show me" type than a "tell me" type? Check out all the latest videos on fundraising events, from 30-second updates to full platform demos.
Customer Spotlight
Successful Peer-To-Peer Events With GiveSignup
GiveSignup's purpose-built platform offers the option to easily create peer-to-peer events as a perfect way to raise awareness and encourage participation to help reach your events ultimate goal. Check out three examples below that are maximizing the value from our tools and features.
Move For Promise: Fundraising Options

Mts to Dessert Classic: Flexible Fundraising

Sunrise Rotary Ride: Fundraising Tips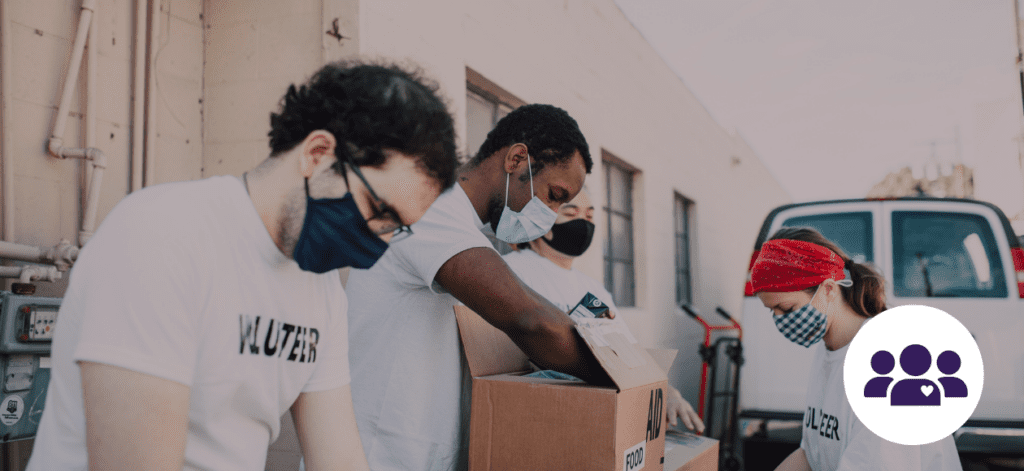 ---
The Latest Blogs on Peer-to-Peer Fundraising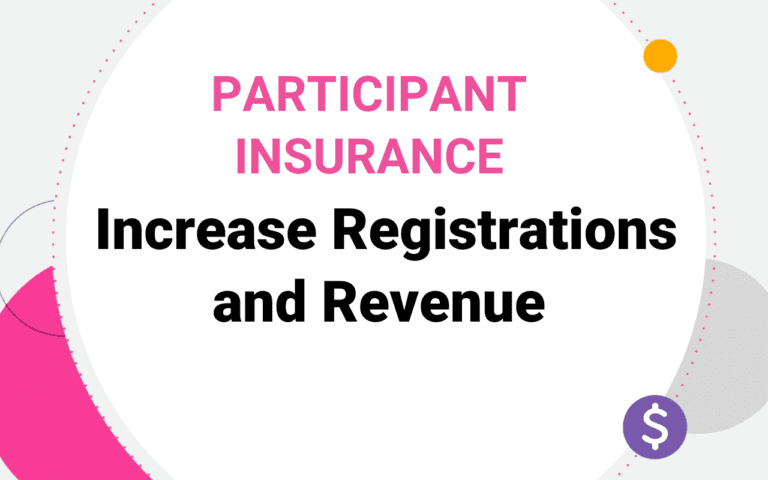 We introduced a new Race Insurance product that allows races to offer their participants the chance to buy insurance in case they get injured and can not attend the race in June of this year. Adoption has been very rapid, and we are happy…
Read More
Show More