Everything you need for your golf event is included – no subscriptions, no monthly fees, and no long-term contracts.
---
25 Million Golfers in the United States
15,500 Golf Courses in the United States
$4 Billion Raised Annually by Golf Fundraisers
One Platform,
Two Ways to Set Up Your Golf Event
Ticketed Golf Events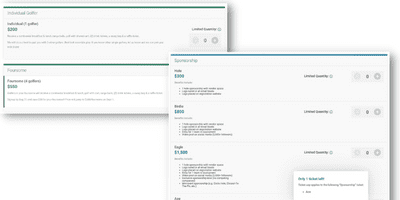 Ticketed golf events are ideal for simple ticketing setups with a focus on quick checkout and a simple display of options. While foursomes and group purchases can be supported, they typically rely on a single purchaser for the group. Ticketed Golf events can include a soft donation ask during or outside of ticket purchasing (but it's not required).
Registration & Fundraising Golf Events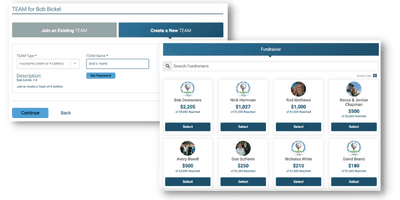 Golf events with complex team or fundraising goals may prefer to setup via our platform for registration and fundraising. Free websites, email, and an app for event day are still included, but this option allows you more flexibility in how you collect information and payment on team members, as well as the option to include peer-to-peer fundraising.
Not sure which solution is right for your golf event? Request a call to review your options!
Key Features for Golf Events
Flexible Ticket Options
Configure your tickets to match your tournament with flexible options for single golfers, foursomes, sponsors, and more.
Group your tickets for an intuitive display of multiple tee times
Keep all your information in one place with sponsorships sold alongside golfer tickets
Set caps for each ticket and group of tickets to ensure slots for all players and exclusivity for all sponsors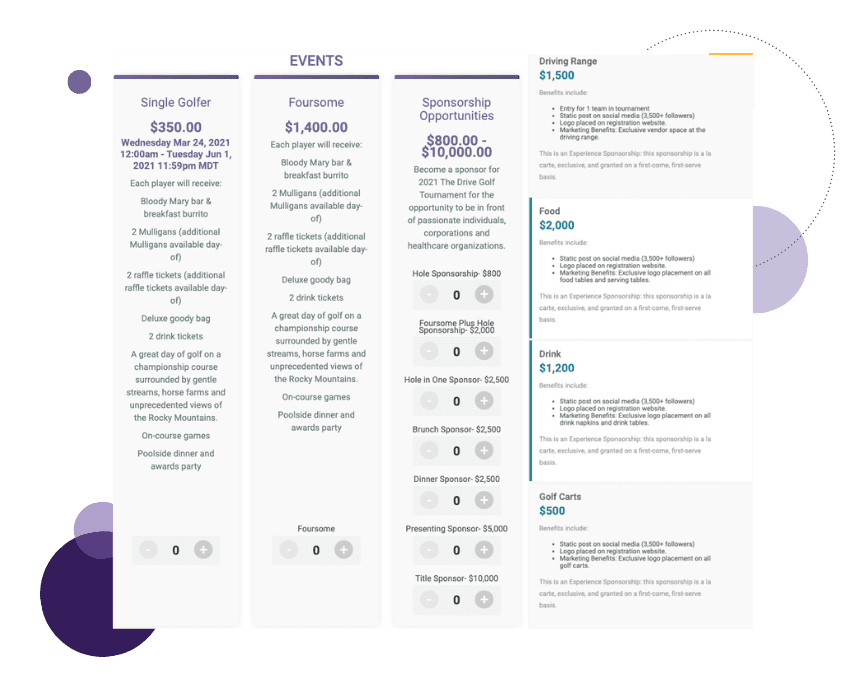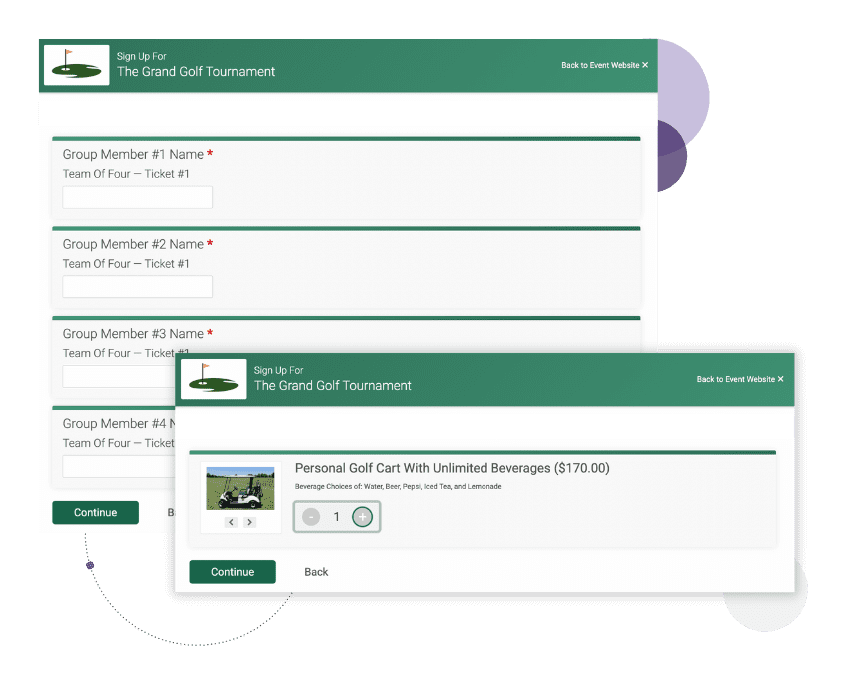 Information Collection
Collect all the information you need (and none that you don't).
Require information on just the ticket purchaser or collect it on all ticket holders
Add unlimited custom questions such as names for additional players or beverage preferences
Use store items to upsell players with premium add-ons
Built-In Marketing Tools
Expand your reach with marketing tools integrated into your event dashboard.
Tell your story through a dynamic and media-rich event website and spread the word with free, unlimited email
Encourage supporters to share your event with customized social sharing images and track your campaigns with automated analytics
Go old school with community signage that leads to easy online ticket purchasing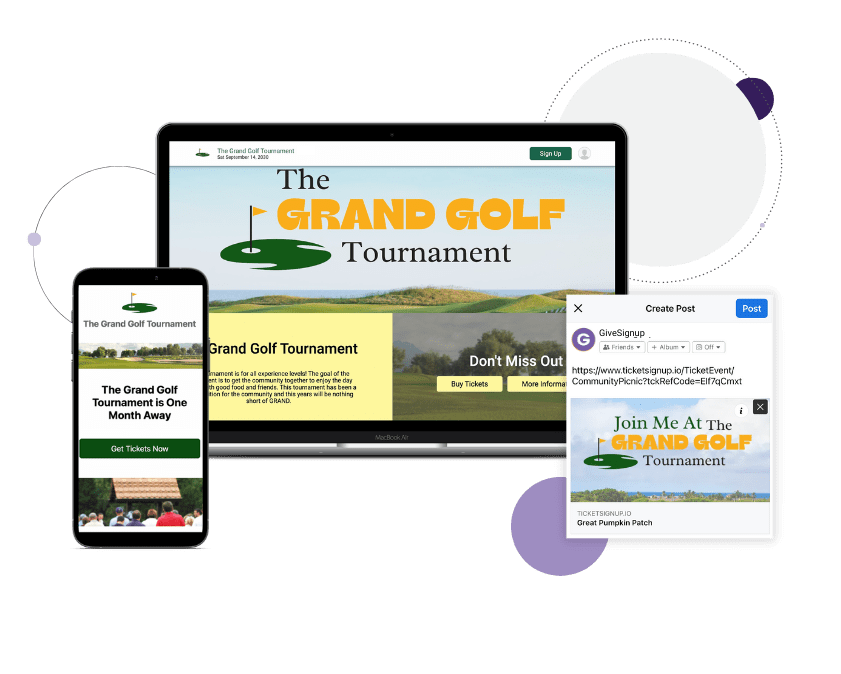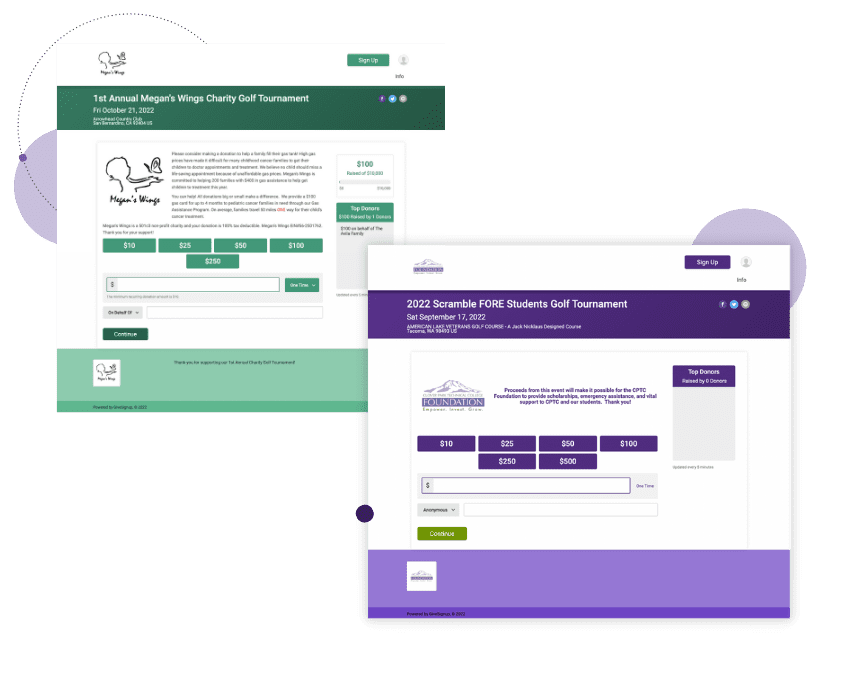 Integrated Donations
Raise more for your cause with a soft donation ask within the purchase path.
Customize donation levels to connect dollar amounts to the good they can do
Add a checkbox at checkout for even easier donation decisions
Allow donations outside ticket purchasing and encourage giving on-site at your event
Resources for Your Golf Event
Golf Event Quick Start Guide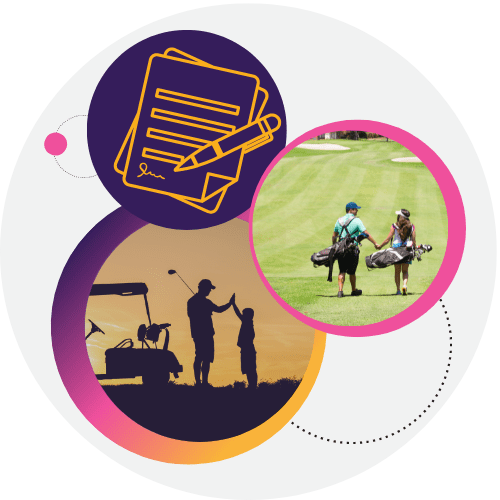 It's easy and free to create your golf event on TicketSignup. Dive into our Golf Event Quick Start Guide to get started with customizing your event today.
Golf Event Timeline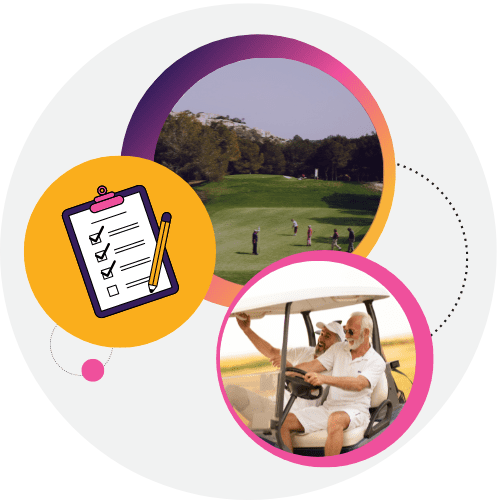 Need a cheat sheet? This printable Golf Event Timeline provides guidance and reminders to help you prepare your event, get your tournament ready for sales, and ensure a seamless event day.
Customer Spotlight
Golf Events
GiveSignup purpose-built platform has the free technology that event organizers need for their golf-themed events, with tools to raise and sell more. We have both a lightweight Ticket platform for simpler event management, as well as a registration platform for more robust features. See how different Golf events set up their fundraising to increase donations and encourage participation.
$4 Billion Raised Annually by Golf Fundraisers

15,500 Golf Courses in the United States

25 Million Golfers in the United States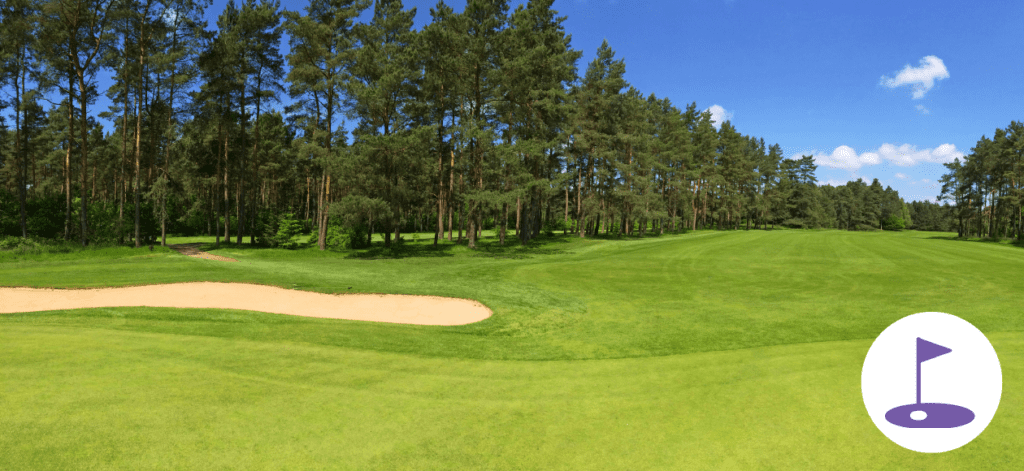 The Latest Blogs on Golf Events

Ride Bikes. Change Lives. That is the Buffalo Bicycle Classic's motto. The Elevations Credit Union Buffalo Bicycle Classic has always been more than just a bike ride. The Buffalo Bicycle Classic was founded to support over 50 resident students annually that show…
Read More
Show More