Ride Bikes. Change Lives. That is the Buffalo Bicycle Classic's motto. The Elevations Credit Union Buffalo Bicycle Classic has always been more than just a bike ride. The Buffalo Bicycle Classic was founded to support over 50 resident students annually that show academic promise but show profound financial need. To date, over 425 Buffalo Bicycle Classic scholars have graduated from The University of Colorado Boulder. The ride has raised over $3.4 million for high-merit/high-need scholarships for Colorado high school graduates since the ride was created in 2003.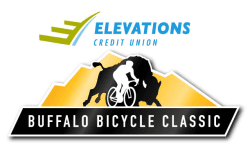 Buffalo Bicycle Classic had been using RunSignup | GiveSignup for 7 years and in March of 2020 university of Colorado hired Jenny Anderson to manage their event. Five days into employment, Jenny Anderson, Ride Director of the Buffalo Bicycle Classic, was sent home due to COVID but the onboarding didn't stop. At the 2022 Summer Symposium Jenny sat down with Steve Bingham-Hawk to share her experience as a Ride Director, the ease of on-boarding, favorite features, what she loves most about our technology, and much more.
Check out these highlights from our conversation with Jenny and hear how GiveSignup made her one man job easy!
Steve: Your onboarding was really you training yourself, using the knowledge base resources we have on the help articles and the blog and the webinars, What was so helpful to your onboarding about these resources?
Jenny: I think it was renewing your event. We have been with RunSignup for 7 years and I could renew the event and put in the new merchandise we had and new rides. RunSignup was so helpful in 2020, when we pivoted over to the virtual event. I mean, I think RunSignup stayed so innovative.
One thing I was very proud of during covid, we were able to keep our sponsors, they kept up with us. And had more fundraisers and we had zero expenses, really, other than the t-shirts. But we actually made money during COVID and we were able to add 8 scholars that year during COVID. We had a rainy day fund and we didn't have to dip into it. So, it was fantastic and I really attribute that to RunSignup.
Steve: What are the features and tools that you like the best?
Jenny: That is so hard to answer! I think the real reason I wanted to come to this conference was to learn about the RaceDay Check-In because we are assigning the bibs at packet pick-up, using the QR codes, so on the confirmation they get the QR code. The bib will have the QR everything according to the Bib number and we can put whatever information we want on there and it will be printed on the labels. The medical team can use the QR code to find out name and emergency contact in a heartbeat.
Steve: You mentioned fundraising, what does fundraising look like to you?
Jenny: Fundraising is very important to us, Obviously. We had a person trying to get us to go to another registration site and they didn't have fundraising, and we need fundraising. We use milestones, they reach their milestone and they get a little badge. They get a whole bicycling kit if they raise $500. We have 25 fundraisers and then we have all the colleges compete against each other. The nice thing is they can sign up to do the ride or if they can't do the ride they can donate to their team. I love how on our cover page we can have a video promoting our event and the money raised so you can see how we are doing.
Steve: Now that you are back doing a live event, are there any other things that have changed since then?
Jenny: We're going to keep the virtual event. We didn't offer virtual rides before but I think we are really trying to get the CU alumni involved. We really want to create competitions for fundraising and have them sign up for the virtual ride. I think every event should offer a virtual ride because it's basically a donation. Keeping up with the virtual rides is something we are going to continue with moving forward.
To hear more about how the Buffalo Bicycle Classic has been able to raise more with GiveSignup, check out the full video interview below!