Technology for Tickets…

TicketSignup is a ticket platform for your nonprofit's events that do not have peer-to-peer fundraising, making it easy to keep all of your nonprofit's events on one platform.
Key Features for Ticket Events
Raise More
TicketSignup's platform is built to help your nonprofit raise more money:
Integrated donations with customizable descriptions, levels, and images. Offer one-time, monthly, quarterly, and/or annual giving frequencies.
Standalone donations make it simple for people unable to attend the event to still make a donation. A sticky Donate call to action button is featured alongside "Buy Tickets".
Set tax deductible amounts for each ticket type that you sell and automate receipts.
Offer a checkbox donation option on the checkout page for attendees to easily add a customizable donation amount to their cart before confirming their purchase.
Donation discounts automatically discount ticket prices when a donation above a certain threshold is made to help incentivize donations.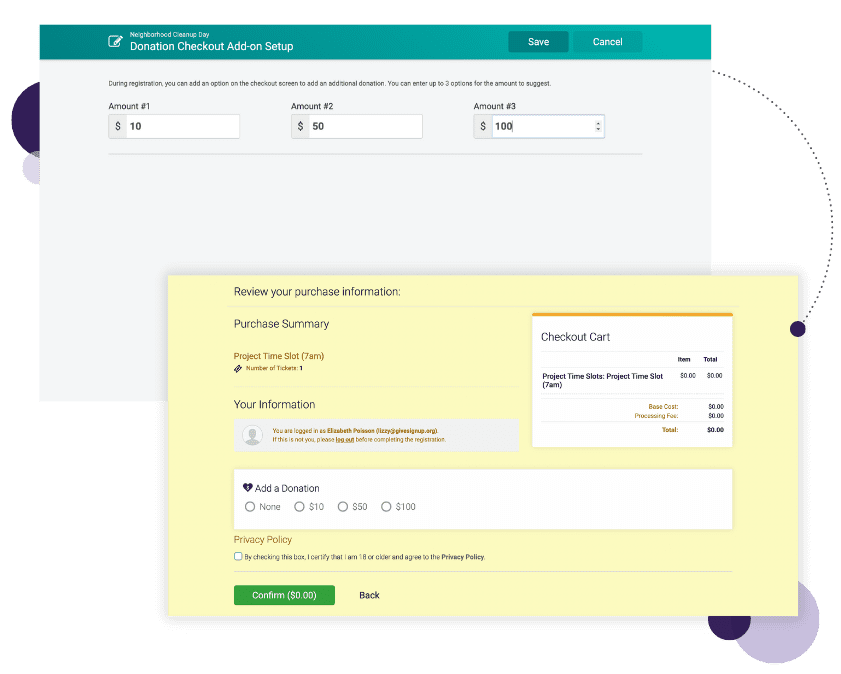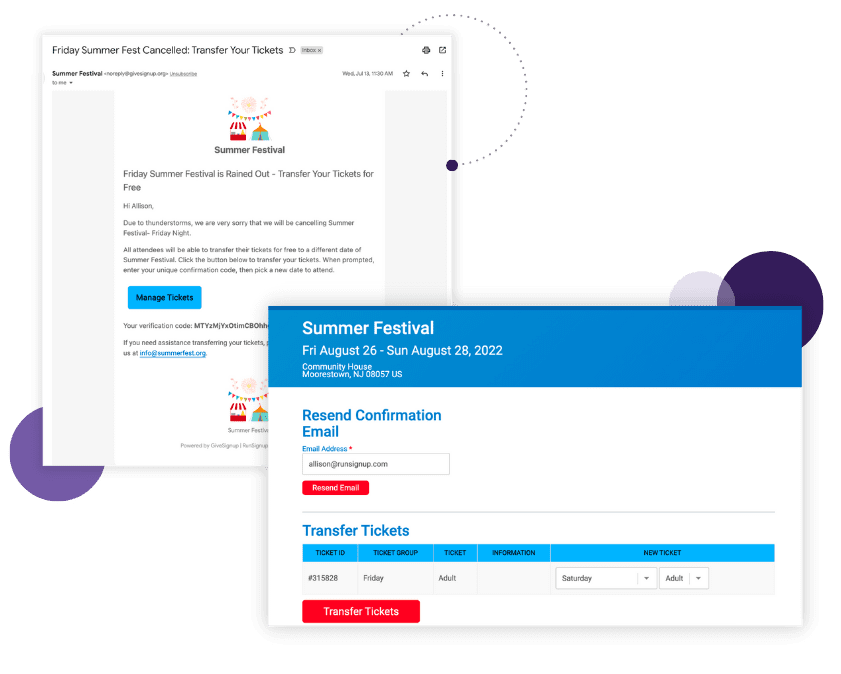 Sell and Manage Tickets
We make it fast and easy for attendees to purchase tickets, with options to collect additional information. Deliver best in class customer service with flexible ticket management options:
Quick purchase options directly from your event website and no account creation or login required
Collect additional information per purchase or per ticket with flexible custom questions
Help attendees with easy management options from their purchase summary page
Enable ticket management so that attendees can manage their own tickets; for example, switch their tickets from Tuesday to Thursday, or from general to VIP.
Sell additional items in the ticket purchase path or through a standalone store on your event website.
Grow Your Ticket Events
Free marketing tools help you promote your ticket events to your supporters and grow your constituent base by bringing new people to your events.
Free Email Marketing with unlimited custom contact uploads and unlimited sends makes it easy to promote all of your nonprofit's events.
Free Websites for each event. Your event website features your nonprofit's brand with options to add pages, menus, donation goal thermometers, and more.
Automated Referral Rewards incentivize your attendees to bring their friends & family.
Drip Campaigns to attendees can help promote your Referral Rewards program, other events, and more.
Customizable Email capture pop-ups let you grow your email lists for free.
Dashboard analytics make it easy to track promotions and ticket sales. Integrations with Facebook Conversion API and Google Analytics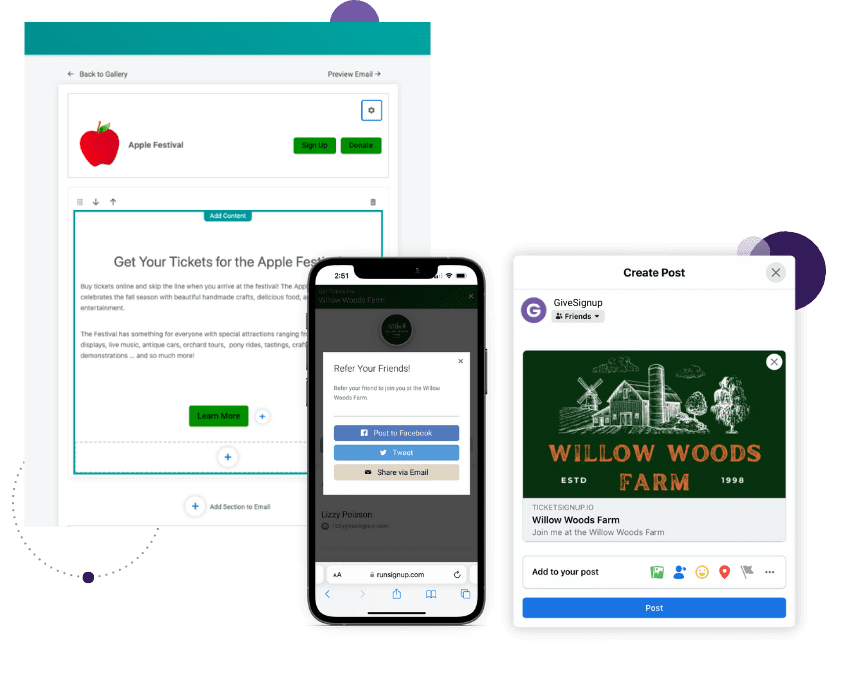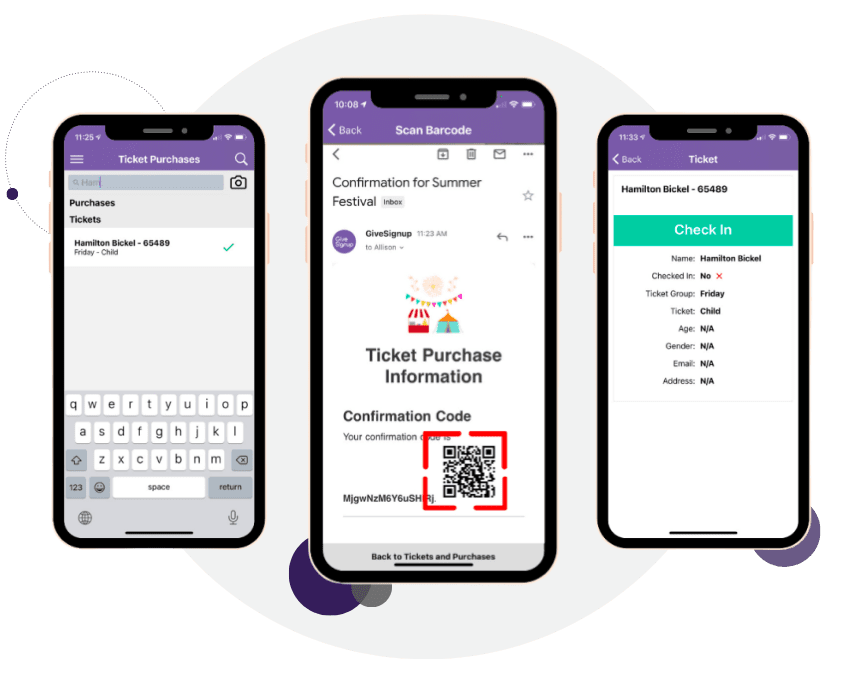 EventDay Technology for Ticket Events…
TicketSignup has the EventDay technology your nonprofit needs to deliver a best in class event experience, from pre-event communications to on site ticket purchases & check-in.
Check-in attendees and fulfill additional items purchased with the Ticket App. Free and easy for volunteers to use.
Send pre-event emails that include the ticket purchaser's QR Code and ticket details make lines move even faster through TicketSignup's free Email Marketing.
Sell tickets on site with the Ticket App point of sale solution.
QR Codes and Quick Text make it easy for attendees to buy tickets on site from their phones.
Photos that are easy to upload and organize in albums on your website engage supporters beyond EventDay.
Learn More from Nonprofit Ticket Events on TicketSignup
More Technology for Ticket Events…
Looking for something else? Here are a few other features that help your nonprofit promote and manage ticket events.
Customer Spotlight
NON-COMMvention and GiveSignup for Educational Opportunities
The NON-COMMvention page actually sells tickets for two events. Ticket purchasers can purchase a ticket for just the NON-COMMvention, just the Public Radio Music Summit, or both together. An additional "Listener Pass" ticket option is available for WXPN members to attend only the music performances and Music Meeting. Additionally, there was a price increase on March 27th for NON-COMMvention tickets. Sound complicated?
4 Ticket Types

20 Years Hosting the Event

60 Stations Attending