Participant Management: Admin vs. Self-Serve
Admin Participant Management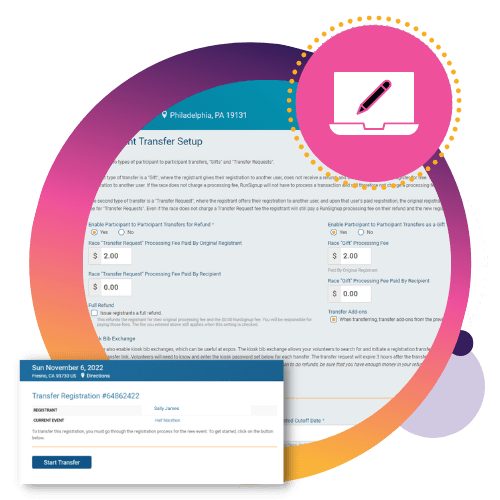 All participant management options allow you, as the Fundraising event director, to manage your participants (and you never need GiveSignup to do it for you). You can manage everything from refunds and event transfers to deferrals and add-on's with the click of a button. Have a lot of participant management to do? We offer bulk participant management tools to make it simple to transfer, refund, or defer large amounts of participants.
Self-Serve Participant Management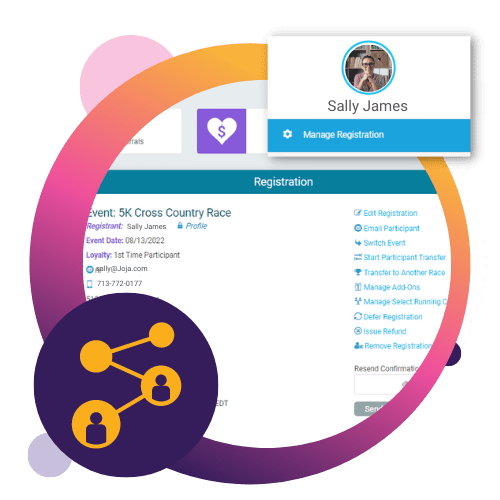 Make participant management even easier by empowering your fundraisers to manage their own registration. Once you opt to enable self-serve participant management, you control all the parameters (like cutoff dates) and participants can make changes to their event, defer their race, or transfer their bib – no customer support needed. You can enable some or all self-serve options, and allow participants to access them for free or for a fee.
---
Common Participant Management Options
Want to know what you (or your fundraisers) can control? This is a basic rundown of the most common participant management options available for you to use or enable.
1. Event Transfers
Offering multiple event options for your fundraising event? Give people the confidence to sign up with the ability to transfer to a shorter (or longer) distance later. If they switch to a more expensive distance, they'll pay the difference (and any fee you add), but there are no refunds if they switch to a cheaper event.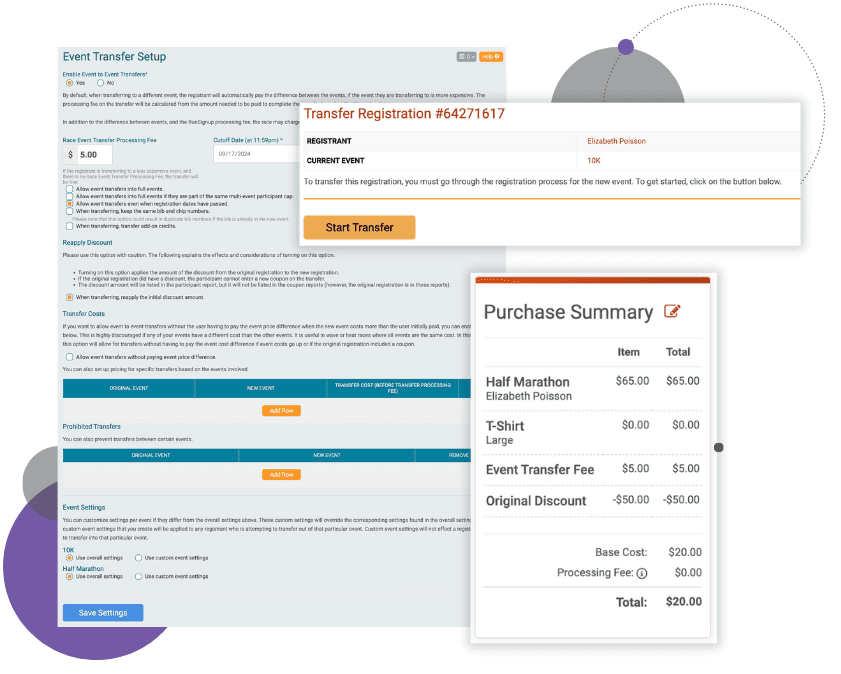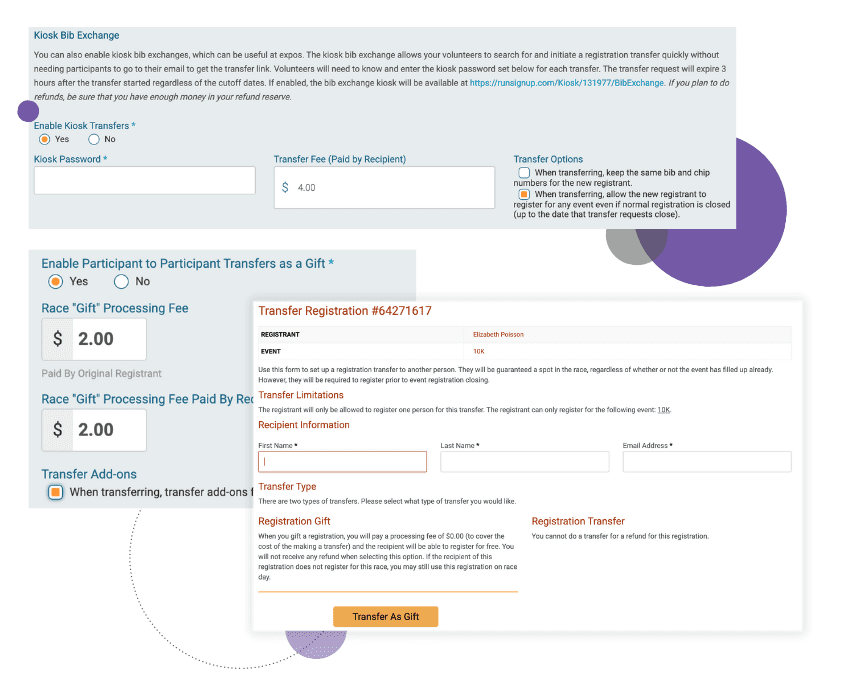 2. Participant Transfer
Allow participants who can no longer participate in the race to transfer their bib to another participant. You can opt for a "gift transfer" where any financial arrangement between the runners is offline, or a "transfer for refund" where the initial participant is refunded once a new one completes their registration.
3. Deferrals
Give participants the option to defer their registration to a later year instead of missing out altogether. Deferrals can be enabled for participants to access for free, or for a fee.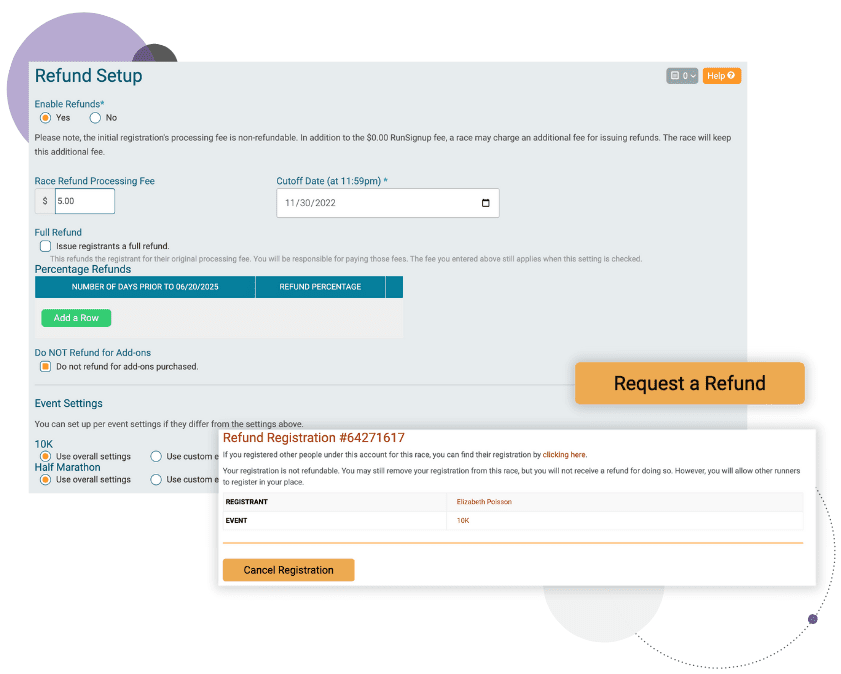 4. Refunds
Provide full or partial refunds to participants who cannot attend. You can enable refund requests directly from the participant, or keep it as an admin-only feature.
Bulk Participant Management
No matter how carefully you plan, it's always possible that your fundraising event could be cancelled, postponed, or significantly interrupted by an event outside your control. When that happens, you need the ability to manage large amounts of registrations quickly and effectively. GiveSignup offers a number of bulk participant management tools that you can rely on to make the updates to your registrations efficiently.
Bulk Refunds
Most commonly used when an event is cancelled, bulk refunds allow you to refund some or all of the registration costs to your participants.
Bulk Event Transfer
Often used to transfer participants from an in-person event to a virtual, but it's available to move registrants between any events within the same race.
Bulk Deferrals
A quick and simple method for you to move large numbers of participants from one year of your race to another year.
Bulk Race Transfer
Your easy option to move participants from one race to an entirely different race. Caveat: you must be listed as a race director on both events.
5. Question Management
Asking important custom questions for like what beverage they want at the post-race party or if they want an early start? For more accuracy, set a deadline and let participants update their own answers. Additionally, you can specify if participants can update custom fundraiser questions separately under Participants>> Participant Management >> Fundraiser Management Settings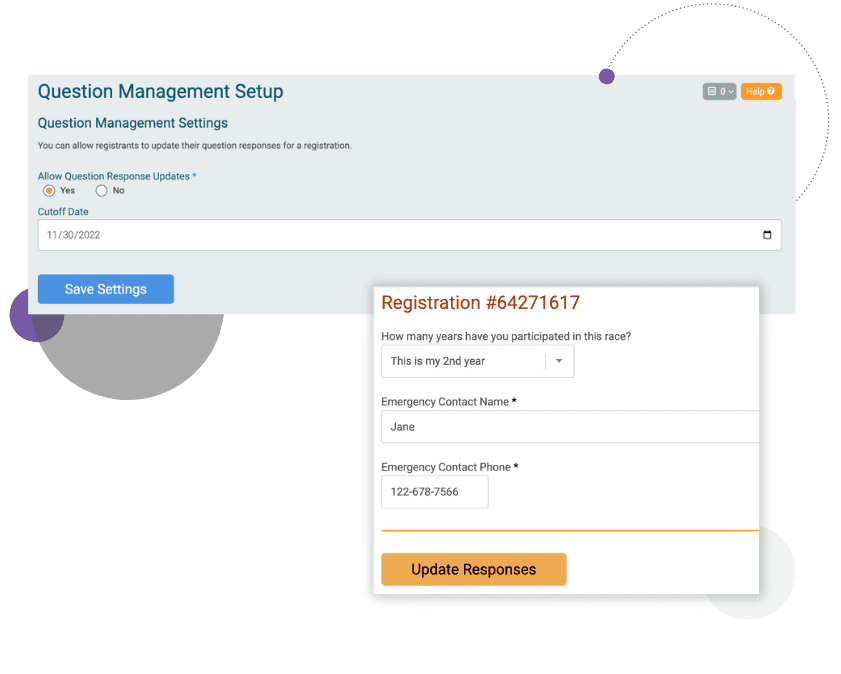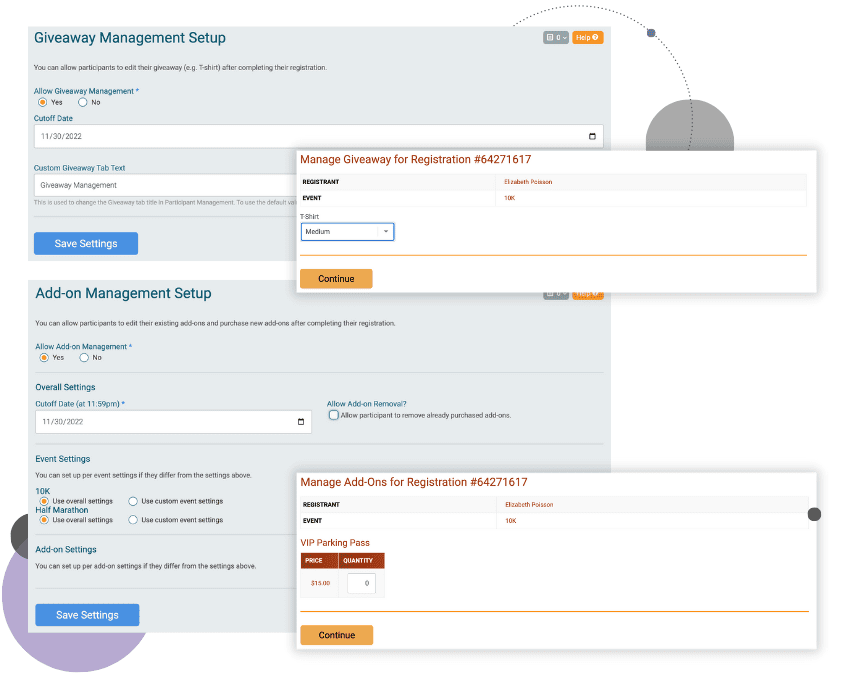 6. Giveaway and Add-On Management
Keep your swag counts accurate with the ability for participants to update their giveaway and add-on options up until your order date.
7. Fundraising Team Management
Offering fundraising teams to enhance the experience of your event? Keep the fun going by allowing participants to create or join teams after registration.
Allow participants to edit their own fundraiser account information, such as fundraiser name, type, and charity.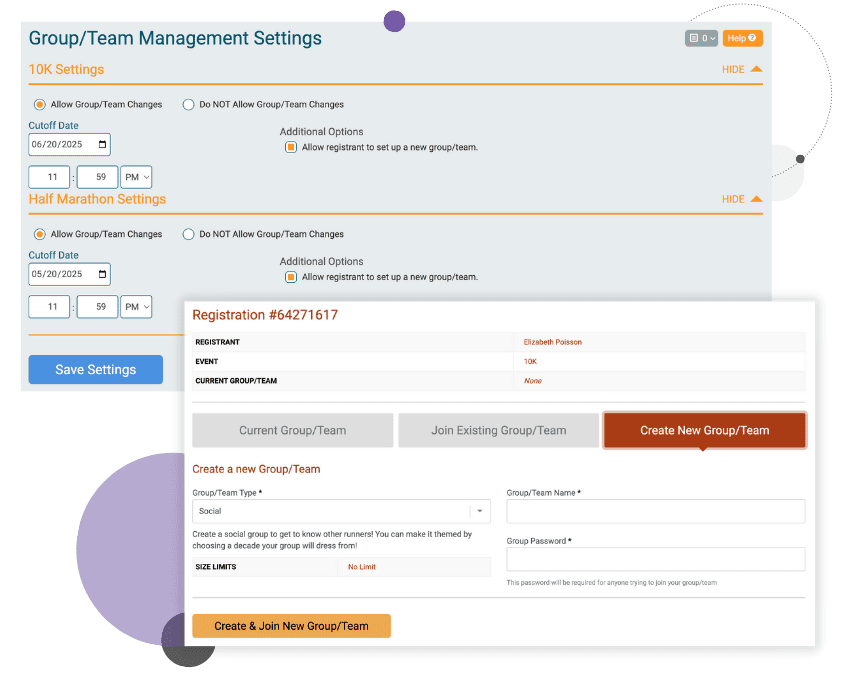 ---
More Participant Management Options…
Pro Tip:
Help Participants Manage Their Own Registration
Self-serve participant management only reduces customer service if participants know how to use it. RunSignup's library of How To's includes an entire section designed for your participants. Link to the how-to (or copy the content to your own site) in your race FAQ and within participant emails to give participants the answers before they even ask.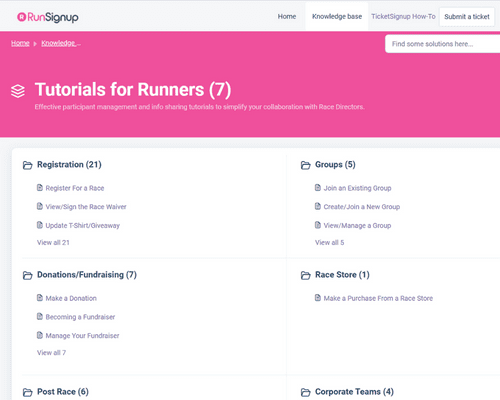 More of a "show me" type than a "tell me" type?
Whether you're the race director or the participant we have curated a selection of GiveSignup videos to support you. Check out all the latest videos for participant resources or management, from 30-second updates to full platform demos.