After a tough year, we are happy to report that live events are returning, and we are growing.
It is a bit difficult with our business model to figure out growth, but all signs are positive:
We are 15%+ ahead of our Transaction and Net Revenue plan in March
We are going to finish March very close to March of 2019, even without a number of large customers. not yet opening their events this spring. That means we have indeed picked up market share in endurance and with our nonprofit community during the pandemic.
Leading indicators show higher growth is ahead.
Our team as as busy as we have ever been.
New Openings
The first thing this means is we need some more enthusiastic and capable people to join our team. We are posting a variety of new positions in the coming weeks, so keep your eyes open for Developer, Marketing, Sales, Customer Support and Finance and HR positions. Right now, we have these positions open:
Marketing Manager/Sr. Marketing Manager
Creative Director in Marketing
Software Developer – email bruce at runsignup
Software Developer Intern in Orlando area – email james at runsignup
Sales Rep – email lewis at runsignup
New Employees and Interns
This week we welcomed Steve Bingham-Hawk to the Account Management team to help customers. In addition, we will be announcing the following people who will join us in the coming months. We are particularly pleased to reintroduce our intern program for rising seniors:
Joseph – Development
Larry – Sales
Player to be named – Sales
Nathan – Development Intern from Cal Poly
Lucas – Development Intern from Rowan
Alyssa – Sales Intern from VCU
Katie – Account Manager Intern from Virginia Tech
Audrey – Account Manager Intern from Virginia Tech
Monthly Plan Adjustments
When we created our revenue and expense plan for 2021, we based it on our monthly numbers from 2019. We though we would do 20% less in Q1, 10% less in Q2 and about even for the rest of the year. We made a corresponding expense plan where we were able to hire up for the entire year before any of the above positions were added.
When we saw our revenue increasing ahead of plan in February, and then by even more in March, we decided to take the extra revenue, and invest it back in the business. Hence the growth outlined above.
Our thinking is that live events will continue to open at an increasing pace as vaccines get more widely distributed and more states open up and more people feel comfortable getting together. Our belief is there is great pent up demand, so our existing customers will be successful. Also, we have significantly increased our market share in endurance during the pandemic, and as nonprofits begin to plan galas and golf outings, our ticket platform will be very appealing as an alternative to Eventbrite and more limited solutions.
Forward Looking Metrics
Our business is kind of strange. A customer tells us they are going to use us, but we do not see revenue from that for some time, and it is kind of unknown. For example, a great nonprofit just told us they were going to use us for a 5,000 ticket event this past week – Yay! But they will not open selling the tickets until May, and will sell them thru August. And they might sell some more or some less. The great thing about this for customers is they are not paying large up front bills to a software vendor – and we love being successful when we help customers be successful. However, it means we have to watch something else to determine our future business so we can figure out how and when to hire.
Number of New Events
The order that event directors take is to create a new event, then set up their payment account unless they already have one, and then take signups and then renew the next year. So New Events, Renewed Events and New Payment Accounts are all leading indicators of when transaction revenue will happen. We saw the same pattern last summer as we pulled out of the deep initial dive and event directors created virtual and challenge events.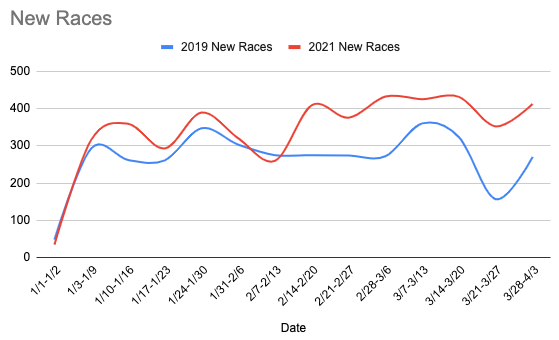 As this chart shows, the gap is widening between the number of new events created this year vs. 2019. This is not only an indication of live events coming back, it is also an indication that we have gained market share during the pandemic. It bodes well for our future, and gives us confidence to grow our team size to keep pace with market demand for our platform.
New Payment Accounts
When a brand new customer (like a nonprofit or a race organization) set up an event, they create a payment account. That allows us to make sure they are a legitimate entity or person and how they want to be paid. Once they set up a payment account, we find that customers will grow the amount of transactions they do on our platform over time. Typically nonprofits might start with a 5K (or Virtual 5K or Challenge this past year!), and then expand to use us for their galas, golf outings, fundraisers and donation forms over the coming years. Even race organizations will try us out on one race, like us and then use us for more and more and their events grow. On average a customer will grow about 20-30% per year after they set up a payment account – so the future value of a customer is truly an early indicator.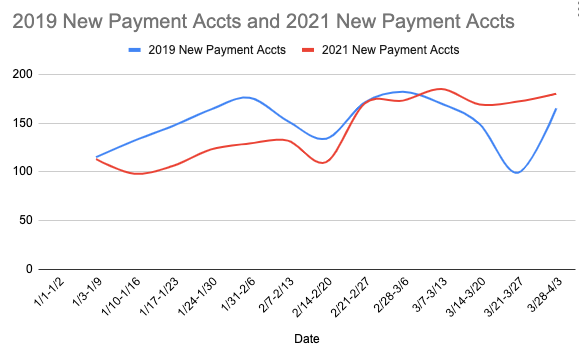 Last year, we had about 7,000 new payment accounts started, and about 4,000 of those actually conducted transactions (the rest might have been testing us in some way, or did not feel comfortable completing the payment information required). So not all of these new payment accounts will be customers, but we can see that we have again turned positive over 2019. This means that in the coming months we are likely to do better than we did in 2019 – another growth sign for hiring. And after hesitancy in January, you can see by mid February there was increasing confidence and more new payment accounts were being set up.
Number of Renewed Events
This is actually the turbo charge we have been waiting for. From last summer thru mid November when the COVID case count started rising, the first two indicators were very positive for us. We had record numbers of new events and new payment accounts. It is what held our business to only going down about 24% last year. But our huge base that typically renews at a 95% level had declined sharply. Renewals were down 35% or more. As this chart shows, that is starting to turn around.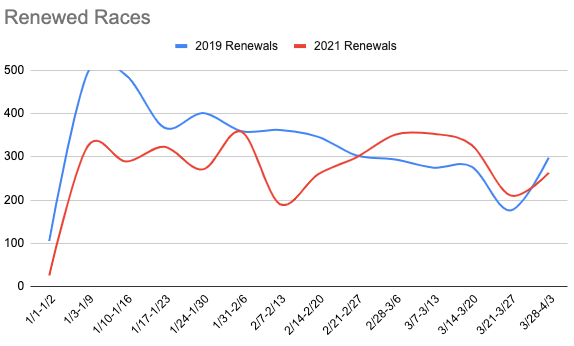 This is particularly good news. We have a huge base and if they can come back more fully, then all the new account and event will be on top of a solid base. Anecdotally, we are seeing that happen as well. Timers are starting to fill up their calendars with live events again.
In total, our future is looking bright, and we want to be able to use this time to grow to get us back on our mission to help our customers raise over $1 Billion a year.