GiveSignup ticket events makes it easy and free for your nonprofit to sell tickets and accept donations for your golf fundraiser. You can set up your ticket options in the wizard in minutes; if you have a more complex or multi-day event you can enable Advanced Tickets from the dashboard to group tickets and options. In this post, we'll go through three common ways nonprofits set up their golf tournaments on GiveSignup:
Offer Simple Ticket Options
Sell Sponsorships and Tickets
Select your Tee Time
1. Offer Simple Ticket Options
The easiest way to set up your golf tournament is to create one or several simple ticket options in the ticket wizard. A common setup for many nonprofits is to create two tickets: single golfer and foursome. The foursome option allows a single person to pay for a full foursome, and for your nonprofit to collect information about the group and/or individuals. The Association for Facilities Engineering's golf scramble offers a solo golfer, twosome, and foursome options.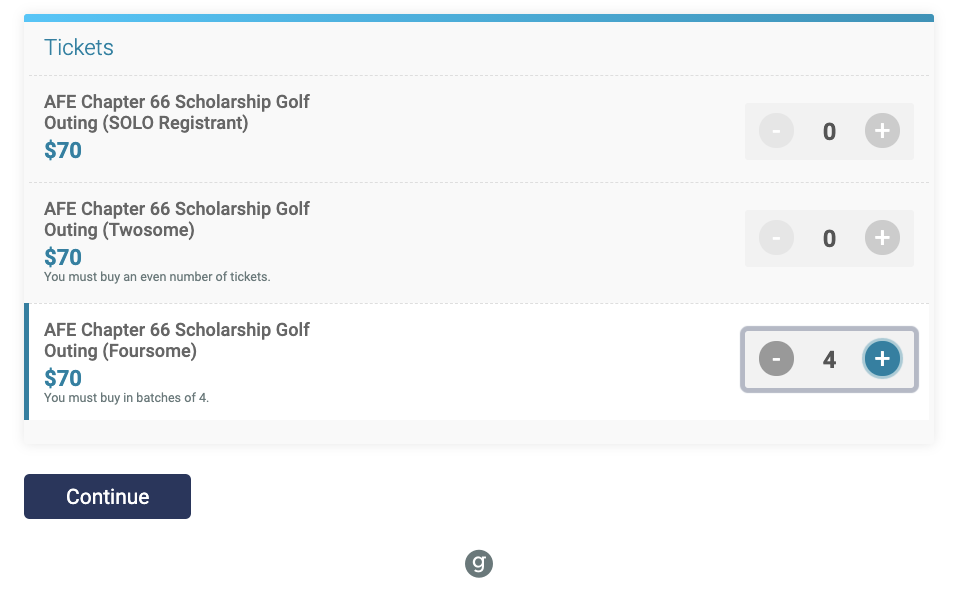 Other nonprofits create a separate ticket option for non-golfers. The Edwardsville Neighbors in Need Golf Scramble serves lunch following the tournament. It only needs two ticket options: a four-person team and a lunch-only ticket for people who don't want to golf but want to attend the lunch (lunch is already included in the price of the ticket for golfers).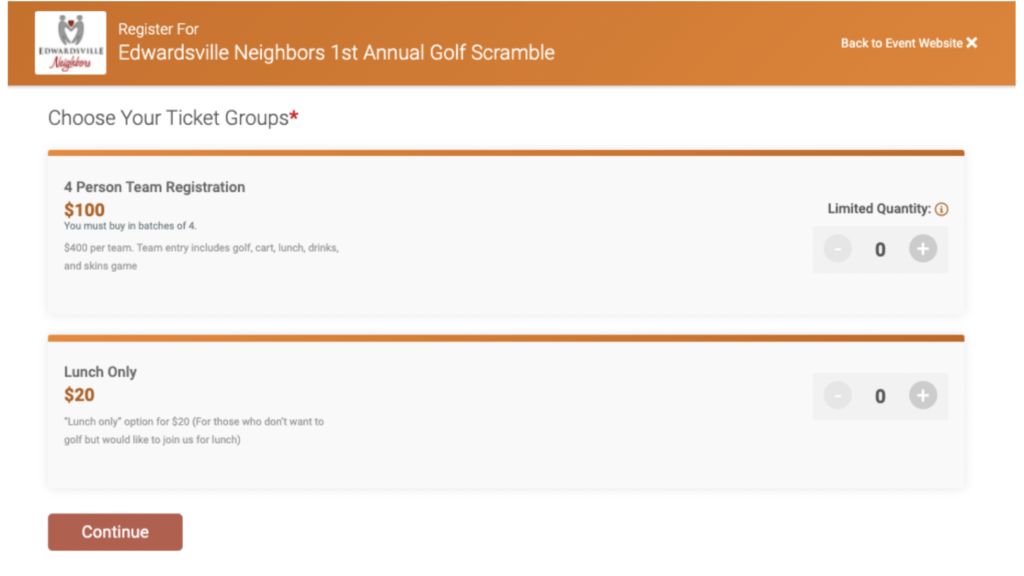 A simple setup like this is best for events that need minimal information on each golfer and aren't setting up complex pricing or sponsorships. It's quick and easy to set up, too — you can set this up in the ticket wizard in a matter of minutes!
2. Sell Sponsorships and Tickets
Many charity golf tournaments raise more from sponsorships than from actual ticket purchases. It's easy to integrate your sponsorship payments into the same site as your purchases. The 2021 Lancers Cup Annual Golf Outing has listed all of its sponsorship levels on its website. Potential sponsors are directed to the site, where they can see a list of remaining sponsorships to purchase. The ticket descriptions list exactly what is included in each sponsorship, and the event director can even set caps on the number of available sponsorships at each level.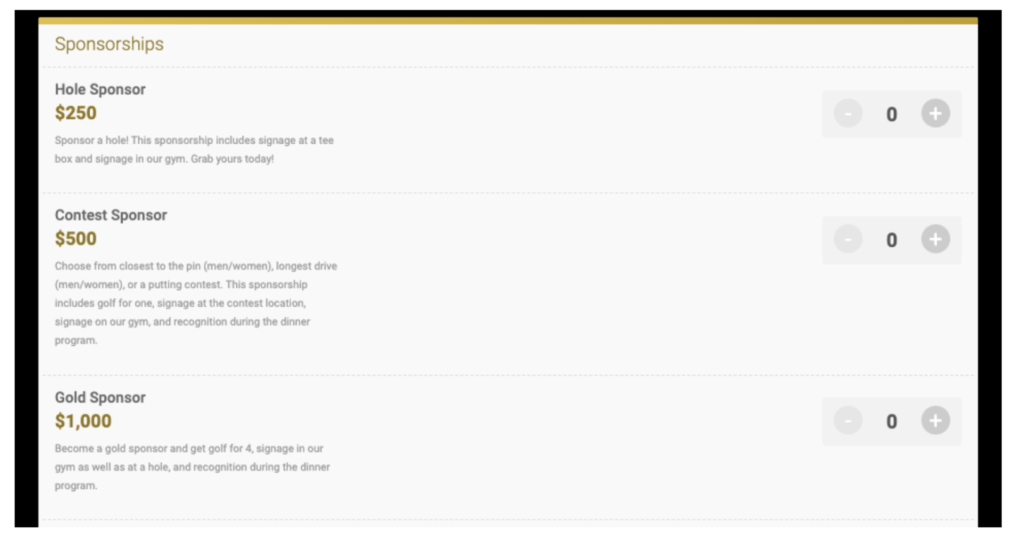 The best way to accomplish this is to set up a single ticket in the wizard for sponsors and another for golf tickets. Once you've completed the wizard, turn on "Advanced Tickets" in the ticket event dashboard. Doing this will give you two ticket groups, one for sponsors and one for golfers. Then, you can create each sponsor level and golf ticket under the appropriate ticket group. 
3. Select your Tee Time
Some golf events want a more complex setup, in which they require golfers to select a tee time. This is helpful to manage capacity, and it saves time because event directors don't have to manually (or randomly) assign tee times to golfers in larger outings. GiveSignup's free mobile CheckIn App makes it easy to manage tee times at the golf course on event day.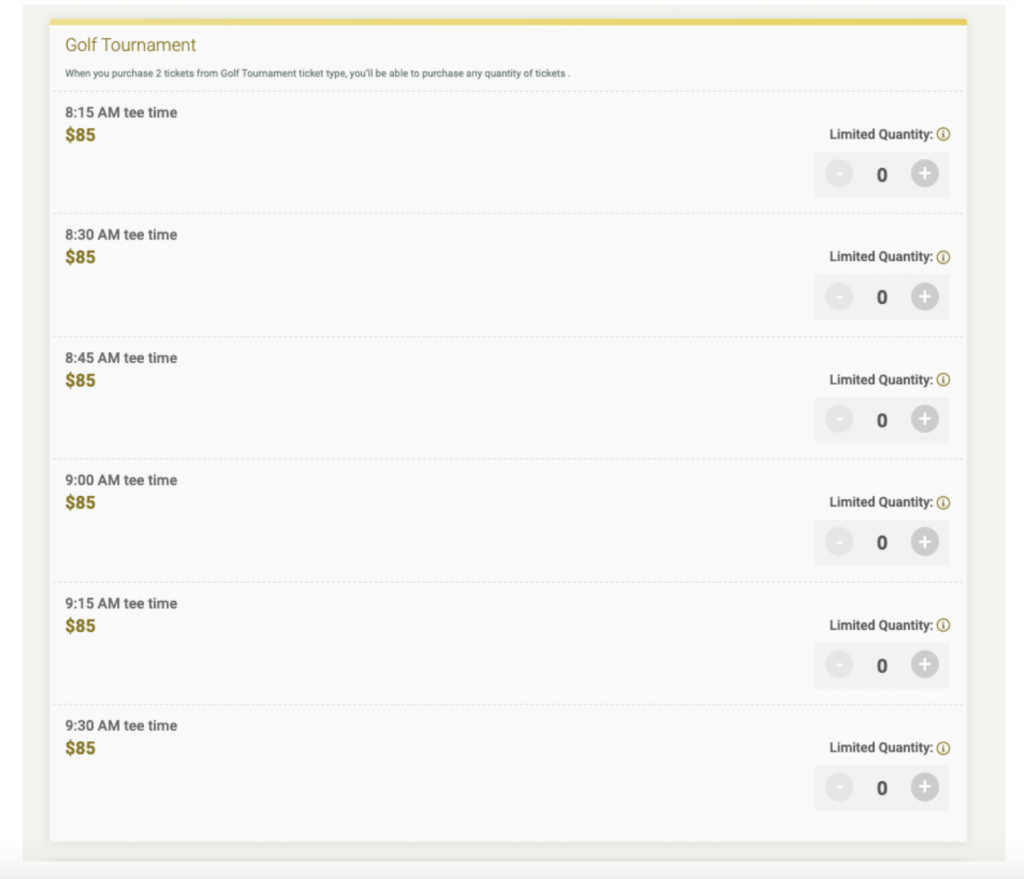 This can be accomplished by creating each tee time as a ticket in the wizard. If your event is more complex — and you will also sell sponsorships, allow foursomes to sign up together or have tee times across multiple days — you can create a single ticket in the wizard, upgrade to advanced tickets and build out more than one ticket group to categorize the tee time options by day or separately from sponsorships.
Bonus: Free and Flexible
These set-up options cover most of the scenarios we've seen from fundraising golf tournaments so far, but if your event is structured differently, our ticket wizard is flexible enough to accommodate any setup. With one-time and recurring donations, free websites, free email marketing, and easy-to-use event day technology, nonprofits are choosing GiveSignup to raise more at their next golf fundraiser. It's free, quick and easy to try it out: You can create your golf tournament on GiveSignup for free at any time at givesignup.org/ticketevent/new.