We are very happy to release the first version of our free next-generation email system for nonprofits! As we have previously discussed, this will take us several months to completely release, but this release brings important features to nonprofits now:
Free unlimited email sends
Free unlimited email contacts
Upload your contacts and custom information, like "Previous Donation Amounts"
Available in our Donation Websites and Forms, as well as our Nonprofit Ticket Platform
Here is an example email on an iPhone that includes custom tags, like "First Name" and "Previous Donation":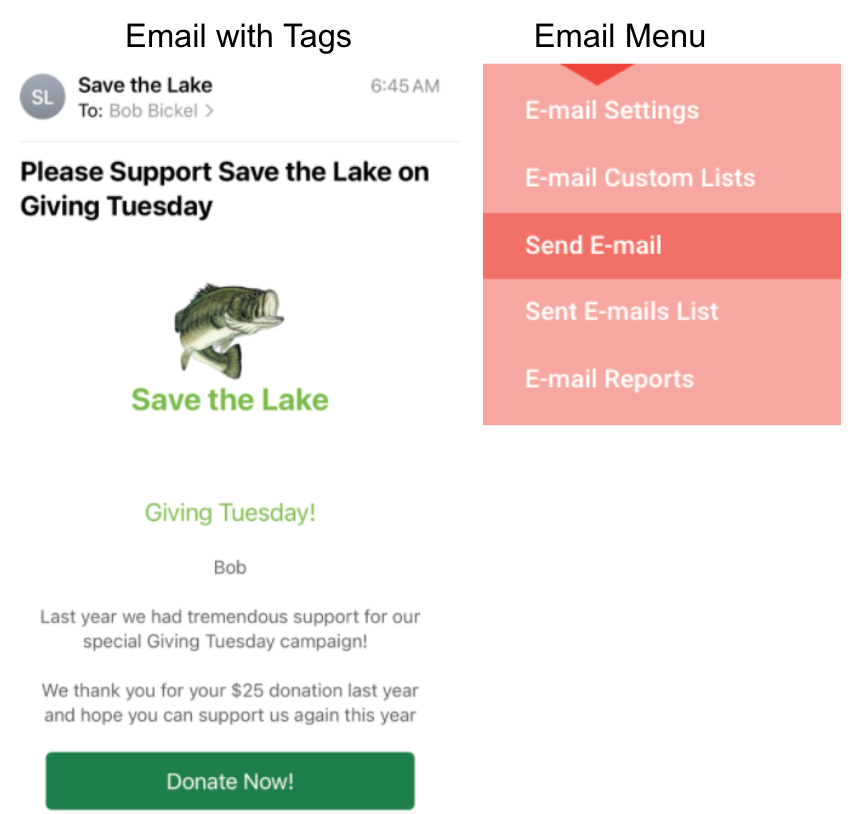 Let's dig into how to use the new free email system for your GivingTuesday campaign as our example.
Set Up Email
The above menu on the right shows in your Donation Website. There is a similar one for Donation Forms (little email link near the top of the page) and in the Ticket Dashboard. You will have to set up your basic email parameters, which are pretty simple — the Reply-To Address and the name that shows for the From and Reply-To: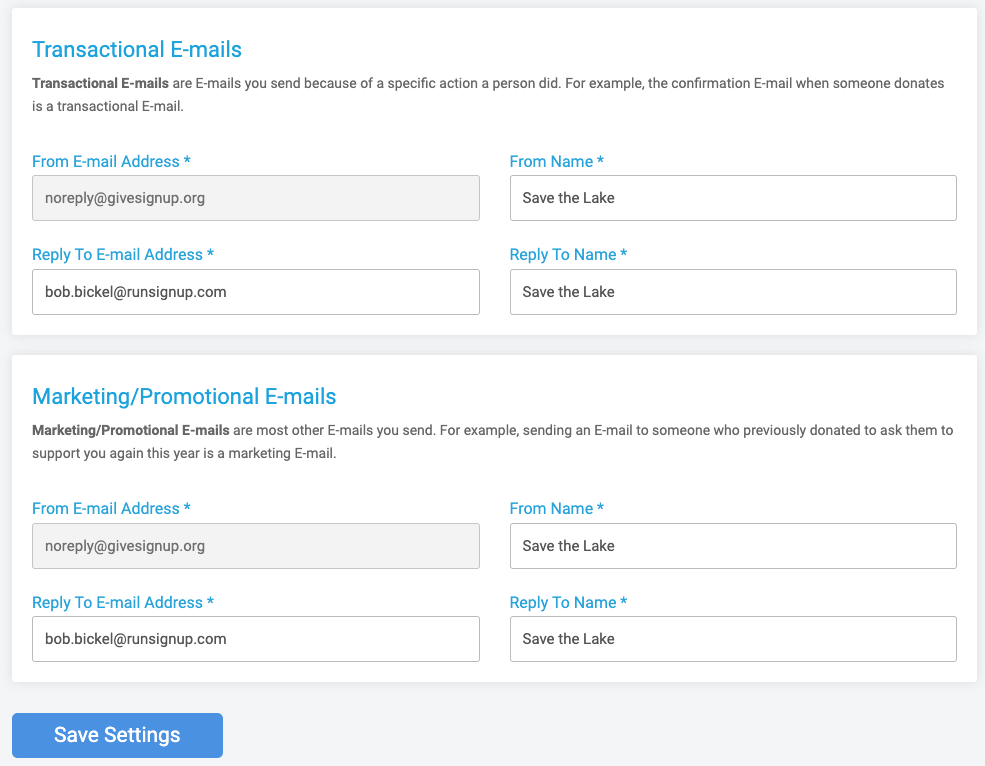 Note that we give you two email accounts: one for marketing purposes and one for transactional purposes. This allows you to send marketing emails and have people unsubscribe from those, but when you want to send something really important (for example, where to park for the festival that your supporter has a ticket for), you can feel sure that some people won't be unsubscribed. Note that we give you the direct ability to resubscribe email contacts.
Upload Contacts
We give you the ability to upload contacts. You can do this one at a time:

Or you can upload a CSV: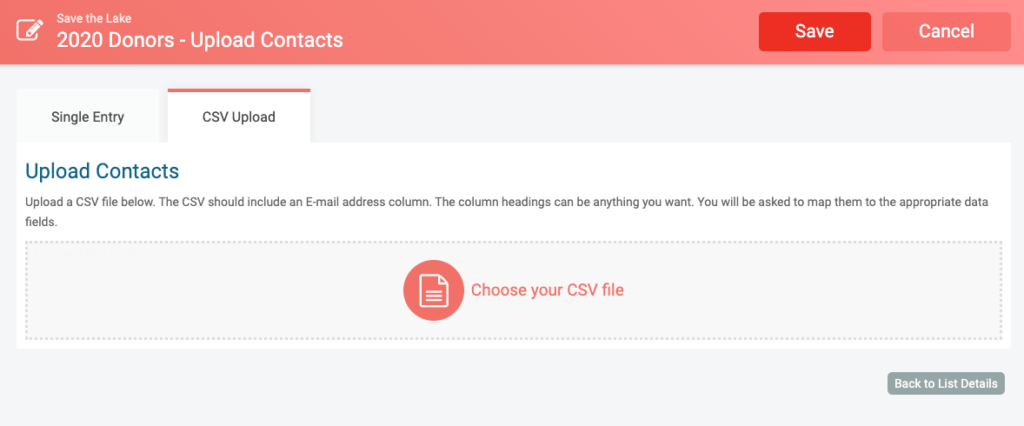 When you upload a CSV, it is easiest to have the first row be headers. This will make it easy to upload custom data with each contact, such as how much they gave in 2020. Here is an example spreadsheet:

And this is a sample file you can download – 2020DonorsDownload
When you upload, the system will ask you if Row 1 is a header row:

Our upload has the 2020 donation amount from each previous donor, and it is simple to add that data as a dynamic replacement tag with a Custom Placeholder: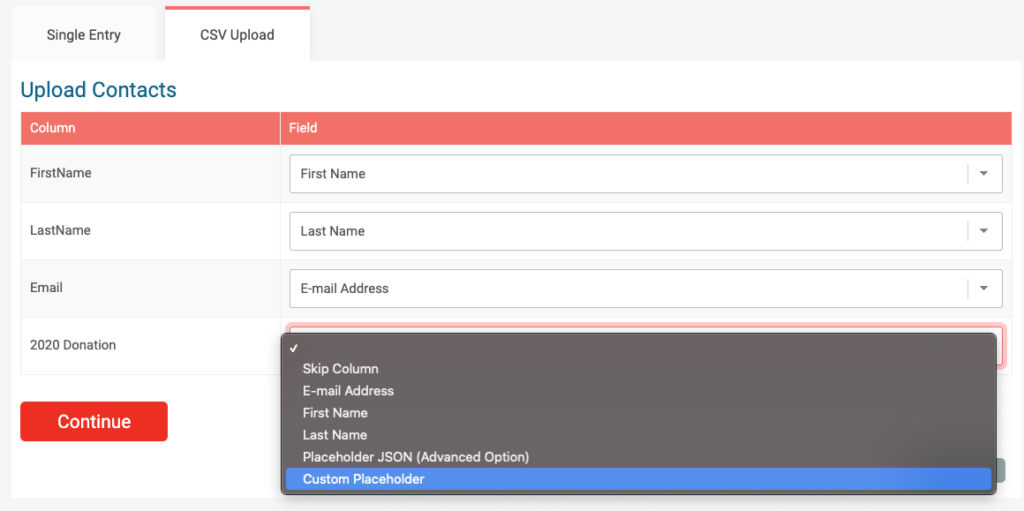 You can name that Placeholder. This is the tag that you will use when you write your email. In this case, we are calling it "2020_DONATION":

We support up to 100,000 rows of data at a time for each upload. We have a limit of 500,000 contacts per list and per email at this time (we will likely expand that limit in the future). So, if you have more, you will have to break it into multiple lists or multiple emails. Oh, and remember, this is free. You can send unlimited emails to supporters for free as long as you have a payment account with us and are going to use us to raise money via our donation, fundraising, ticket, or registration services.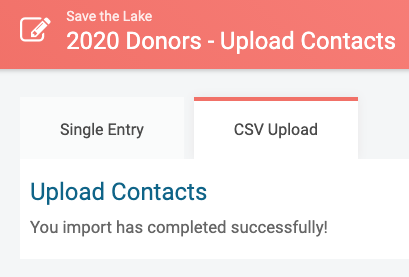 Send Email
Sending an email is simple. Select participants, enter a subject line, and the enter the email text you want to send: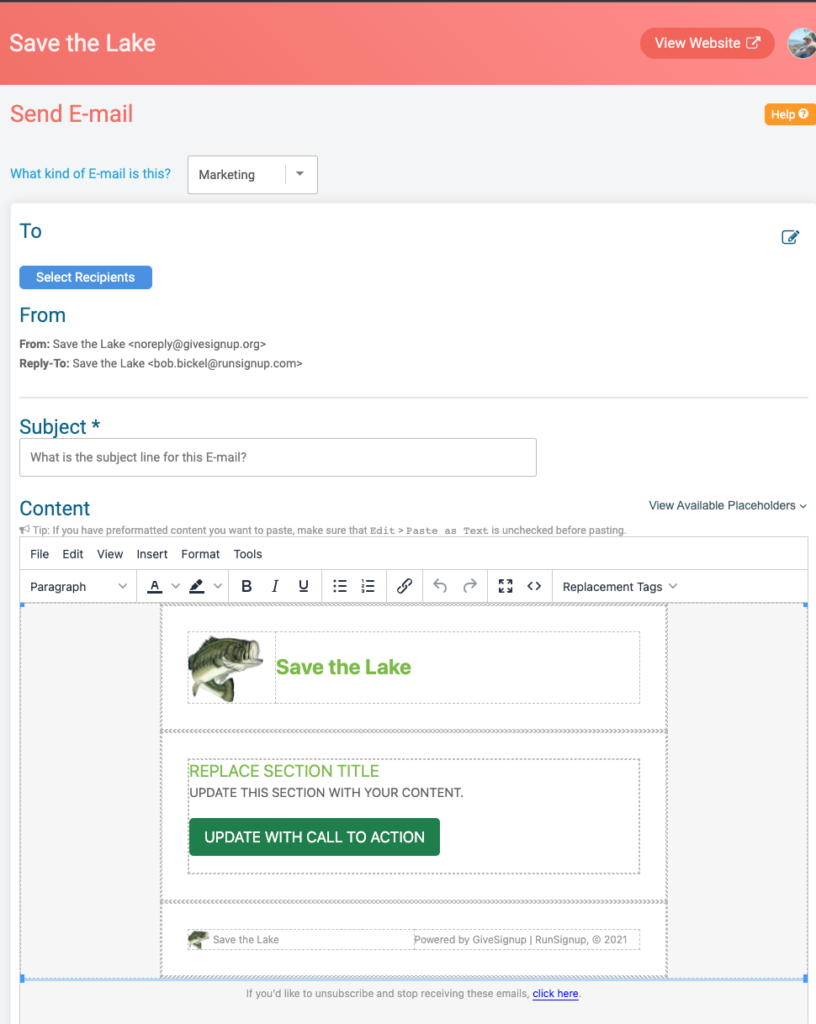 Select Recipients: We give you a simple button for all of your donors or ticket purchasers (see the second tile below called "Donors"). We also show all custom lists that you have uploaded. Finally, you can add single contacts with the dropdown on the upper right.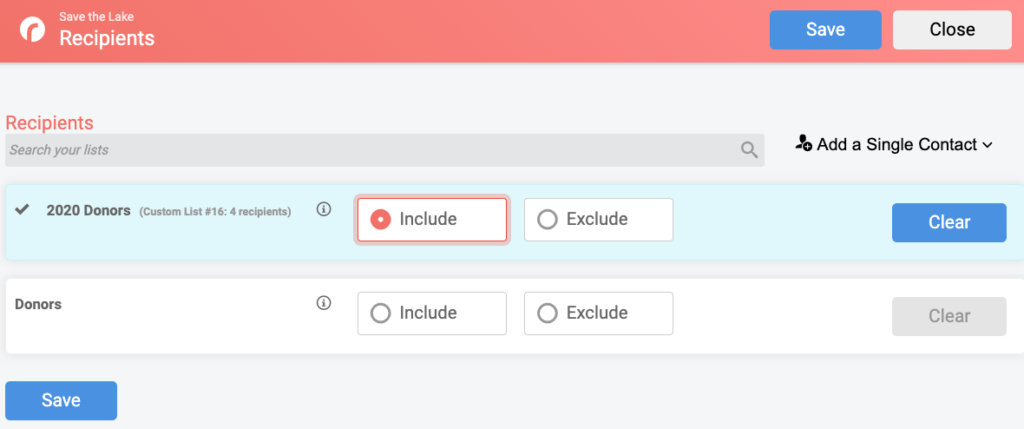 Content: Today, we offer a simple sample email. You can fill in the content you want and customize the button. It is a fairly powerful editor that allows for full HTML if you are an advanced user. Below, we will show you the plans we have for a more robust and easier-to-use Email Builder.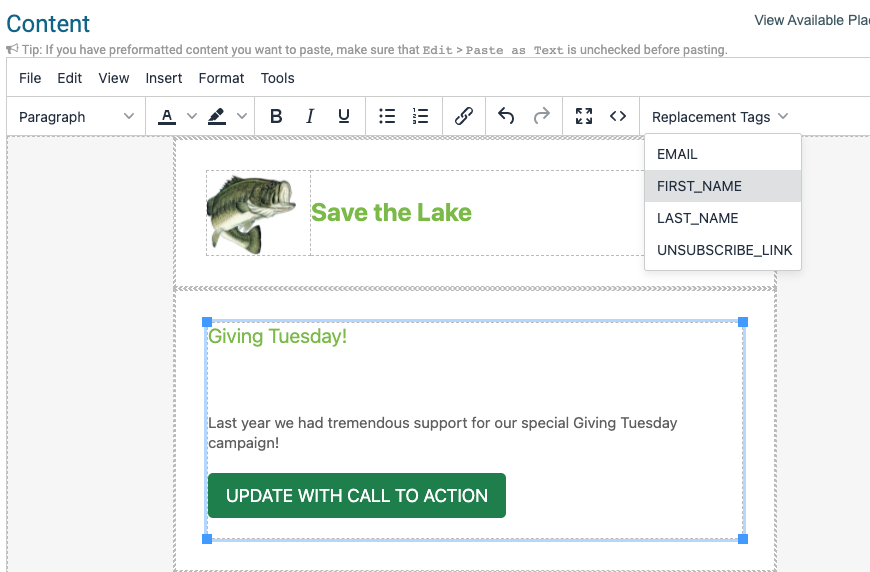 Tags: One of the most powerful parts of our email system are the custom tags. As we expand the system, there will be more and more custom tags. Using the dropdown menu at the top of the editor, you can insert those tags easily. In the example below, the %FIRST_NAME% tag will render each individual's first name in their email (like the "Bob" in the sample email image at the top).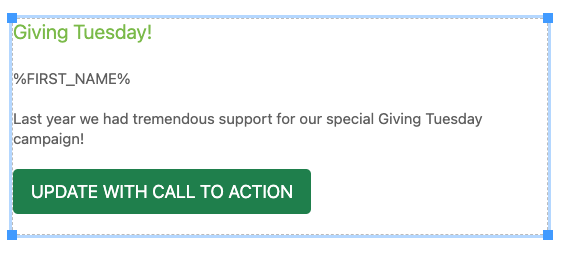 We include a formatted call-to-action button. To edit this, click the little link button at the top of the editor:

Then, replace the text with the appropriate information: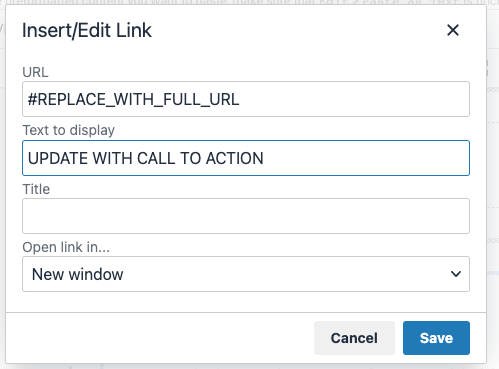 The URL is the URL for your Donation Website, Donation Form, or Ticket Website– or any other URL. Add what you want the button to say — like "Donate" or "Buy Tickets."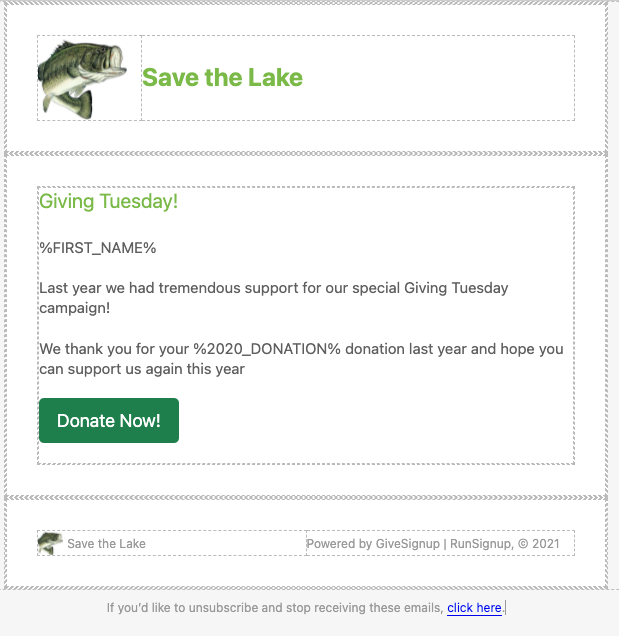 Finally, you can add that custom replacement tag for 2020 Donation Amount that you imported with your list — in this case, the tag is %2020_DONATION%.
Confirmation and Scheduling Emails: Click on the button at the bottom, and it will ask you to confirm the email. It will show you the people you are sending it to (click the "Estimated Recipient Count" if you want to confirm how many emails you will be sending). The confirmation page allows you to add default placeholders, like "Dear Supporter" if the contact does not have a first name. There is also some more advanced content logic that can be added, but we will cover that in a more advanced blog next week.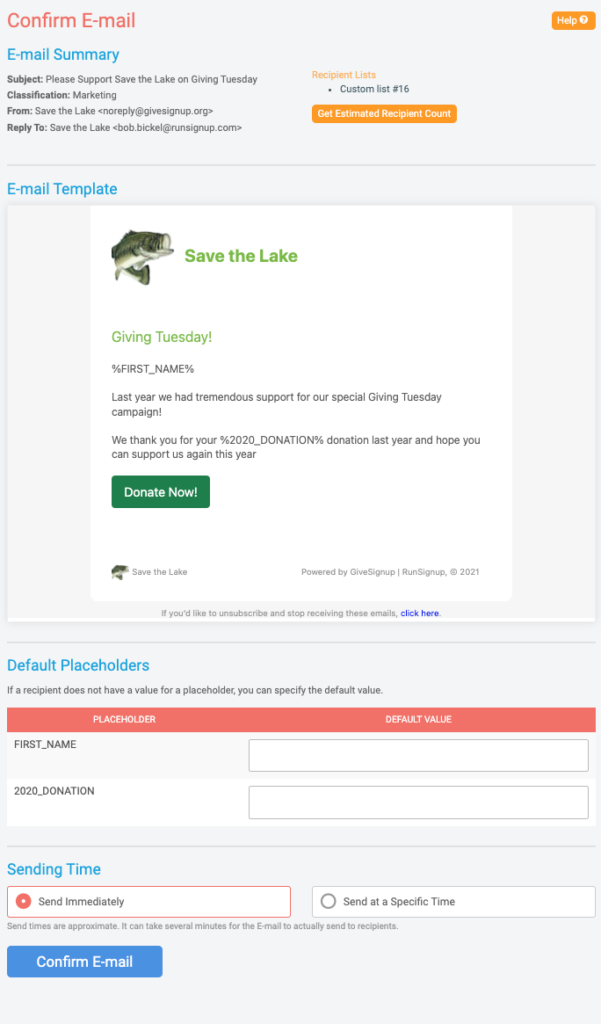 We also allow for scheduling of emails. This allows you to schedule several emails over the next two months before GivingTuesday to get people ready to give right up front, and the system will remember when to send them for you automatically.
Email Data Merging: This is what the email looks like to the recipient. Note the first name and the donation amount have taken the place of those placeholders we put in the email we set up above.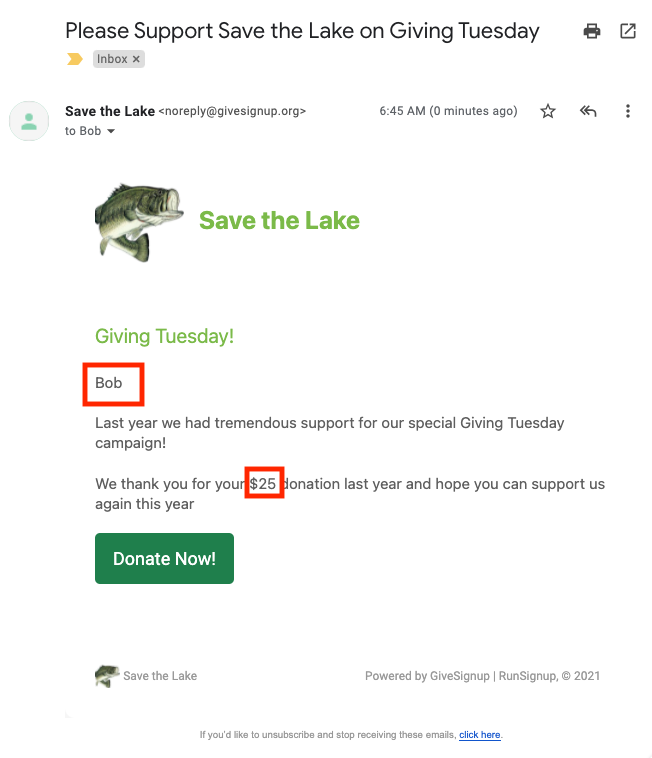 Coming Soon: Email Template Builder
Yes, our email editing is not beautiful right now — but it is free! And we have plans to introduce a much more intuitive template email builder. Here are some screen shots of the design, which will be available before the end of 2021. We will provide a set of base templates you can choose from like this: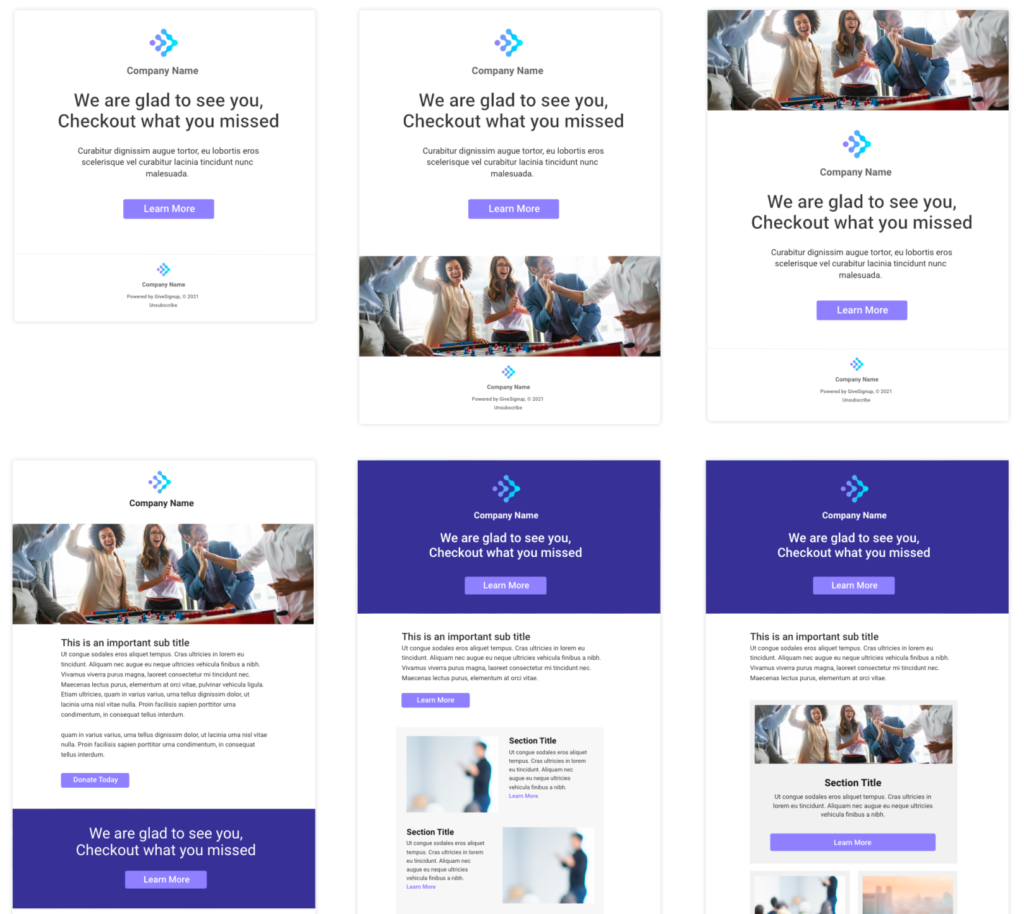 Once you pick a template, we will be providing section editing similar to what we do with Cover Pages, as well as our new Website Builder.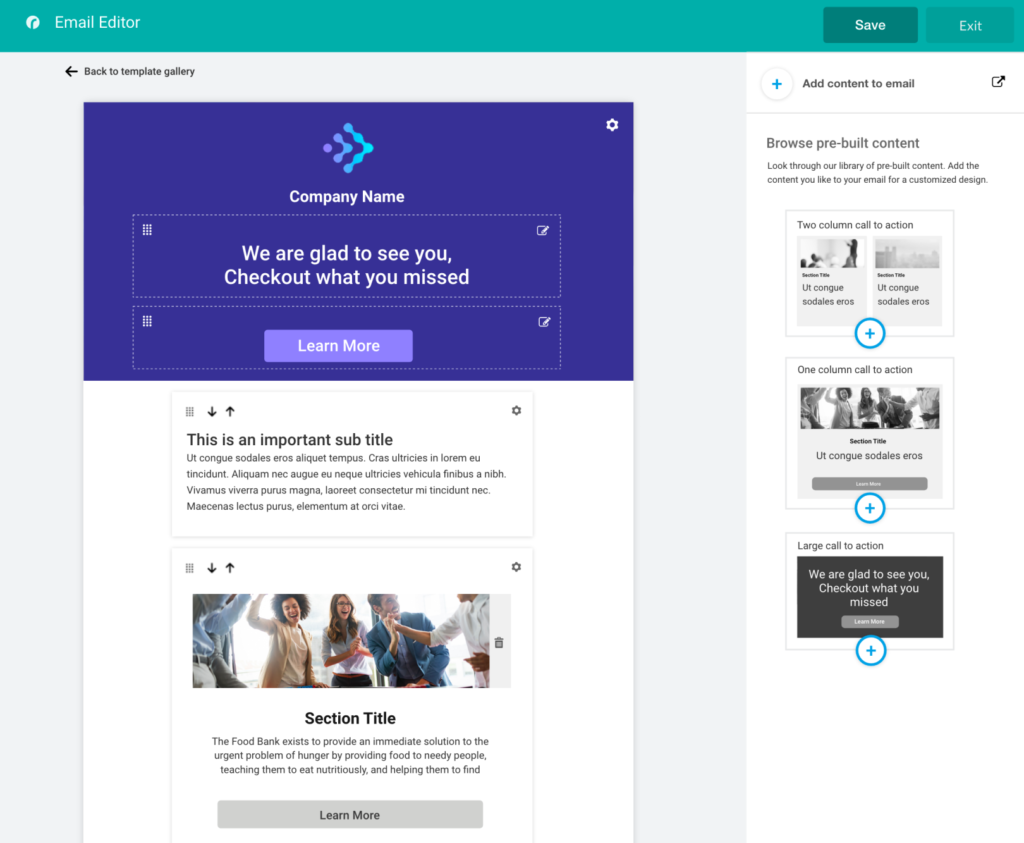 Your emails will look beautiful with plenty of nice features to highlight your content and calls to action: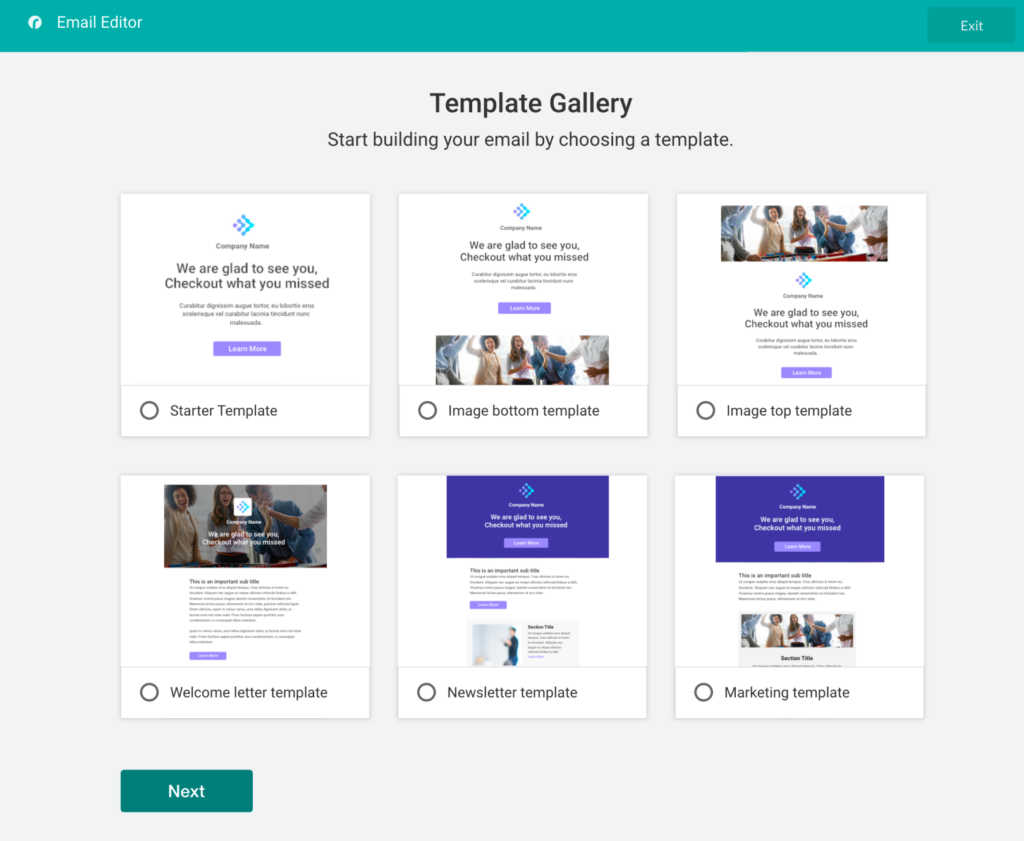 Again, one of the big advantages of our email system is the ability to integrate the data from the system or from your imported contact lists right into the email easily.
Reports
Reporting in this first version is very simple. There is a summary of Sent Emails:
Unsubscribes
We give a report showing anyone who has unsubscribed and provide an easy way to resubscribe them. Note that there is an option in the top right that allows you to manage your marketing and transactional email accounts and unsubscribes.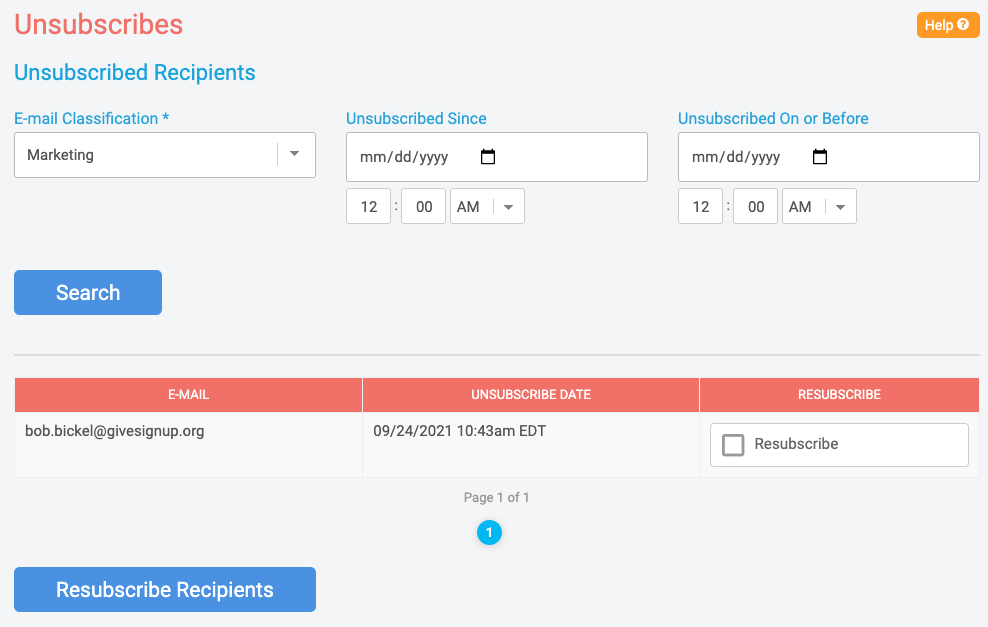 Summary
Our free email and free website capabilities are helping nonprofits manage their costs and improving their ability to connect with their supporters. Both are available now, and both will be gaining great new features over the coming months — so your nonprofit can continuously improve right along with us to engage your supporters and drive fundraising.