Forty-one YMCA organizations across the country used GiveSignup | RunSignup to raise more than $2.4 million on Thanksgiving morning this year by hosting a turkey trot. Turkey trots are a great way to raise money, and they also provide an important touchpoint for YMCAs to engage their supporters and foster community.
Here are the numbers for the 41 YMCA turkey trots on GiveSignup | RunSignup:
$2,420,816.74 raised
66,853 participants
5,124 donors
40 out of 41 YMCAs sent marketing and logistical emails with GiveSignup | RunSignup's free email marketing
389,000 website views on Thanksgiving day
Let's look at the different ways YMCAs leveraged GiveSignup | RunSignup's free peer-to-peer fundraising event platform to raise more and host successful turkey trots this Thanksgiving.
The Y Turkey Trot Charity 5K takes place in six cities across Maryland, as well as a virtual option to allow supporters to participate anywhere. The Y of Central Maryland moved to GiveSignup | RunSignup for this year's event and used many of GiveSignup | RunSignup's free features to drive more than 12,400 registrations and $95,000 in donations.
Free Website: The Y Turkey Trot brought its own domain (https://www.ymdturkeytrot.org/) to host its website for free with GiveSignup | RunSignup. Their website features event day information, results, photos, sponsors, volunteer registration, fundraising, and more. With full branding capabilities, data-driven content, and SEO optimization, the Y saves money with an automated website that's easy for them to customize.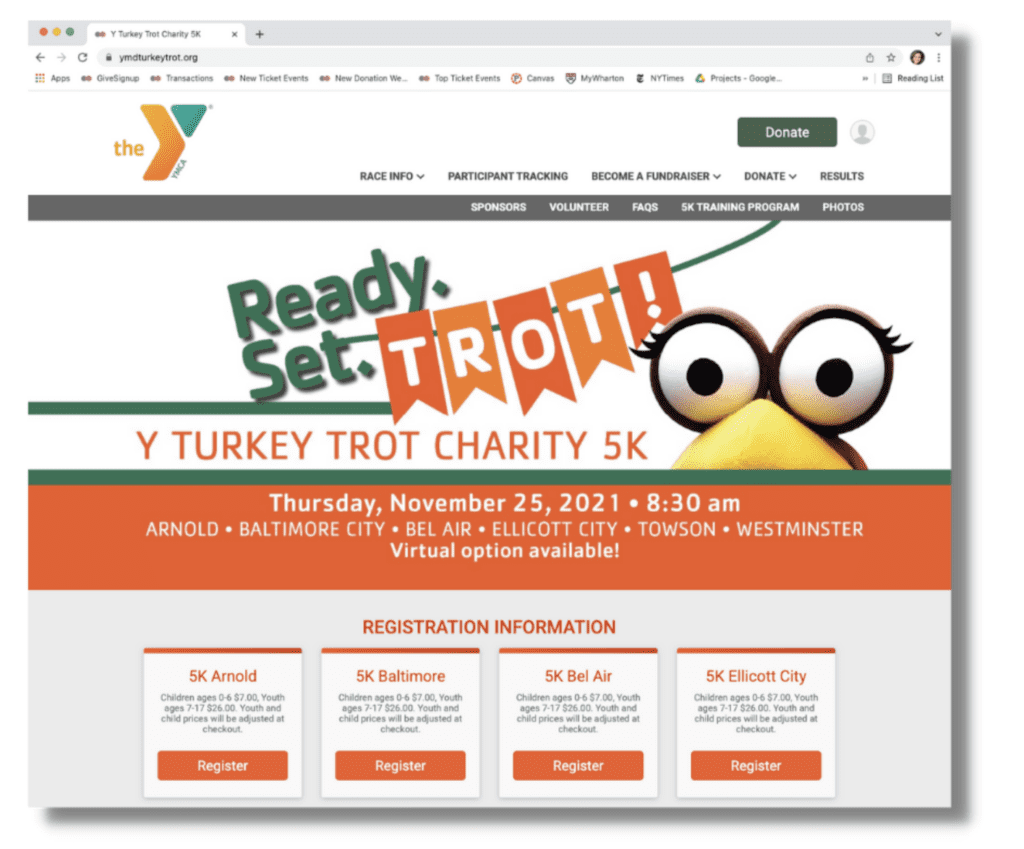 Integrated Donations and Fundraising: The Y of Central Maryland hit its ambitious $95,000 fundraising goal by giving every participant the option to donate and/or fundraise when they sign up. By passing processing fees to donors (4% for donations, including credit card fees), 100% of all donations went to the Y. Fundraising pages feature goals, a customizable story, and achievements that gamify fundraising.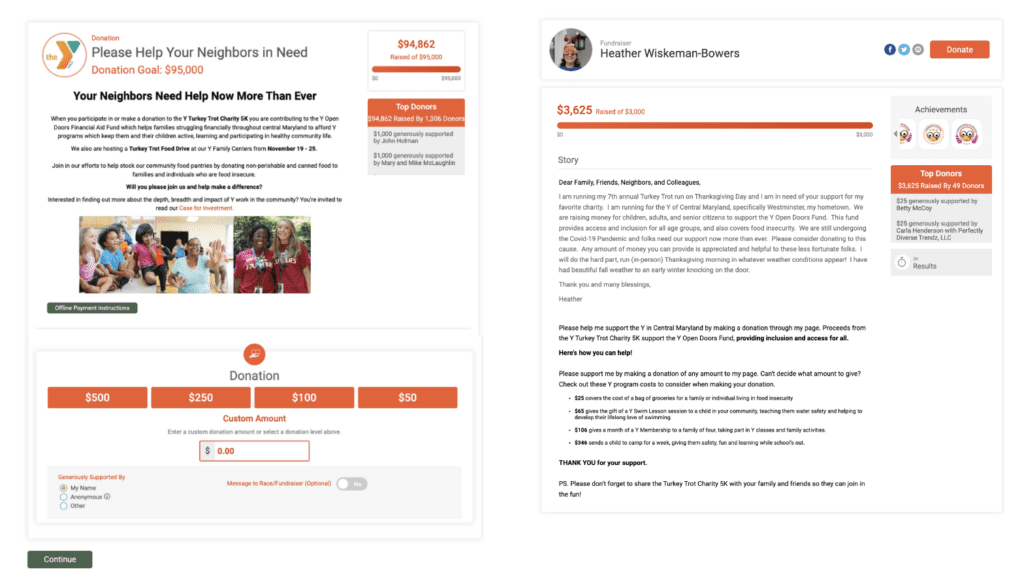 Age-Based Pricing: GiveSignup | RunSignup makes it easy for families and groups to sign up together. We only charge a processing fee on the transaction and not per participant, making it more affordable for families and friends to sign up together. We also comply with COPPA and make it safe and simple for parents to register their kids. The Y Turkey Trot also added age-based pricing to automate discounted pricing for children ages zero to six (free to $5) and seven to 17 ($15 to $25) across all events.
Celebrating its 126th year, the YMCA Turkey Trot is the oldest consecutively run footrace in the world! Last year, just 125 runners participated on the official race route on Thanksgiving morning in small waves to keep the streak going. This year was a return to normalcy with more than 10,000 participants running in-person on Thanksgiving and more than 1,500 competing virtually. The YMCA Turkey Trot has used GiveSignup | RunSignup's free platform for their event since 2015.
Free Email Marketing: The YMCA Turkey Trot has a huge database of hundreds of thousands contacts. It uses GiveSignup | RunSignup's free email marketing platform to promote its event, communicate important event day information, and segment its communications to different groups, like volunteers, early registrants, and more. We're excited to see these emails next year as we continue to introduce more of our free next-generation email marketing platform!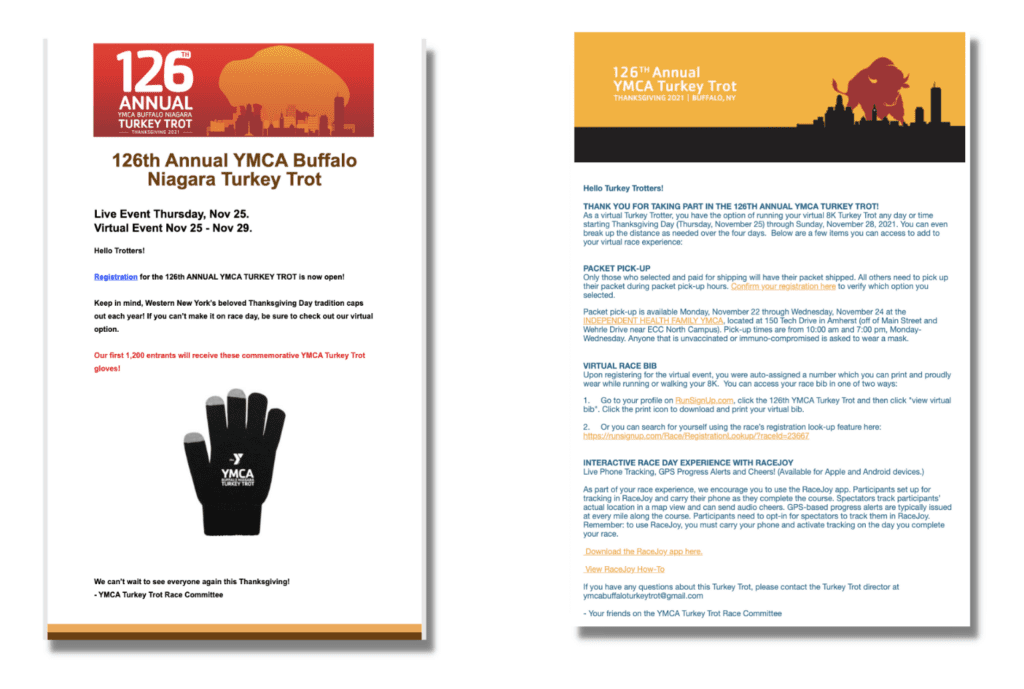 Free Volunteer Registration: Volunteers are key to having a successful event. The YMCA Turkey Trot had 269 volunteers for its event across a variety of pre-event, event day, and post-event tasks. It used GiveSignup | RunSignup's free and integrated volunteer registration with time slots, minimum and maximum volunteers needed, information collection, volunteer coordinators, volunteer reports, and free email marketing to manage and coordinate across this large number of volunteers for a successful event.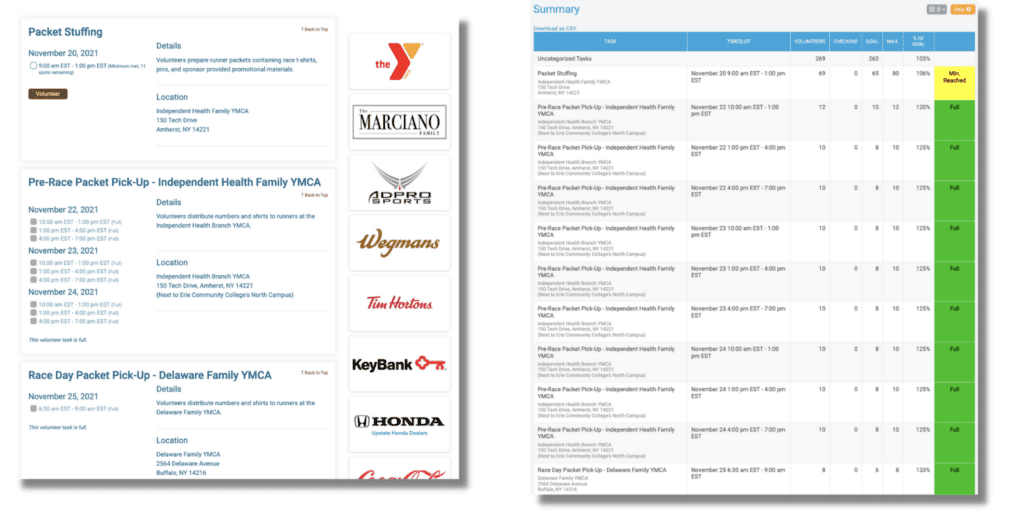 Store: The YMCA Turkey Trot sells additional branded swag and had more than 325 orders placed this year. Items are offered in the registration path and also in a standalone store so that people can purchase at any time.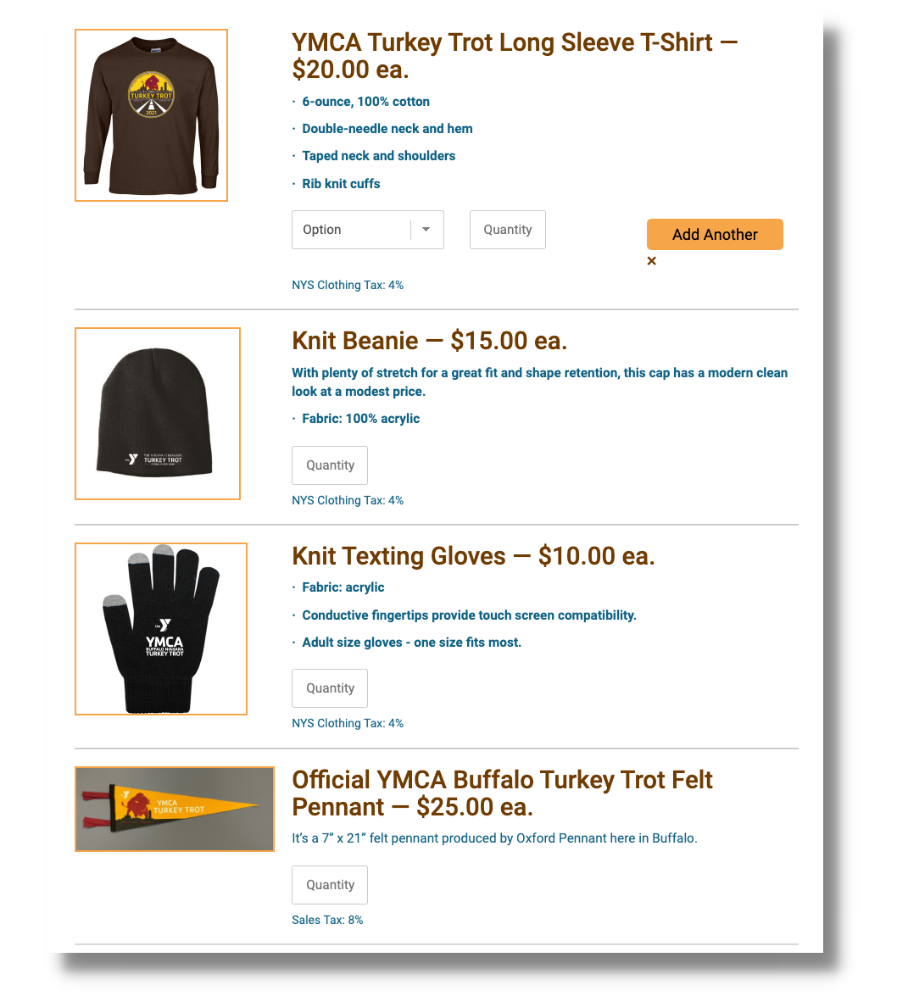 The YMCA of York and York County hosted their 25th annual turkey trot this year. Their event is not only a fundraiser for the YMCA but also partners with the Catholic Harvest Food Pantry to host a food drive at the event. With more than 3,000 participants, The YMCA of York and York County used many of GiveSignup | RunSignup's free event day tools to host a successful event:
Mobile CheckIn App: Volunteers used GiveSignup | RunSignup's free mobile CheckIn App to ensure participants got bibs and shirts, and had all waivers signed on Thanksgiving morning. The speed and ease makes it easy to check people in on event day. This is a better experience for participants because they don't have to make an extra trip to pick up their packets ahead of time, and the YMCA can leave registration open on Thanksgiving to allow last-minute participants to sign up. From the reports, you can see that two volunteers checked in a peak of 43 participants in five minutes just ahead of the start of the turkey trot.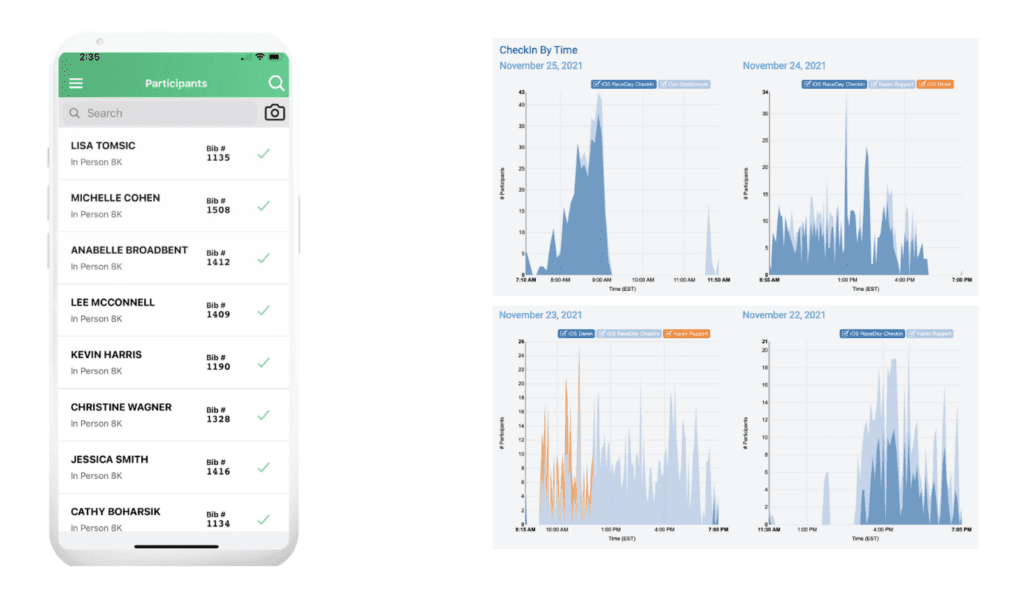 Participant Tracking: The YMCA of York and York County made it easy for friends and family to follow and engage with participants. It offered two options: RaceJoy, an app for live GPS tracking and cheer sending, and free text/email notifications for splits and results. A total of 5,909 notifications were sent: 3,469 SMS notifications and 2,440 email notifications.
Sponsors: Sponsors are an important revenue driver for many turkey trots, helping to raise funds beyond the $2.4 million from registrations and donations. Like many of the YMCA turkey trots, the YMCA of York and York County features sponsors on its website. When it adds sponsors to its dashboard, it is also able to automatically feature sponsors on other important touchpoints with supporters to provide higher visibility, including confirmation emails, email marketing, results notifications, and RaceJoy.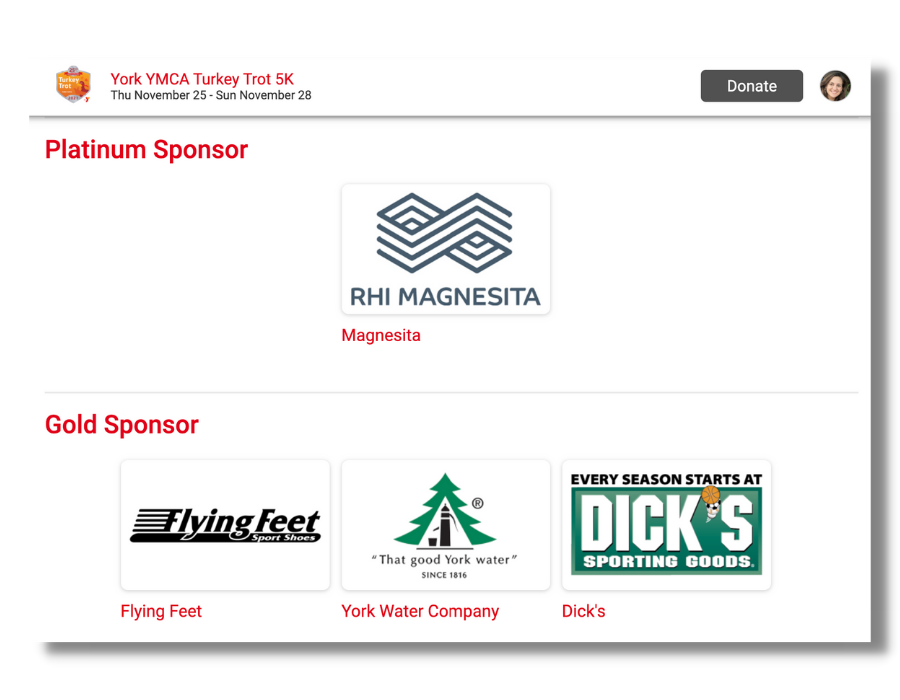 National organizations like the YMCA raise more money and strengthen supporter relationships by hosting turkey trots across the country. GiveSignup | RunSignup provides a free peer-to-peer fundraising event platform that makes it easy and free for organizations to raise more and host best-in-class events.
In addition to helping YMCAs with peer-to-peer fundraising events, GiveSignup | RunSignup has standalone donation and campaigns to enable nonprofits like the YMCA to just accept donations as well as a purpose-built ticketing platform for nonprofits. As an example, the YMCA of Northern Michigan is using GiveSignup | RunSignup to accept one-time and recurring donations for their Annual Campaign.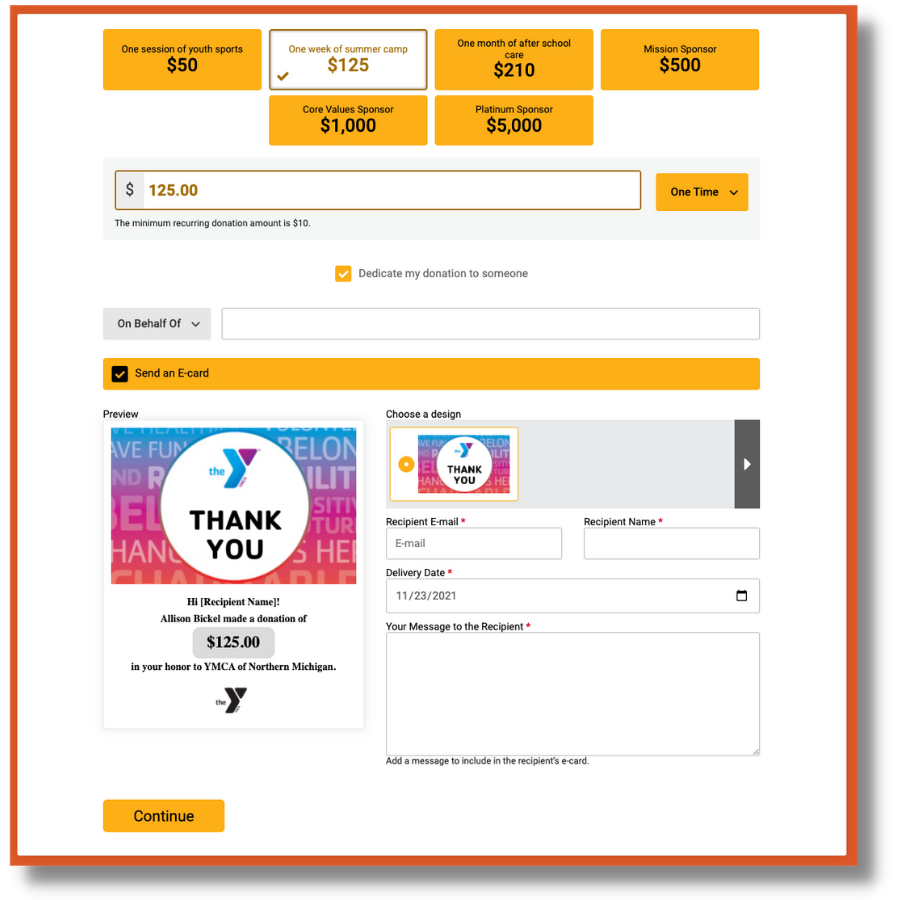 While year-end giving campaigns are important for nonprofits to prioritize, hosting an event this time of year not only brings in additional revenue but also helps to cultivate relationships with existing supporters, bring in new members, and grow the overall constituent base that your nonprofit can continue to nurture.