How GiveSignup | RunSignup Streamlined Cycle of Hope's Event Management and Protected Fundraising Revenue From the Unexpected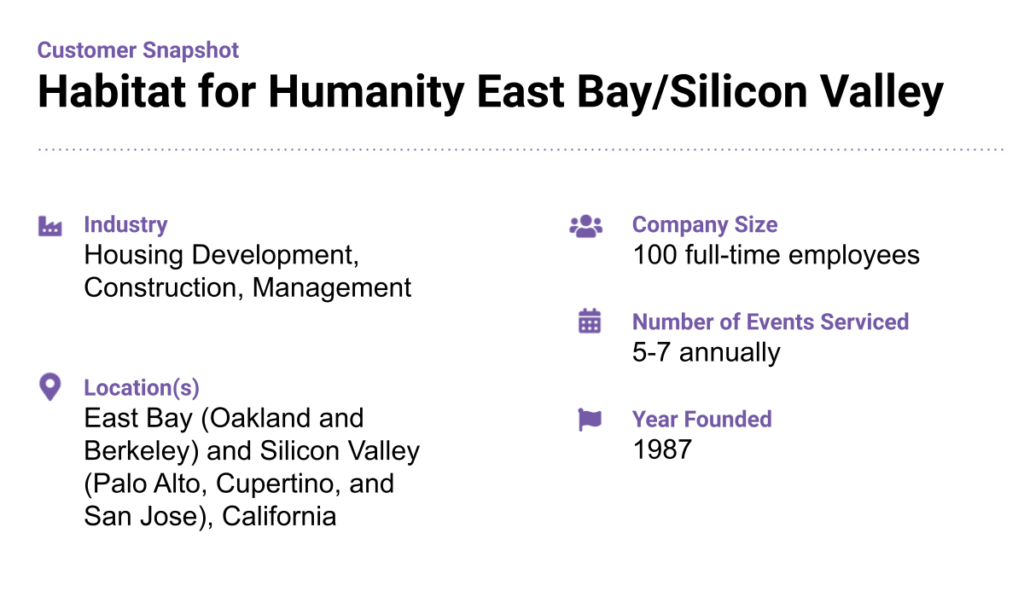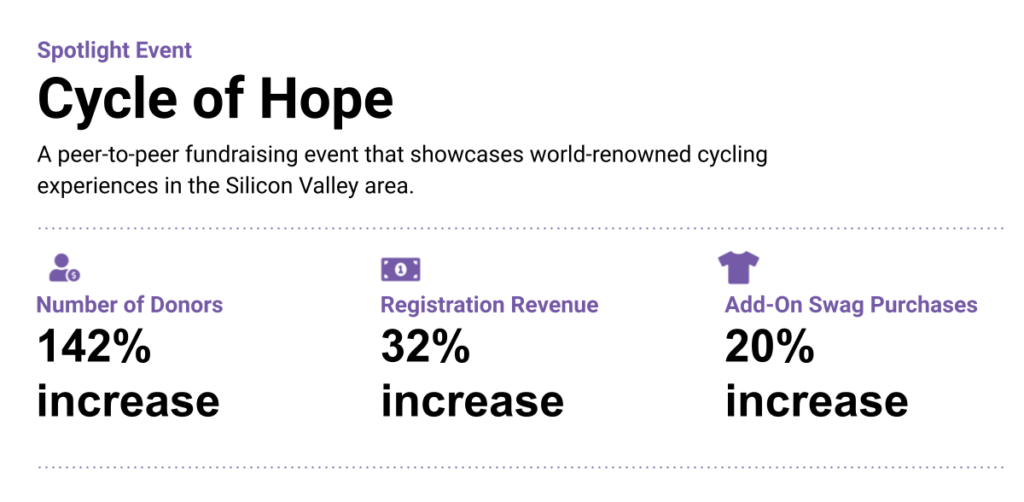 Habitat for Humanity East Bay/Silicon Valley (HEBSV) is a nonprofit organization that believes that everyone deserves a decent and affordable place to live regardless of race, religion, age, gender, or political views. Through its programs, the organization has helped 15,000 people, recruited 214,000 volunteers, and has raised nearly $27 million annually.
Established in 2018, Cycle of Hope is HEBSV's newest peer-to-peer fundraising event that showcases world-renowned cycling experiences in the Silicon Valley area — offering multiple ride distances for event participants of all ability levels and ages that ranged from the 10-mile beginner ride to the event's hallmark 100-mile century ride.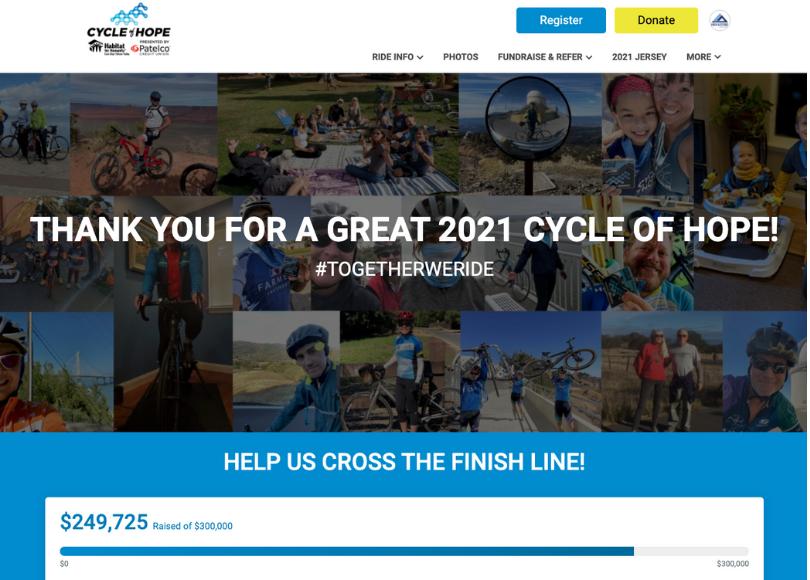 The Challenges
Reporting Restrictions. HEBSV's previous ticketing platform, Classy, only offered a small number of reports with limited fields, customization, and flexibility. There was a lot of backend work in order to create the reports it was looking for; several reports needed to be exported and merged to line up financials and plan for swag fulfillment. Additionally, there were no insightful dashboards that highlighted aggregate numbers for quick accessibility.
Limited Features for Add-Ons. The organization was looking for custom options to add onto peer-to-peer fundraising event registration, but it was unable to successfully add merchandise, meal, or VIP upgrades within the registration flow. To further complicate the checkout process, HEBSV had to offer these add-ons as standalone registration options amongst the actual ride options, which resulted in lots of customer education and customer service from the HEBSV team.
Unreliable Technology. HEBSV experienced glitches in code and limitations to settings, which were causing price periods to disappear and times to change if edits were made in a time zone other than where the event was taking place. This caused continuous monitoring of the site and manual effort to keep up with scheduled price increases.
Siloed Websites. Because there was no option to create one comprehensive website, HEBSV was forced to manage a separate event website (to house all the important event details, like event purpose, location, maps, etc.) and the peer-to-peer fundraising event site (to register and fundraise for the event). Also, there was no ability to use its own domain.
Significant Financial Commitment. Because of the subscription fee, contract fee, and the price of a third-party integration service, it became too costly for HEBSV to continue on the platform — especially with the limitations on customized options.
The Switch to a New Solution
In previous years, HEBSV used Classy to manage Cycle of Hope and other online fundraising activities. However, while the platform had an overall attractive aesthetic, it didn't have the range of personalized options they were looking for — like automatic headers and other flexible design elements. In search for a better solution that was more fit for its needs, HEBSV performed a comprehensive search and evaluated a number of different options. After extensive consideration, HEBSV decided to migrate its event and fundraising to GiveSignup | RunSignup.
"Our move over to GiveSignup | RunSignup… on the one end was nice because it was more specialized to our [athletic] event. But digging into it, there was a lot of customization, and we weren't locked in [financially with the free products]. What was evident during all of the pivoting is that GiveSignup | RunSignup would give us the flexibility we needed. The system allows you to get set up [quickly] and ready to roll. Plus, it gave us the room to get creative — like being able to pivot easily with registration transfers and doing it on a dime with global changes."Patti Wang-Cross, PR & Events Manager, HEBSV for Humanity East Bay/Silicon Valley
What also pushed HEBSV to choose GiveSignup | RunSignup was the helpful support team. With its help, the organization was able to talk through the solution and plan forward before even committing. And even after, the support team was always willing to go through extensive walkthroughs and to answer any questions. Plus, the help center provided a number of how-to articles, giving HEBSV a self-serve product that they can direct any of their team members or supporters to.
The Result: A Flexible Event Format and Steady Revenue
With the implementation of GiveSignup | RunSignup, HEBSV improved efficiencies by combining its peer-to-peer fundraising event registration and fundraising websites into one comprehensive website, preventing a segmented donor journey. Due to the pandemic disrupting in-person events, the organization decided to employ virtual products in 2020, as well as convert its in-person Cycle of Hope event to 100% virtual.
While HEBSV planned on hosting the 2021 event with a hybrid model, heavy rains caused the live event to be canceled just days before the event was supposed to take place, leading to another 100% virtual event for Cycle of Hope. But since there was a Plan B (taking the event virtual) baked into its overall strategy, the show could go on. However, despite the event having to go completely virtual both years, HEBSV was still able to achieve over 50% profitability.
The Tools and Features
RaceInsights Dashboard. With instant access to a dashboard that houses valuable data — like page views, transactions, number of registrations per event — HEBSV was able to get full visibility on the event's performance. As an added bonus, it was a huge time saver for its team!
Registration Add-ons. In addition to registration, Cycle of Hope was also able to offer custom jerseys, spectator meals, and a VIP upgrade available for sale within the original registration form.
Robust Reporting. GiveSignup | RunSignup allows for quick and easy tracking of marketing activities, registration progress, and financial summaries. Plus with the transparency and reliability of the tool, it was simple to match up revenue collected with numerous high-level details (e.g., registration revenue vs. donation revenue).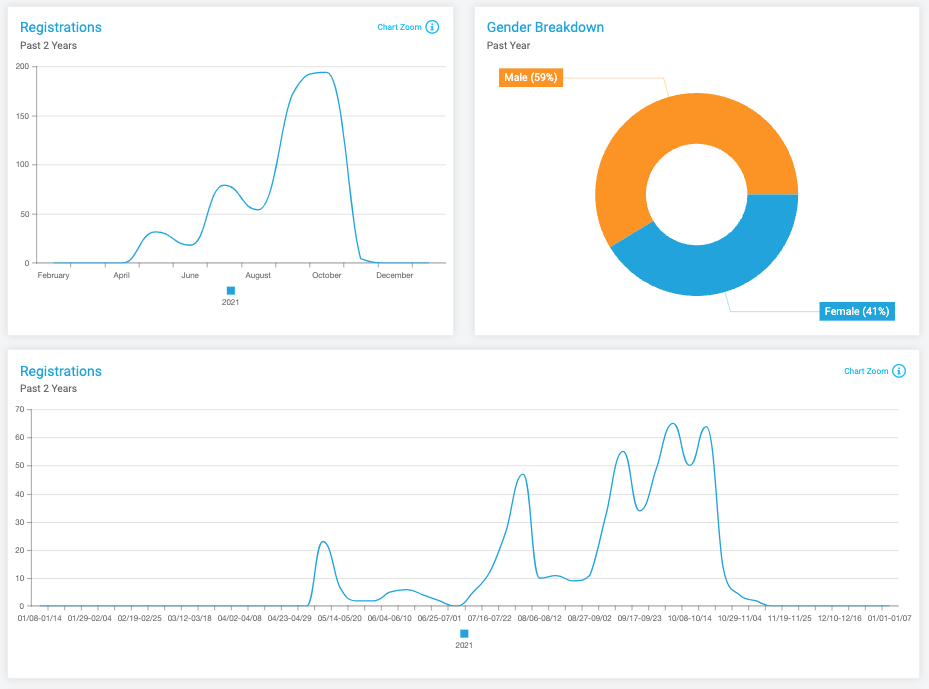 Free Website. Building a website on GiveSignup | RunSignup came with complete customization options, the ability to display HEBSV's branding front and center, and the power to replace the old WordPress site, cutting website setup and maintenance in half. Many Cycle of Hope riders remarked how it was easier to find the information they needed using the new GiveSignup | RunSignup site. Using HEBSV's custom domain, habitatcycleofhope.org was key to being able to consolidate from two sites into one. With GiveSignup's Website Builder, equipped with a drag-and-drop tool that easy to use and understand, HEBSV was able to tailor its website to fit its unique needs, with a menu header with dropdown menus, along with unlimited pages and subpages, that feature a number of customizable content pieces — like images, videos, a donation goal thermometer, and more.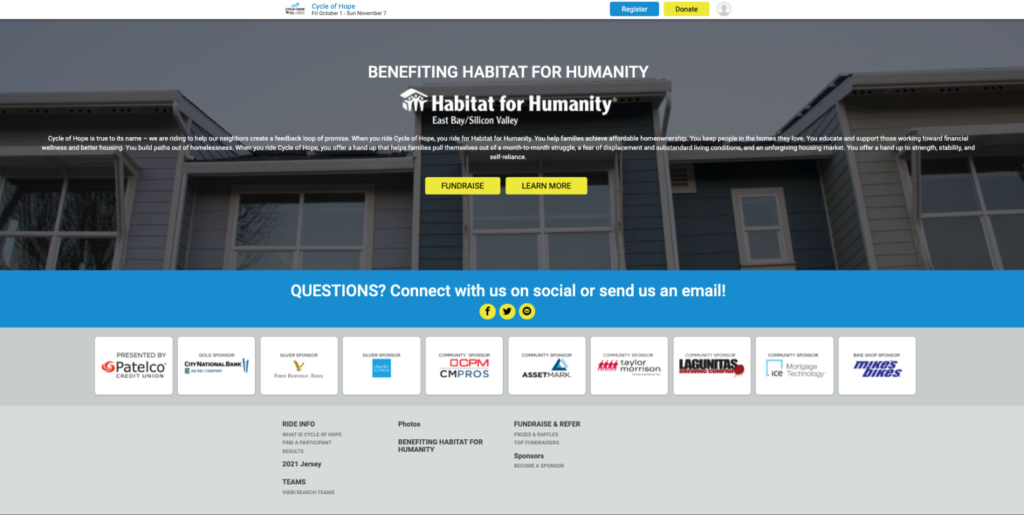 Virtual Race Results and RaceJoy. HEBSV utilized the RaceJoy app to offer virtual ride experiences for both predefined course routes and "anywhere" options that allowed users to create their own courses through apps like mapmyride.com and ridewithgps.com. The RaceJoy-curated routes included course sets for all ride distances from 10 to 100 miles in both the Silicon Valley and East Bay areas. Messaging about HEBSV's mission and cause were interlaced with special thank-yous to top tier sponsors that played through the app at specific points along the virtual rides. Plus, riders were able to track their rides and enjoy a custom audio experience before uploading results to see how they matched up with fellow riders. RaceJoy served a critical role in delivering a tangible experience in absence of a live event.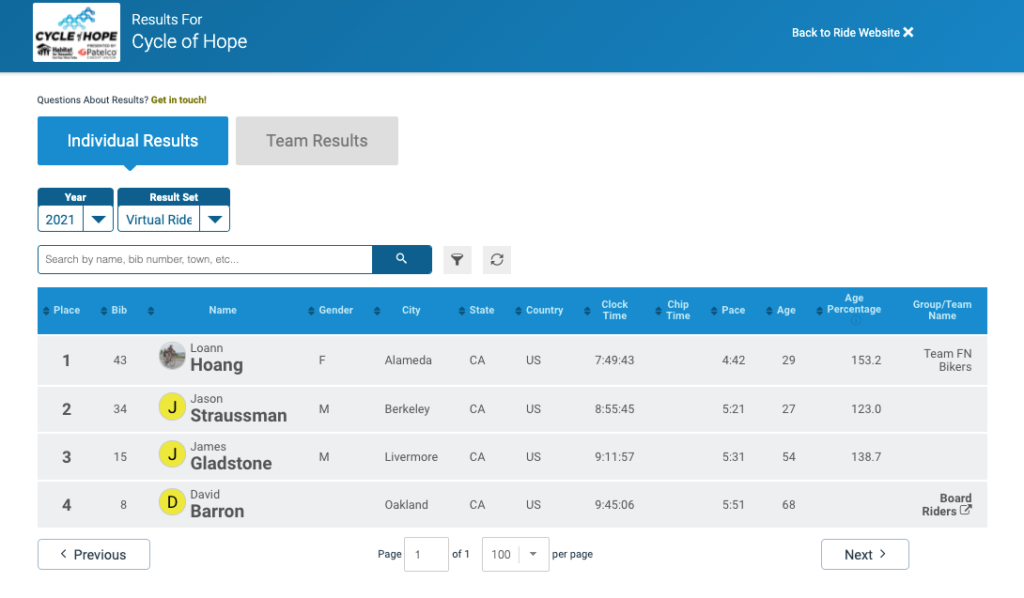 Email Marketing. With access to both marketing and transactional email types, HEBSV had the ability to create dynamic recipient lists for its registrants and personalized pre-event guides that included key event information — like event distance, bib number, and amount raised.
Facebook Fundraising Integration. By linking its event on GiveSignup | RunSignup to their nonprofit Facebook page and further supporting its fundraisers, HEBSV experienced a 142% increase in the number of donors to Cycle of Hope.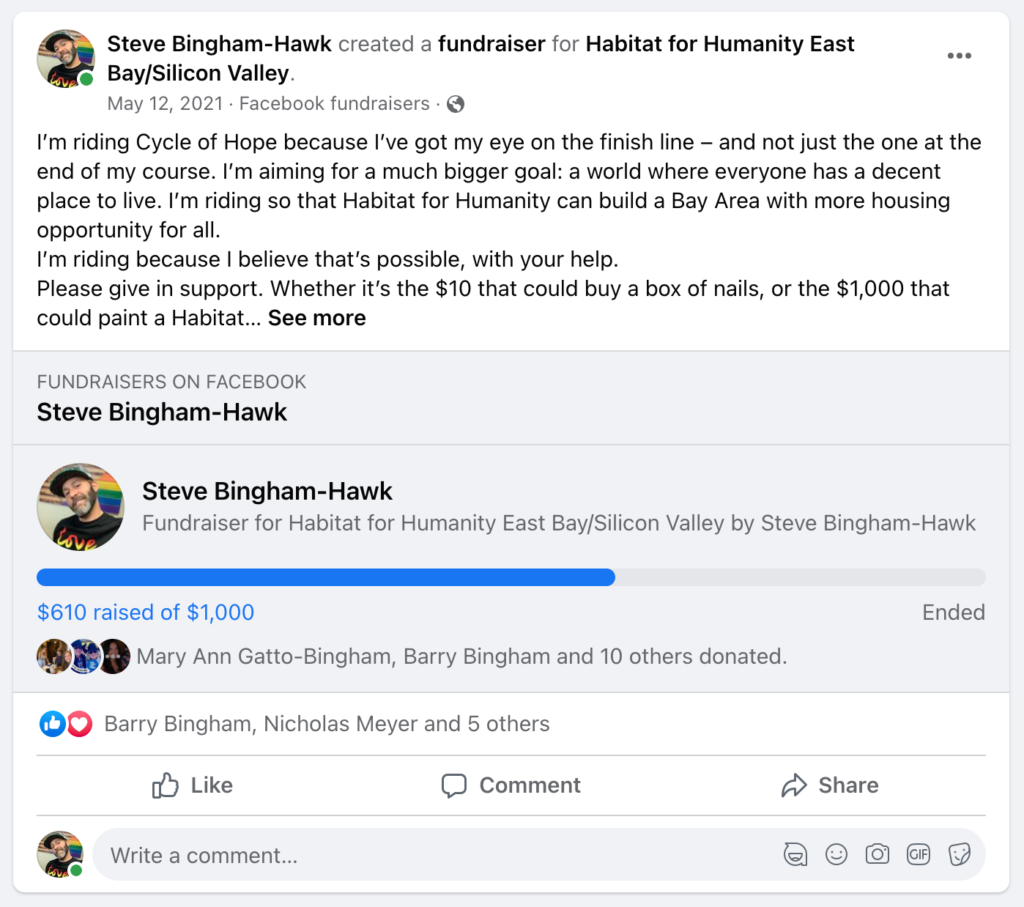 Looking Ahead: Embracing the Hybrid Event Model
HEBSV is excited for this year's Cycle of Hope scheduled for October 2022, continuing the hybrid event model, and creating more ticket events and fundraising campaigns using GiveSignup | RunSignup.

Patti's Advice for Other Nonprofits
"[For nonprofits interested in GiveSignup,] I would recommend leaning on the support team to flesh out what your solution should look like. Do the homework to bring reports over from your previous platform. Let the support team take you through that journey and experiment with the products because it's at zero cost and commitment. Include major players in the company into the product to get full feedback." Patti Wang-Cross, PR & Events Manager, HEBSV for Humanity East Bay/Silicon Valley
For events looking for a full-scale, flexible event management system that also gives you the ability to add fundraising options important to helping nonprofits drive revenue, GiveSignup offers just that without the steep price tag, overwhelming contracts, and unnecessary subscription fees. With full-fledged transparency received from the helpful support team, nonprofits know what they're signing up for before they even commit.