Peer-to-peer fundraising events that allow or require files to be uploaded with their registration can now create participant reports that include the URL for each uploaded file. This saves event organizers time by allowing for quick file upload reviews for all participants on one or very few screens with minimal clicks. Prior to this release, users were required to search for registrations individually and click on a button within each person's registration record.
Create Report
STEP 1: To create and view the report, you will first go to Reports >> Participants >> View Participants.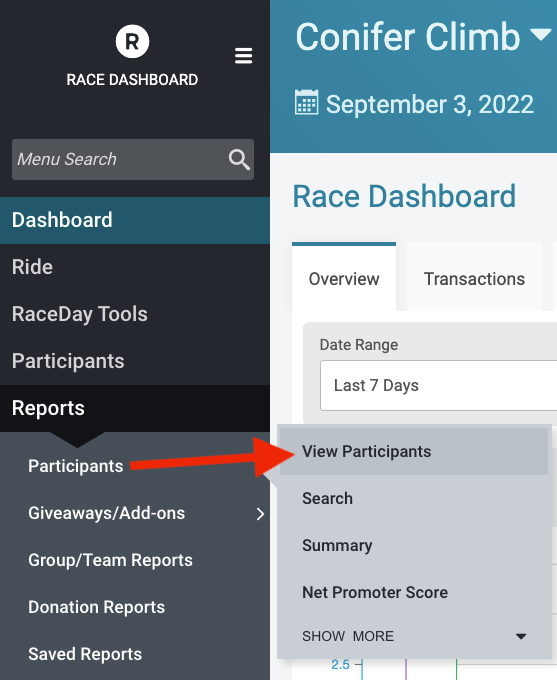 STEP 2: Next, you will need to enable the new data field under the Report Options dropdown and click on "Hidden Fields."
Click the checkbox next to the "Race Registrant File Upload."
STEP 3: You will then need to choose this now-enabled data field to appear in your report by clicking on "Customize View" under Report Options.
Select the field, "Race Registrant File Uploads" from the Pick From All Columns tab.
Scroll down and click on the green "Update Report" button.
STEP 4: For each registrant in the report with a file upload, a button will appear to "download" it.
A new tab will open in your browser with the file. To save or "download" it, right click on the file and save to your preferred destination.
If multiple files are allowed and present for a registrant, you will see a button for each along with a timestamp. The most recent file will be at the bottom of the list of buttons.
Report Access and Download Restrictions
Access: Because of the sensitive nature of these files that often contain personal information or images, only RunSignup users with race director access will be able to view this new data column. To add race director access, go to Race >> Secure Access/Info Sharing.
No Report Downloads: The file URL is only available within the dashboard. We do not support the ability to include the new data column in downloadable (e.g. CSV, Google Sheets). The download restriction is intentional to protect the privacy of your participant's documents and images.
Reviewing File Uploads is Now Quicker and Easier
GiveSignup's new registrant file upload field makes it fast and simple for event organizers to find, view, and download files. By including this field in the dashboard participant report, the number of clicks to view uploaded files was reduced by 75% – just one click instead of four! GiveSignup's robust reporting will continue to add more data fields and functionality to improve the efficiency and ease-of-use for nonprofit event organizers. To learn more about how to turn on registrant file uploads, read our blog article, Registrant File Uploads.