This blog is only applicable to customers who have their payment account to be paid by check.
Update 3/15/2023 – We have heard from several customers trying to cash checks that their banks say there will be a delay. For example a Bank of America customer received a message that the check would be on hold until March 23. This is the delay that we suggested would likely happen in the original blog text below. We also have confirmation that all new checks are being processed via JP Morgan.
As has been widely publicized, Silicon Valley Bank failed and has been taken over by the FDIC. The good news is that the Treasury, Fed and FDIC announced on Sunday, March 12 that all depositors would be able to have full access to their funds and that checks would be cashed on Monday March 13.
GiveSignup does not use Silicon Valley Bank and neither does our processor Adyen, so this failure does not affect the vast majority of our customers who receive ACH direct deposit payment from us.
However, for a small portion of our customers (around 7%) that require payment by check we have used Bill.com for the past decade as our third party check writing vendor. Unfortunately, Bill.com has used Silicon Valley Bank to process those payments, which may cause some delay for our customers who get paid via check, including some in our Partner Revenue share program.
The good news is that Bill.com has made a public statement about their position, which supports the idea that even if there are some short term check cashing issues, all payments will eventually clear. They clarified that with a statement from their CEO on Sunday after the government announcement as well as an FAQ.
The other good news is that GiveSignup will make sure that you get paid. We may both have some short term frustration as we work through this, but we will be working to make sure that you receive the funds you deserve.
As of 3/12/2023, there are the following flow of checks that we have issued via Bill.com
1,038 checks were issued before March 7 and have not been cashed.
Payment instructions for an additional 398 checks were sent from GiveSignup to Bill.com on March 7th. Because of the cycle time for this more manual movement of money, it looks like Bill.com has not yet processed those checks. It is our understanding that Bill.com will draw those checks on another bank (not Silicon Valley). We don't have full details on this yet, but have received a statement by Bill.com that this change has occurred.
In this blog, we will cover:
Switch to Direct Deposit Payments
How checks get funded and paid
FDIC Takeover of Silicon Valley Bank
Check Problems
Receiving Funds to a Silicon Valley or Signature Bank Account
Switch to Direct Deposit
While not required, we recommend that you switch to being paid by Direct Deposit. This has always been the fastest way to receive your money from GiveSignup. This can be done by checking your Payment Account settings. This can be done from a Race Dashboard page by clicking on Financial -> Payment Account. Then clicking on the Manage Payment Account button:
Access can also be done from the top level menu that drops down from your logged in icon on the upper right of any page (your menu is likely to be shorter than Bob's):
Once you get to the manage page, the top will look something like this if you have check payment turned on: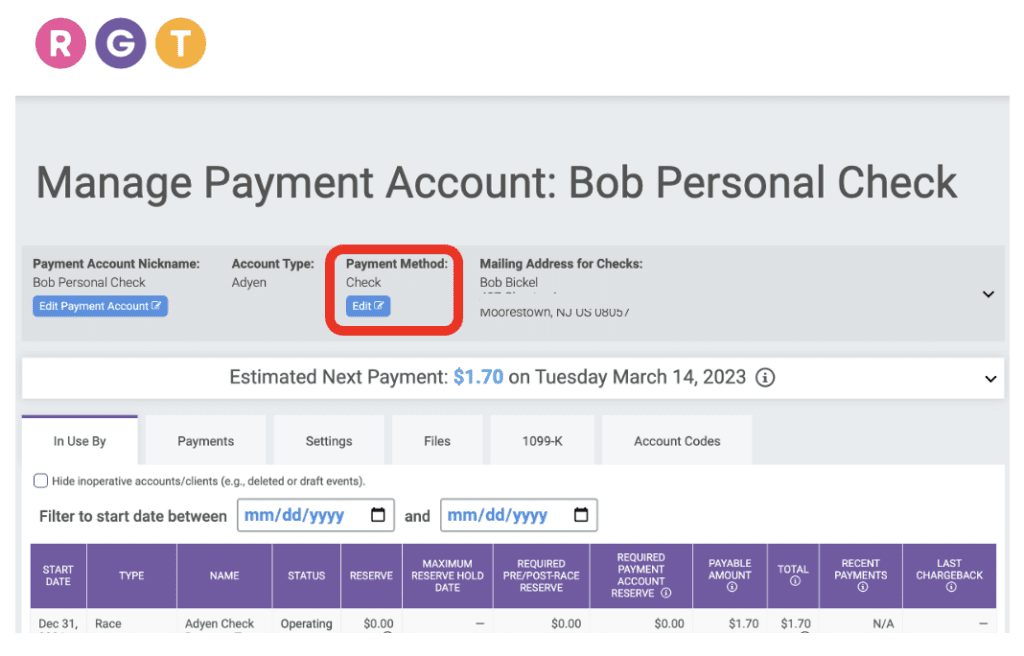 Click Edit under Payment Method and the following page will appear, where you will change from Check to Direct Deposit:
How Checks Get Paid
GiveSignup keeps a separate FBO (For Benefit of Owner) account at Adyen for each of our customers. Adyen is a public company and they are a payment processor and bank. On a weekly basis we issue payment instructions to Adyen to move money for each customer that is scheduled for payment via our bank account to Bill.com. Then we pass instructions to Bill.com. We tell them who to write the check to, the address and the dollar value of the check. They do all the printing and mailing.
Bill.com determines which of several banks they use – apparently $370 Million of the $3.3 Billion in payment processing they do is with Silicon Valley Bank. We think the majority of checks to date for GiveSignup customers have been drawn on Silicon Valley Bank. This means the checks our customers receive have Silicon Valley Bank information on them, and when they are cashed at your bank, the payments come out of Bill.com's FBO accounts at Silicon Valley Bank.
Bill.com and the FDIC has been clear that all checks will eventually be made whole. The FDIC has indicated that all customers accounts will be made whole and Bill.com appears well capitalized with an additional $2.6 Billion on their balance sheets should they need to contribute to their balances.
Bill.com has also communicated that they will be using other banks for future payment processing.
FDIC Takeover of Silicon Valley Bank
With the FDIC taking over Silicon Valley Bank, there may be some disruption in payments clearing in the short term, but the statements have been very clear that all payments will be cleared.
Check Problems
As we stated, there may be some delays, but we expect all checks to clear. If you have a check that does not clear and is denied payment, please send an email to finance@runsignup.com with the following information:
Payment Account Name
Event Name or Partner Name
Link to your payment account
Link to the payment
Copy of the check if you have it
We will work with you to either switch to Direct Payments or reissue the check payment.
Receiving Funds to Silicon Valley Bank or Signature Bank
If we currently pay your registrations proceeds by ACH (direct deposit) and your bank account is at Silicon Valley Bank or Signature Bank you may want to check with your bank or a successor bank and update your payment account with GiveSignup to the correct bank name and routing number to receive ACH payments from GiveSignup. We are not sure how this is being handled by the FDIC for these two banks, but we are alerting you to update your banking information on your payment account with GiveSignup to make sure any payments to you are not disrupted.
Summary
Rest assured that GiveSignup will make sure that you are paid. The best course is to deposit the original check you receive from bill.com and let us know if there are any issues with payment. From there we will determine if bill.com will issue a replacement check or if we will pay you in some other manner. And in the meantime, follow the earlier instructions to switch to direct deposit (ACH) if you are able, so we can make future payments directly to your bank account without the need to write a check.