GiveSignup's purpose-built platform offers the option to easily create peer to peer events as a perfect way to raise awareness and encourage participation to help reach your events ultimate goal. Check out three examples below that are maximizing the value from our tools and features.
Mountain to the Desert Classic (M2D) is hosting and celebrating their 20th anniversary fundraising event. Their yearly goal is to raise funds to support the Just For Kids Foundation. JFK Foundation provides essential financial support from scholarships to capital and start-up funding for youth organizations in Colorado. This the third year they host their event with GiveSignup, check out why!
Custom Content on The Cover Page
The Mountain to Desert Classic turned on the cover page feature to display important event information in one central place. At the very top, the cover page is set to auto display several different headers that include clear call-to-actions for participants. The call-to-actions help engage supporters to donate, register for the ride, and get more event information.
Custom content blocks are used to share their event's mission, and the experience supporters can expect through their personal photos from previous events. The last exciting touch added to the cover page is a live count down of the days remaining until event day.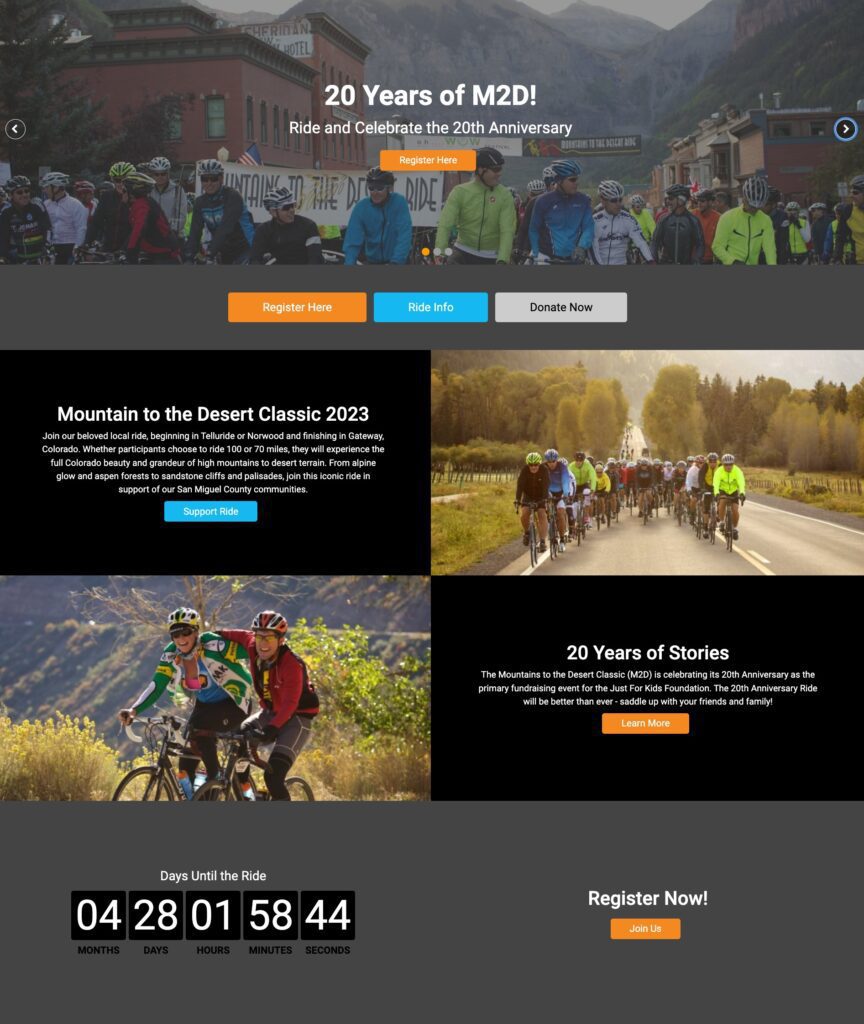 Sharsharet is hosting their first annual West Coast Dash run/walk in support of breast and ovarian cancer work. Sharsharet is a national Jewish non-profit organization that works towards helping to improve the lives of all women, men, and their families living with or at risk for breast or ovarian cancer.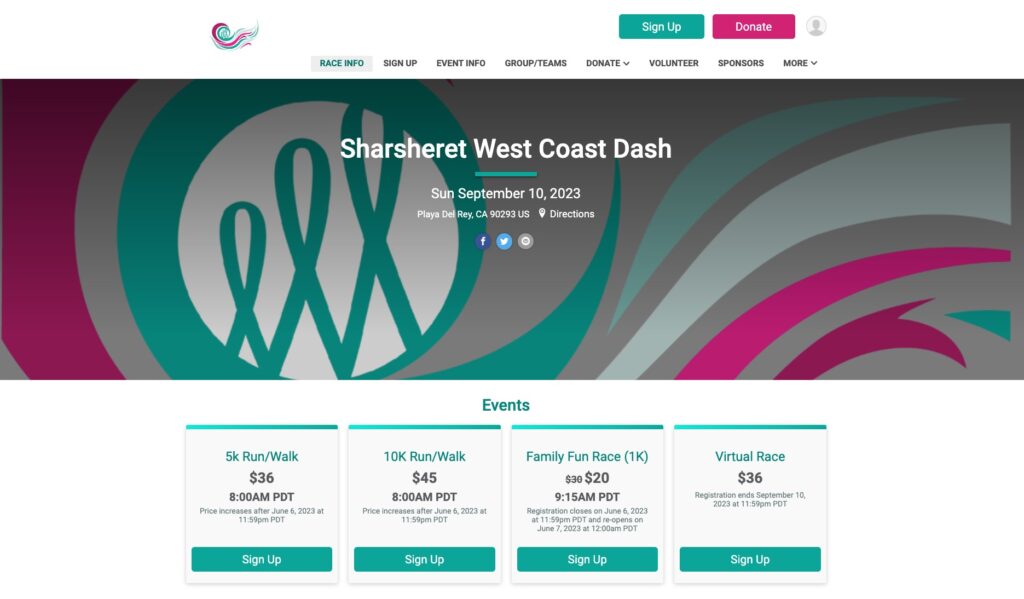 Flexible Fundraising Options for Participants
Participants have the option to become fundraisers individually or as a team. A suggested fundraising goal of $1,800 is automatically applied on the set up page with the option to adjust this goal. They also provide their fundraisers with a great default message that will display on the individual fundraiser's page. This allows the message to be consistent across all fundraisers as they are sharing with their friends and families.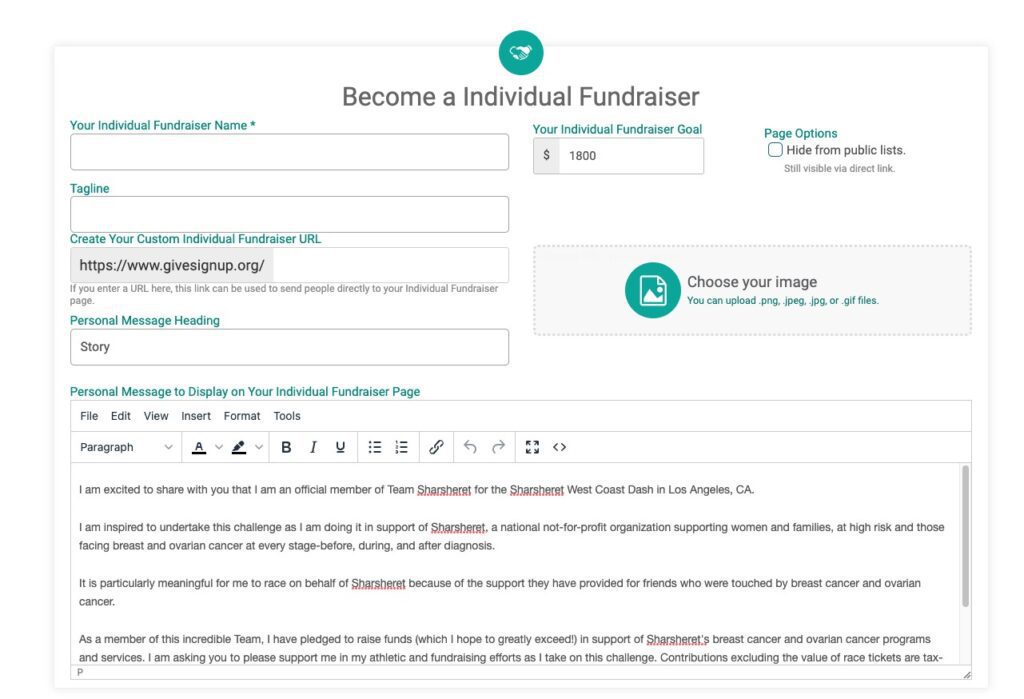 Greenlight Operation is hosting their 3rd annual 5K on City Island in Harrisburg with a goal of $20,000 to support survivors of human trafficking. Greenlight Operation is a nonprofit located in Camp Hill and Harrisburg, Pennsylvania, and exists to disrupt human trafficking and see survivors restored.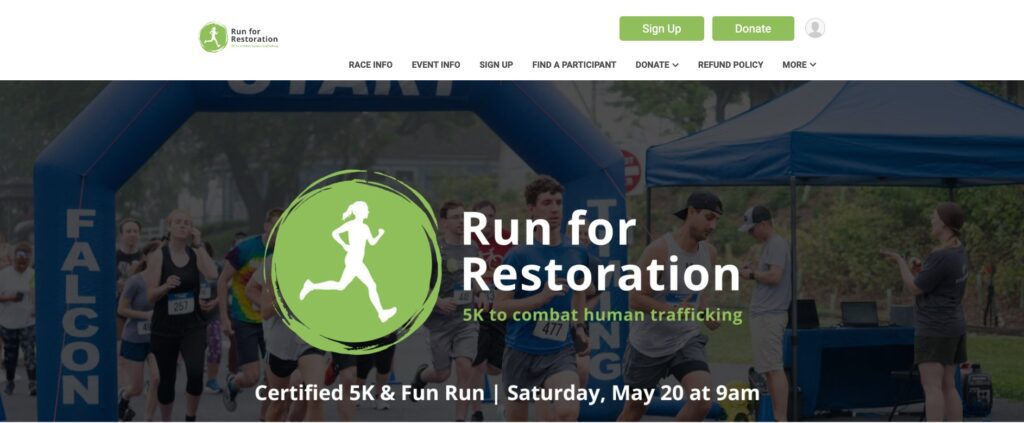 Custom Cover Page Options
The Run for Restoration made good use of turning on the cover page feature to not only include important event information but also provide participants with early bird pricing options. A participant can find the registration price right on the cover page, and also know when the next price increase will occur creating a sense of urgency and savings for early bird pricing.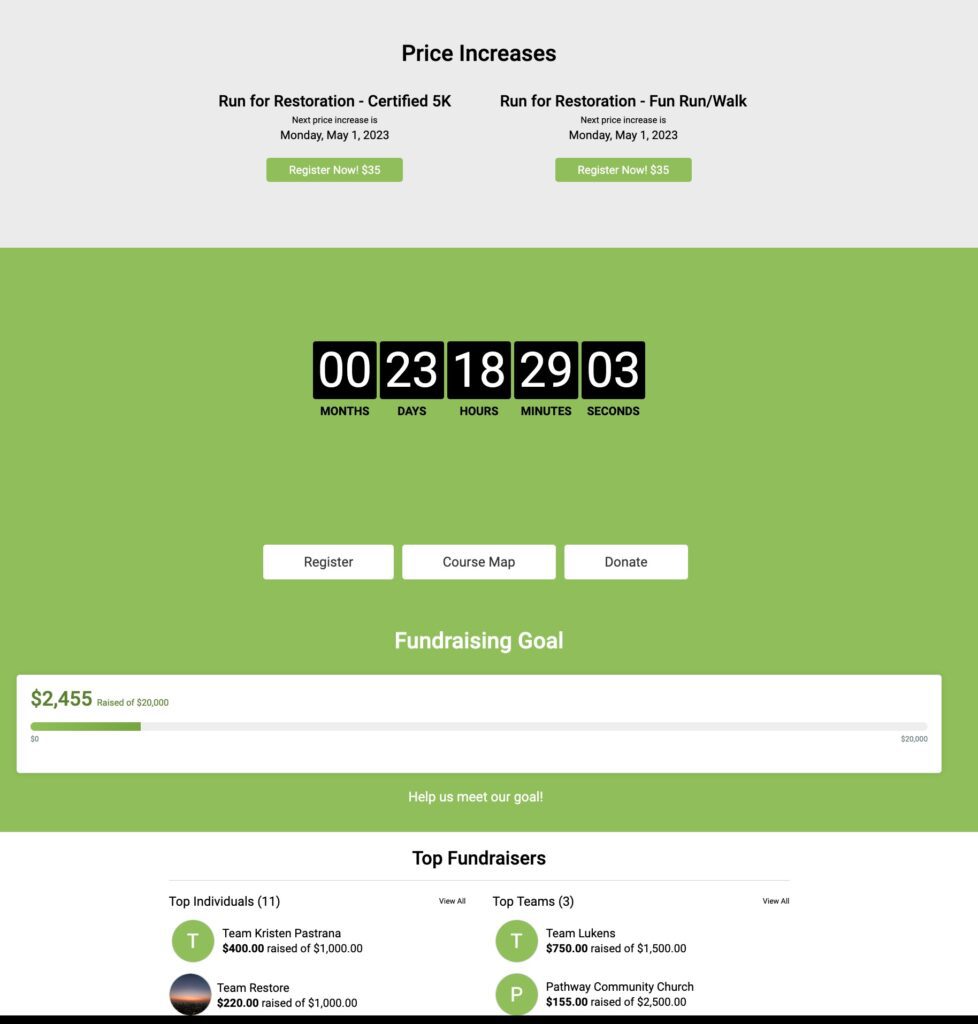 The cover page also does a beautiful job of highlighting the event start date with a count down timer, and sharing their donation progress with a donation thermometer. Participating individual and team fundraisers are also acknowledged for their support and progress, by showcasing their goal progression right on the cover page as well.
Love what you see? Create you next peer-to-peer event with GiveSignup to raise awareness and encourage your participants to help reach your goal!