Fundraising events using GIveSignup for registration can choose to turn on participant insurance from the leading insurance provider, Protecht Regshield. This is free for event organizers and is another source of revenue for the race with the automated revenue share program we've established with the insurance provider. Fundraisers have the option to purchase insurance when registering for the event for a nominal fee. Since we recently switched providers to Protecht Regshield, we've seen more than 15,000 participants purchase the insurance coverage and as high as 39% participation levels.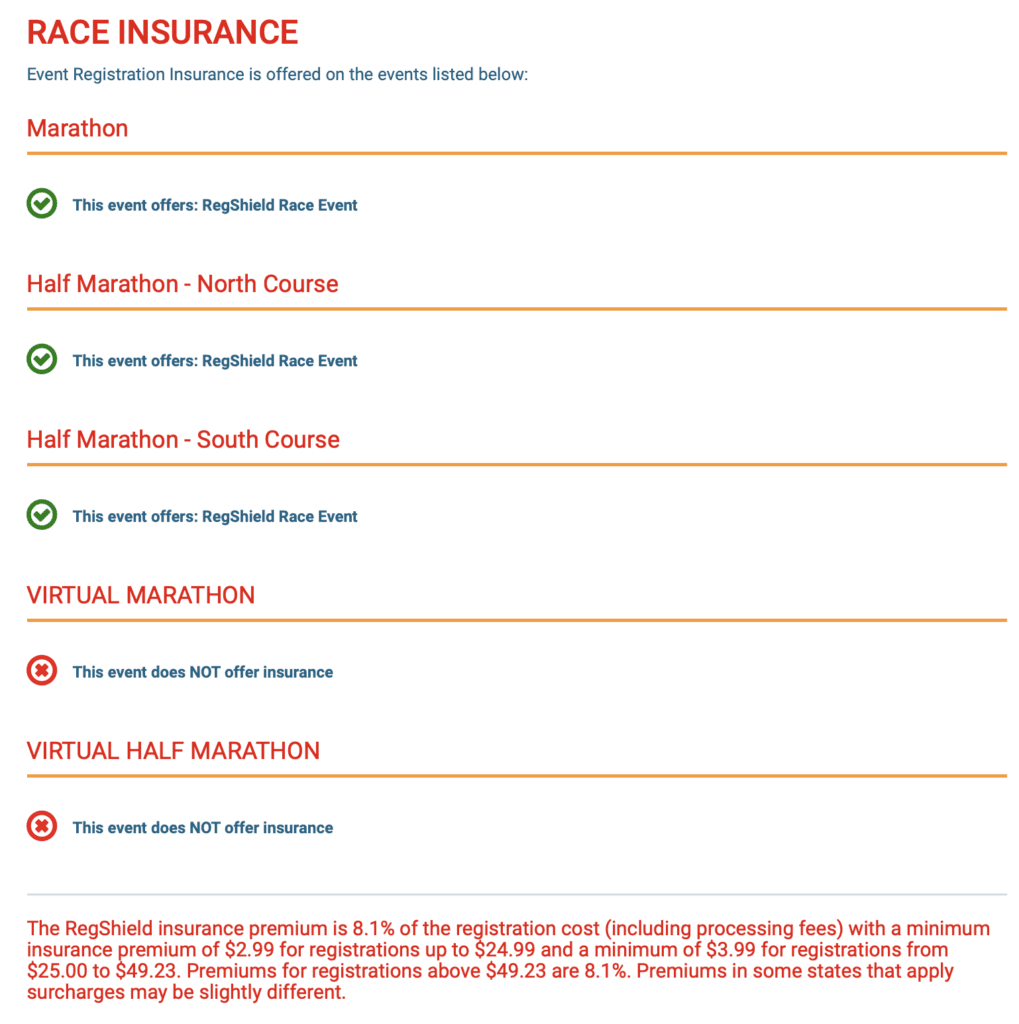 Overcome Registration Hesitancy
Participants who may be on the fence are more likely to complete registration knowing that they are covered if they are not able to attend the event the event due to unforeseen circumstances. This hesitancy can be especially true for participants training for more challenging endurance events like with marathons, triathlons, and ultras. When it comes to ways to increase registrations, one strategy we encourage events to follow is to drive early registrations – the earlier the better. This provides for a greater period of time for participants to spread word-of-mouth about your event. Offering insurance will help encourage your participants to register now versus later.
Having insurance can provide peace of mind to participants who register early and worry about injuries or family emergencies not enabling them to join the event. The list of items covered include:
Accident and Illness
Travel Interruptions
Family Emergencies
Layoffs
Jury Duty
Work Travel Conflict
It is very affordable for participants (minimum charge of $2.99 for transactions up to $24.99, $3.99 for transactions between $25.00 – $49.23, and 8.1% above that). Offering affordable participant insurance can help go a long way in helping participants feel confident in registering early.
Revenue Generation, Zero Cost to Event
There is zero investment for the race and in fact events are paid a portion of the proceeds.
GiveSignup has worked on a program with Protecht RegShield where we earn a lead generation fee for events that offer the insurance and we share a part of the fee with the event. The part the event earns is equal to 20% of the insurance premiums generated by participants that purchase insurance for the event. At the minimum premium, this represents $0.60 per participant.For events that offer insurance we have seen participation rates as high as 29%. Payments are made after the event has completed.
Below is an example of potential insurance revenue.

In addition to the customer service benefits, this is a nice revenue generation source for your event. It is easy to turn on – just search for "Insurance" on our race dashboard and flip the switch to on. Insurance payments will be made via our normal payment system with an adjustment that will show on your financials after the race has completed. With a simple click of a button you can add revenue for your event.
Example Events Currently Offering Participant Insurance
We see all types of events offering participant insurance – from large to small races and from short to long distances and there is a range in participants buying insurance that varies between 5% to 39%. It's still too early to provide applicable trend data since we just switched providers. However, initial data shows that you can expect higher percentages for events that have higher registration fees, which is what you'd expect.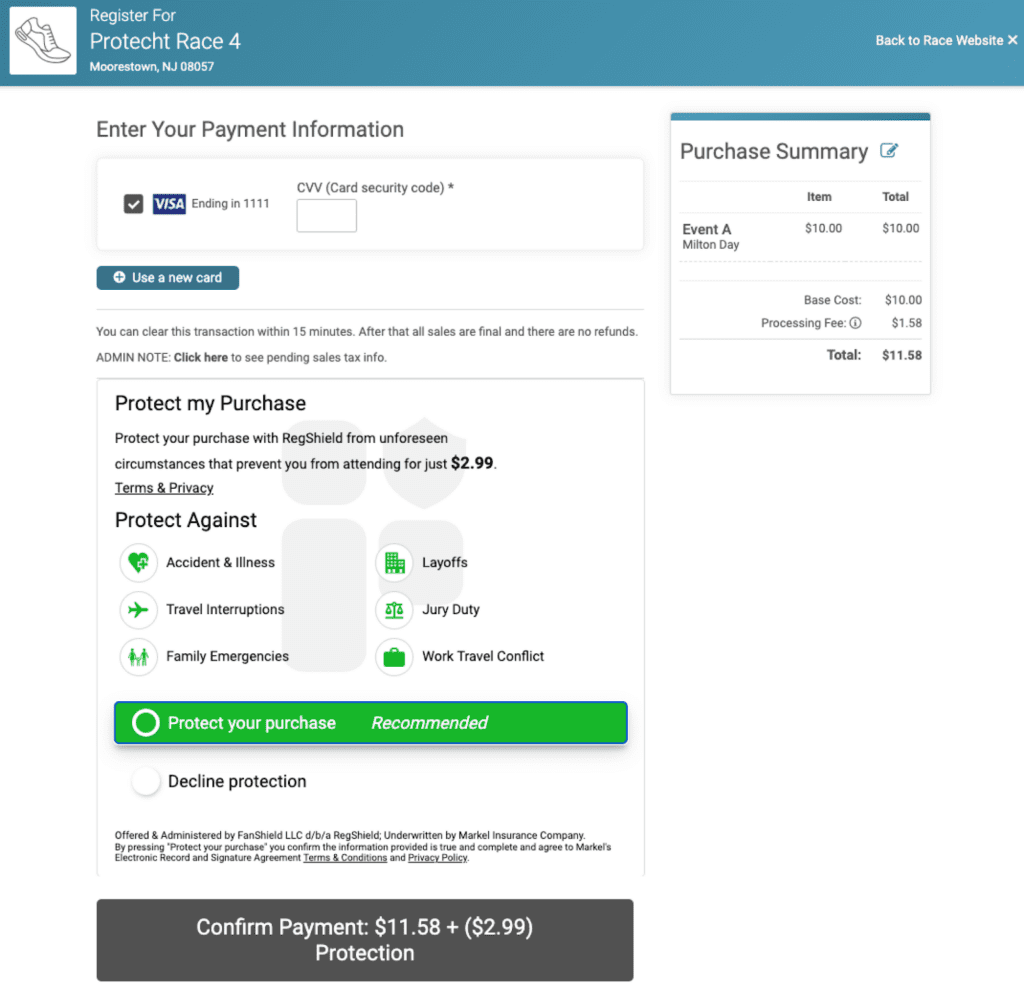 Some example events currently offering insurance include Escape the Cape Triathlon, Kentucky Derby Festival, Space Coast Marathon, Zion Half Marathon, Tour De Donut, Odyssey Swim event, Huntington Lake Triathlon, Maui Marathon, Crescent City Classic 10k, Charlotte Marathon, St. Anthony's Triathlon, Martha's Vineyard Marathon and Half, Salt Lake City Marathon, Bike Virginia Tour, and many many more.
Participant insurance is a win win for everyone and is something we recommend events activating.
To learn more, see the detailed blog on RegShield Insurance here.
To watch a webinar on the RegShield Insurance option, see the video here.