GiveSignup's purpose-built platform gives nonprofits free tools raise awareness and money, but the true magic comes from the innnovative ways that nonprofits activate those tools to improve their peer-to-peer fundraising events. This month, we take a look at three very different events that are all maximizing the value from our tools and features.
What's the cause? 100% of proceeds from this event support Unite for HER, providing integrative therapies, services, and support to breast and ovarian cancer patients nationwide.
What's the event? A 5K & 2K Run/Walk, with options to join in-person in West Chester, PA or virtually from anywhere.
Why we love it (1): A (Visual) Personal Touch
The key to making people care about your cause? Reminding them of the human impact. Unite for HER uses tons of event photos across their race website. Our favorite is this rotating set of images showing off the joy of supporting the event.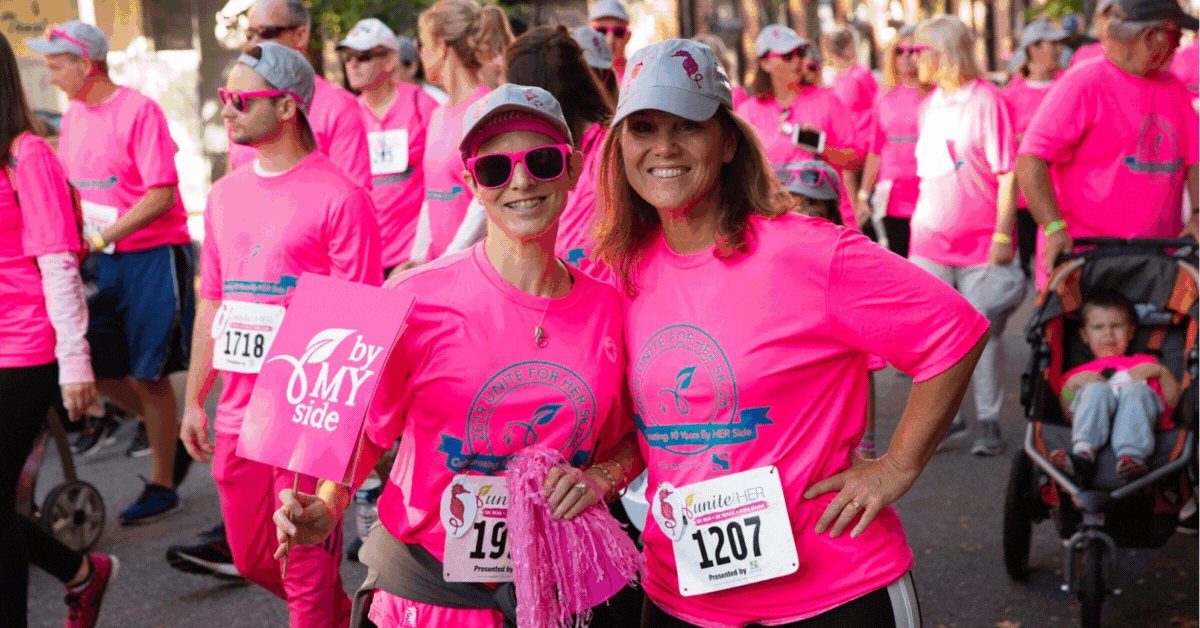 Why we love it (2): Fundraising Explanations
In addition to great branding on their free event website, Unite for HER has fantastic, detailed explanation of how supporters can become individual and team fundraising. It's just the kind of "umph" supporters need to take the leap from donor to fundraiser.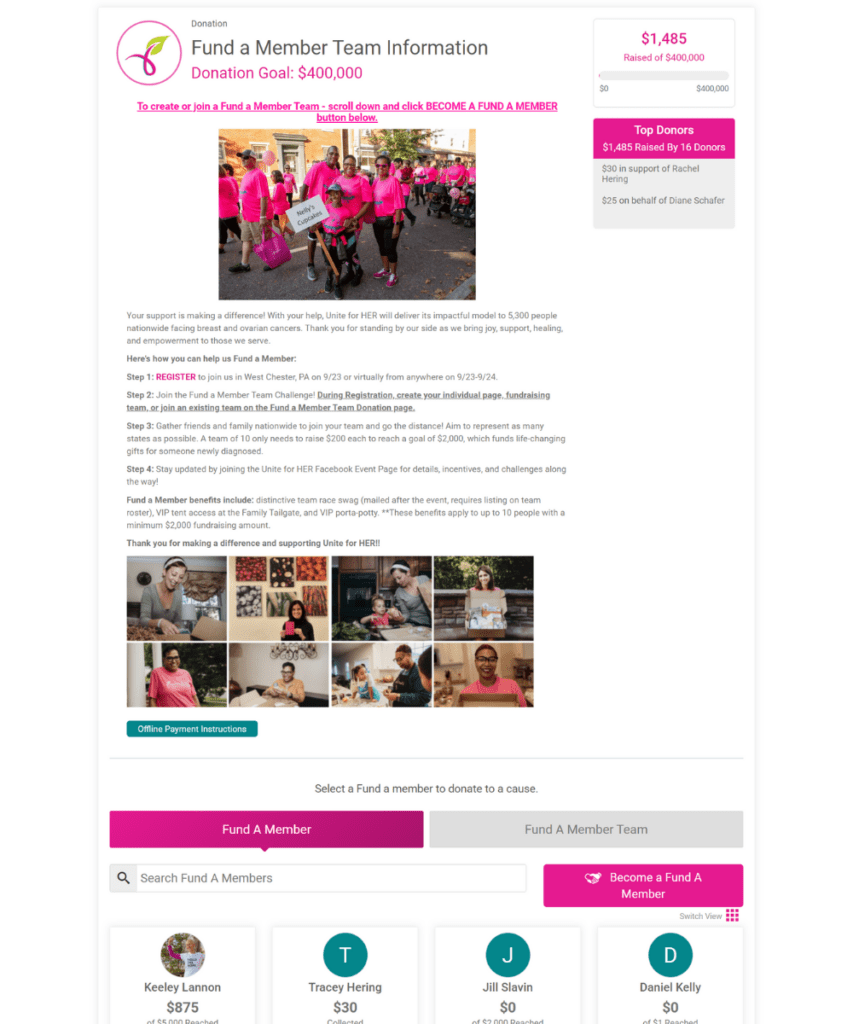 ---
What's the cause? This critically important fundraiser supports LifeFlight of Main, a nonprofit organization and Maine's only emergency medical helicopter service. Since they started operations in 1998, LifeFlight has touched the lives of more than 36,000 critically ill and injured people from nearly every community in Maine.
What's the event? Originally created as a rigorous swim, Cross for LifeFlight was reimagined in 2021. In 2023, it isa self-directed outdoor challenge, with participants choosing their favorite activity (hiking, cycling, swimming, kayaking, running, and sailing) to complete their crossing in the month of August. Participants can also join in-person bike, paddle, and hiking events as a part of the event. In other words: maximum flexibility to allow fundraisers to make the event whatever they want!
Why we love it (1): Dedicated Website Page about the Fundraiser Minimum
The fundraising minimum can be intimidating for a lot of people who are otherwise interested in supporting your cause. This simple page breaks down the math to make the default goal feel attainable – and shares real numbers from previous years to encourage setting even higher goals. The best part? They provide more "carrot" than "stick", focusing on the incentives and perks they can earn for exceeding expectations rather than the financial obligation if the fail to meet the minimum goal.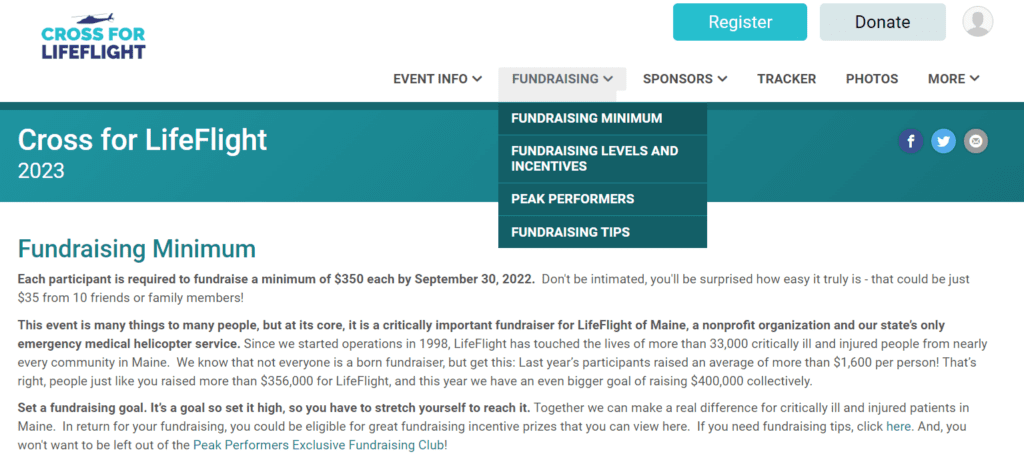 Why we love it (2): Tips for Fundraisers
Cross for LifeFlight doesn't stop with explaining fundraising minimums. They also include a "Fundraising Tips" page on their website to help provide inspiration and best practices to their fundraisers. This includes:
How to customize their fundraising page (and make it personal)
Online and offline ways to make asks of friends and family
Talking points to help fundraisers feel more comfortable about asking for money by helping them focus on the cause.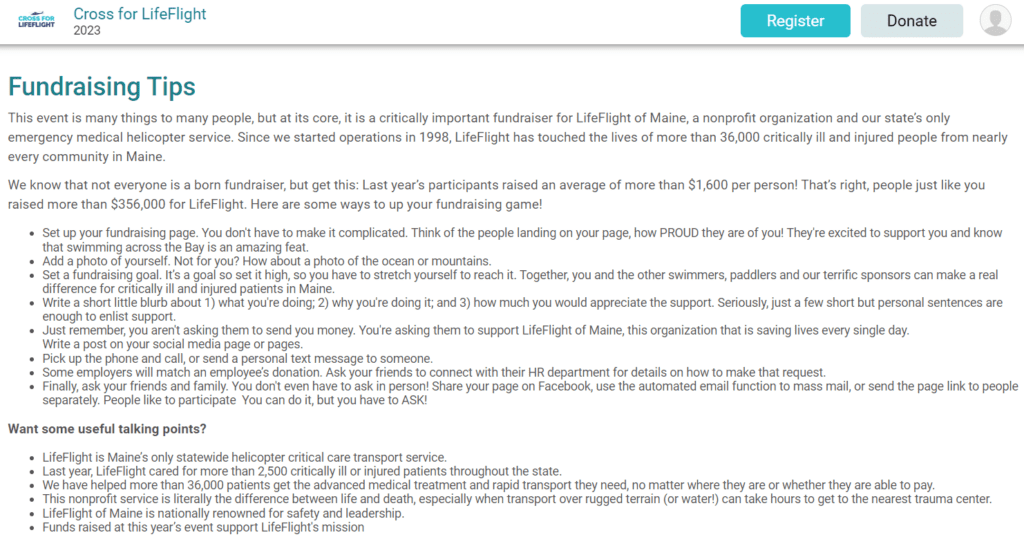 ---
What's the cause? Benefiting Wheeler Mission, all proceeds help men, women, and children who are experiencing life-threatening issues like homelessness, poverty, hunger, and addiction.
What's the event? A team fitness competition between Crossfit gyms. Each team consists of 5 male competitors, 5 female competitors, and 2 judges, with every competitor participating in event fundraising. Teams do a series of competitive workouts to determine the winner. The top 5 competitive and top 5 fundraising teams also earn early entry into the following year's event – a perk considering the competition is capped at 40 teams.
Why we love it (1): Inspirational Donation Levels
Wheeler Mission doesn't just use "Gold/Silver/Bronze" for their donation levels. Instead, they tie their donation amounts to exactly how much impact is made by that donation. Who doesn't want to give more when you realize it makes a difference in how many days a person have food and shelter?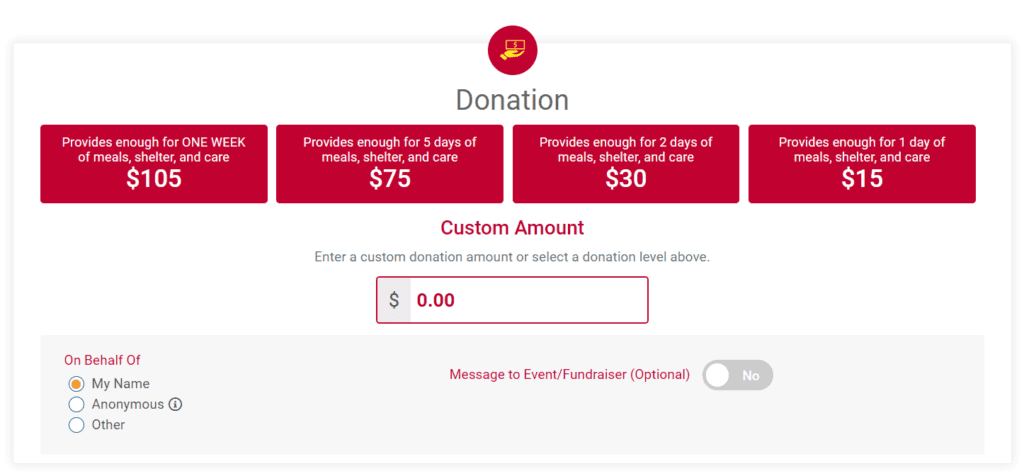 Why we love it (2): A Complete (Branded) Website
Strength in Our Streets took full advantage of GiveSignup's free website. To start, they brought their own domain (strengthinourstreets.com), and customized the color scheme to match their logo. To take it from a registration page to a full website, they added multiple pages of custom content and organized the menu items and submenu items to make it easy to find any information. The website covers fundraising tips, team requirements, common questions, sponsor information, and links to videos, photos, and news reports since 2014.
Best of all, the cover page on the website puts the fundraising progress and top fundraisers front and center, ensuring that the competition stays focused on fundraising. We can't wait to see those numbers soar after registration opens in July!