Generating some of our cutest websites, hundreds of nonprofits use GiveSignup's purpose-built platform to host events and raise funds for animal shelters. From runs and walks to bar crawls and parades, GiveSignup's registration and ticketing products offer animal shelters endless ways to raise money and awareness for their four-legged beneficiaries. Check out some examples below for some that are maximizing the value from our tools and features. Use them as inspiration to launch your own animal shelter fundraiser!
This long-cherished community event features a 5k run for humans, a "Little Paws" fun run for kids, and a one-mile jog for humans and their four-legged best friends. Hosted at their Robbins-Starr Humane Center, participants also enjoy a pet-friendly expo with fun activities for the whole family.
Dynamic Website with Engaging Cover Page and Supporting Website Pages – Utilizing our Cover Page feature, the Richmond SPCA added a beautiful banner image featuring their event mascot, Arlo, and built out several webpages and dropdown menus to organize information and merchandise sales.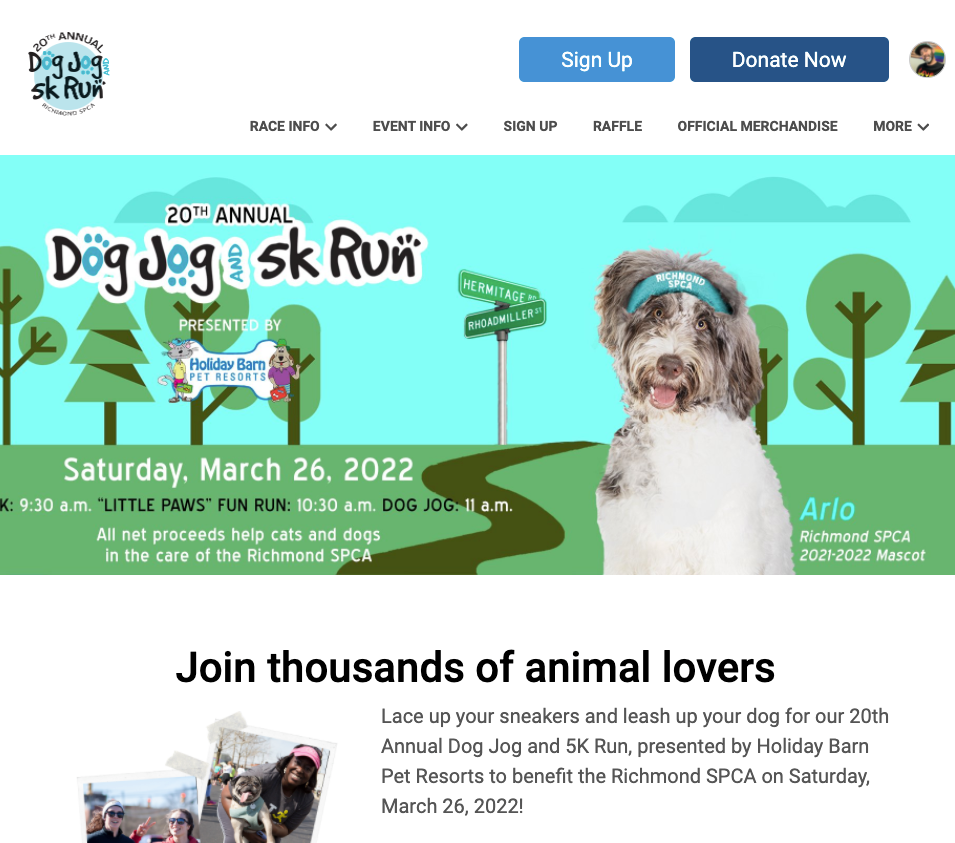 Sponsor Level Highlights – They gave much love to their partners and honored the varying levels of commitments by organizing sponsor logos by sponsorship levels on their Cover Page.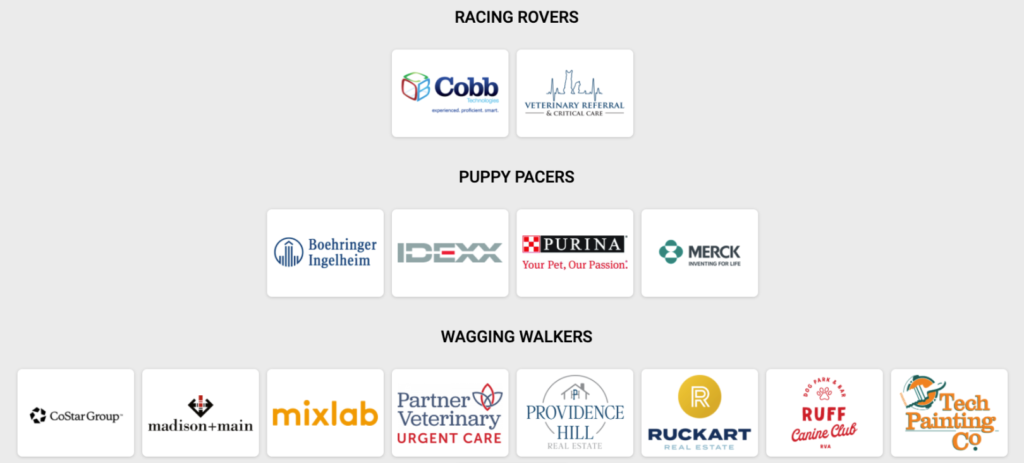 Age-Based Pricing – With families in mind, this animal shelter saved their supporters money by offering automatic discounts for participants under the age of 18.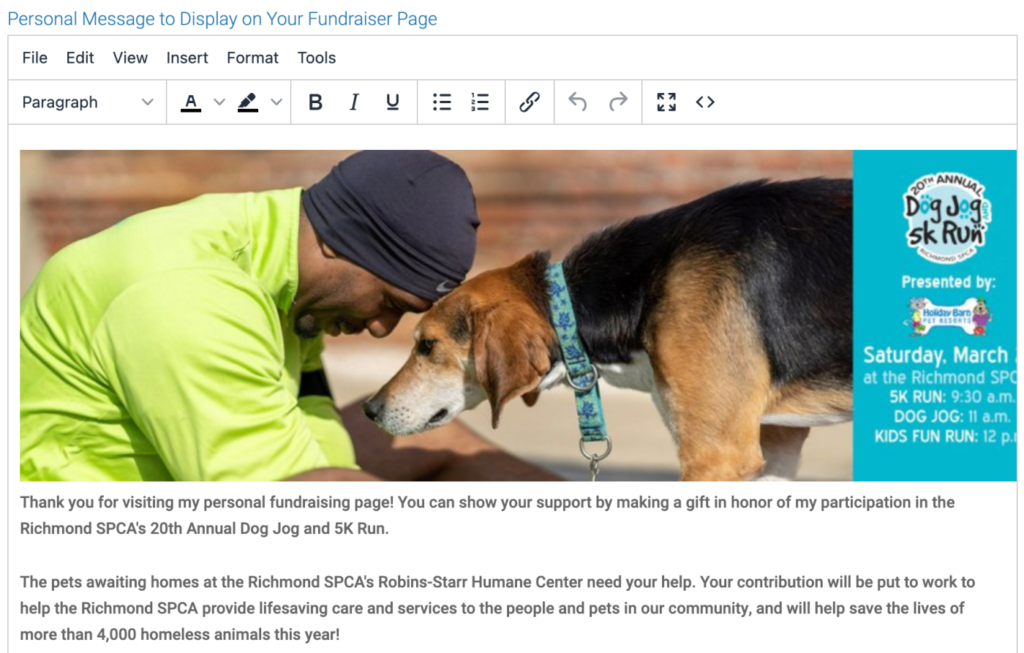 Compelling Default Fundraiser Message – Making it easy for their supporters to raise money, the Richmond SPCA provided an emotional photo and informative text for every new fundraiser page created by default. This saved fundraisers time, supported consistent messaging for the animal shelter, and motivated donors to take action that would make a big impact.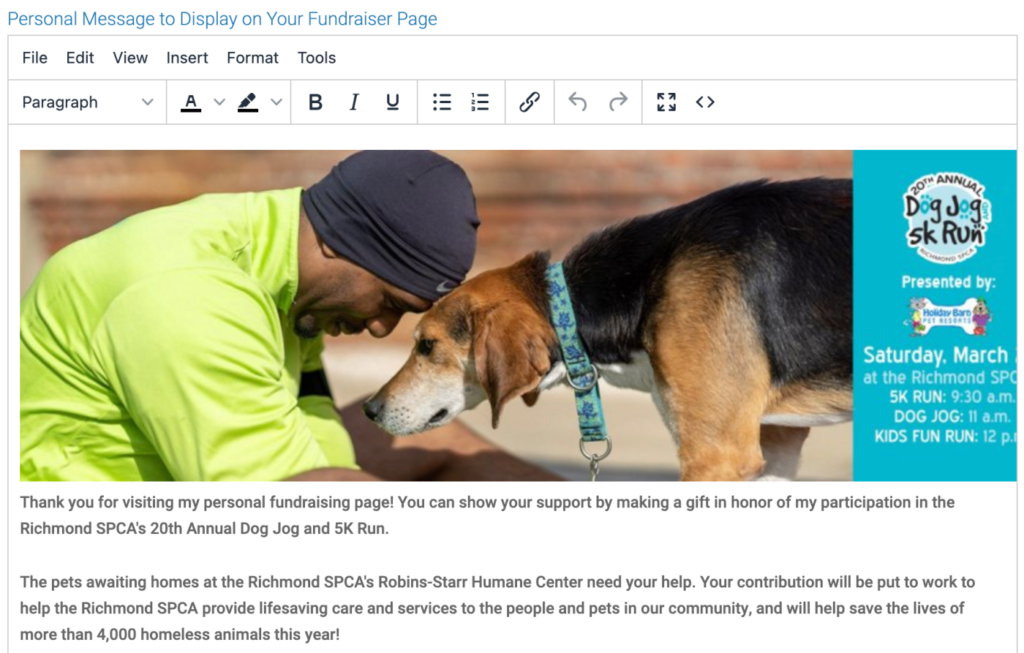 Facebook Fundraiser Enabled – Through GiveSignup's quick and easy Facebook Fundraiser integration, the Richmond SPCA helped their fundraisers raise more with automatic concurrent fundraisers on Facebook. After just weeks of online fundraising, $4,000 was raised through Facebook Fundraisers on top of what was already collected on GiveSignup.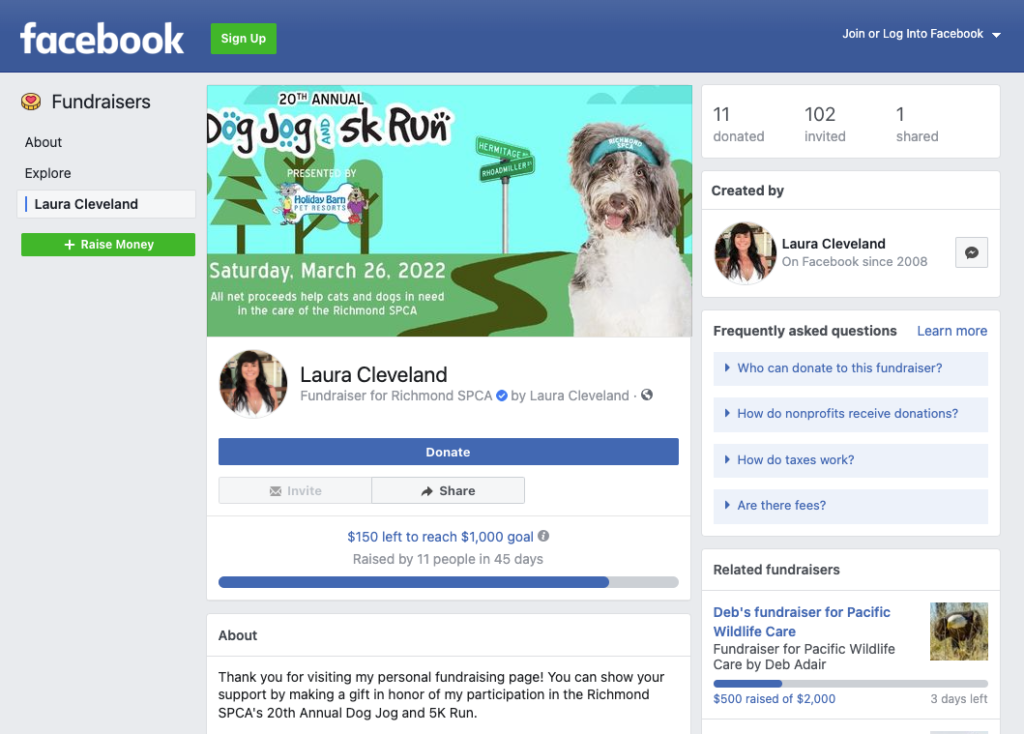 Nestled in the heart of downtown Greenville, the Greenville Humane Society's Mutt Strutt offers a two-mile urban stroll that culminates in a vibrant street festival full of food, music, caricature artists, and face painters.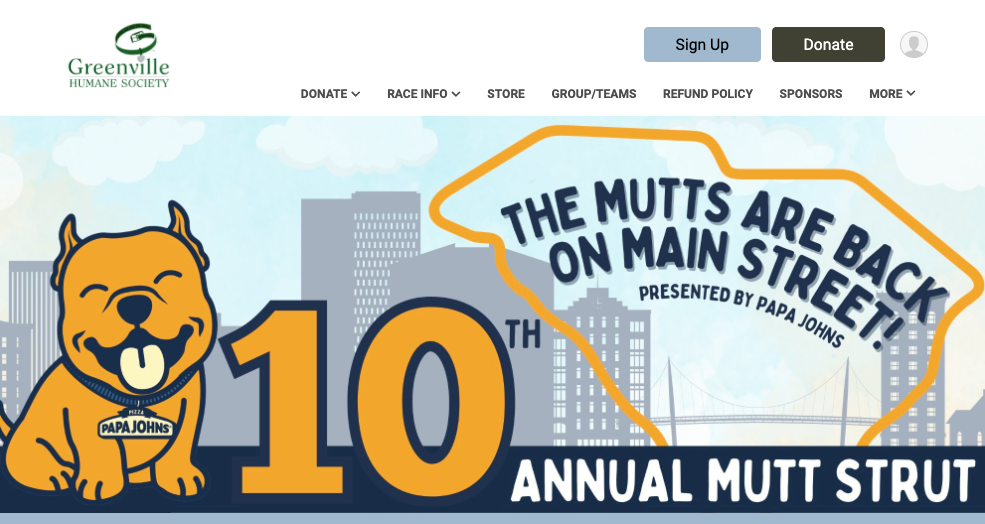 Fundraiser Refund Rewards – For extra motivation, organizers rewarded fundraisers that reached $100 a refund of $25. The money back was automatically processed by GiveSignup. Just a few seconds of set-up by the Greenville Human Society allowed them to celebrate hard-working fundraisers and reduce the barriers to register ("Earn your registration fee back by raising $100 from your favorite fur ball fanatics… your friends and family.").
Club Membership Discount – This event benefitted from partnering with a local running club to offer discounts to its members. The deal allowed the club to offer additional value to its members while the animal shelter enjoyed additional promotion by the club and more people registering for their event.

Creative Donation Levels – Taking a page from the fundraising gamification handbook, the Greenville Humane Society made donating fun by giving its donation levels clever pet-themed labels.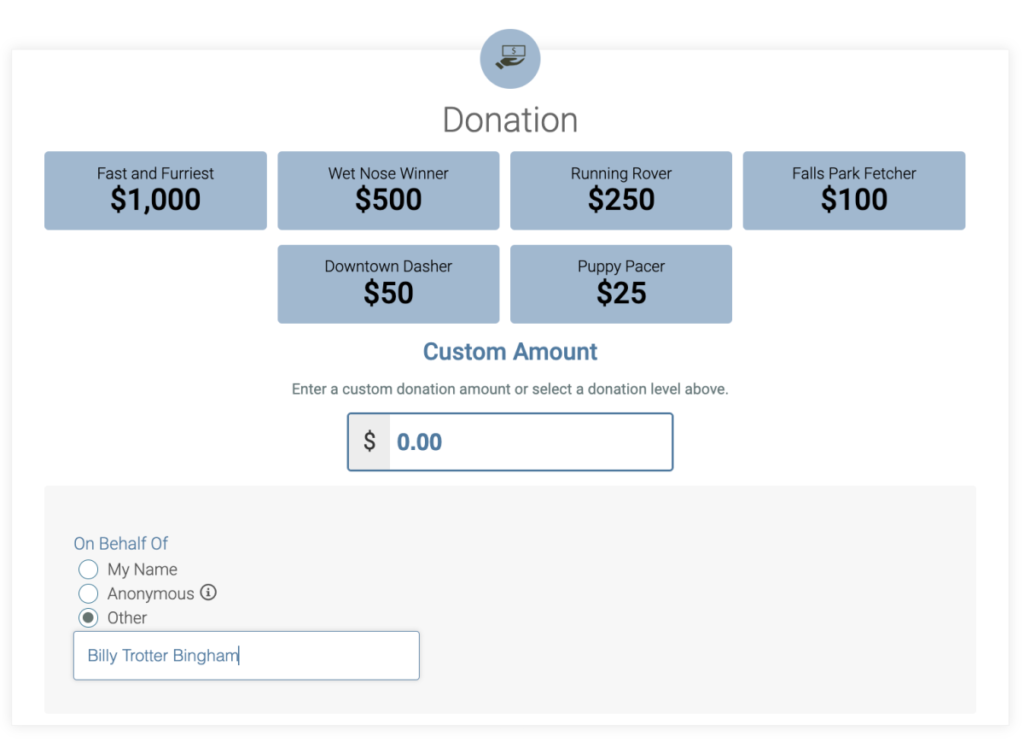 Quick Donation at Checkout – Making it easy for registrants to give a little extra support, this event offered a last-minute $5 add-on at checkout that required just one extra click.

The self-proclaimed "furriest 5k in Western Colorado" features a 5k trail run and walk and awards its TOP DOG fundraising team with special recognition and prizes. The event benefits the Journey Home Animal Care Center, a nonprofit animal shelter dedicated to finding forever homes for homeless pets.
Group Discounts – Incentivize participants to form teams and offer discounts to their members. Savings can be applied at the time of registration or refunds can be issued after a certain number of members have joined.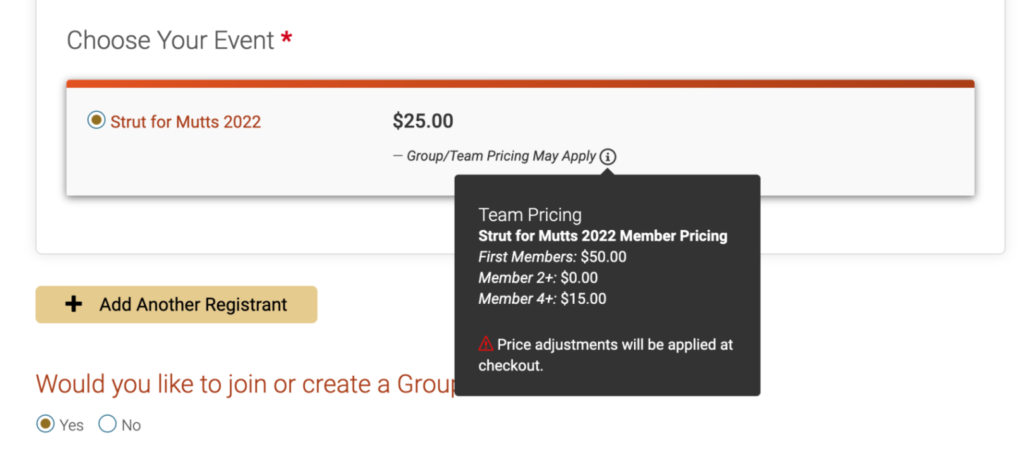 Resources Available on Website – Strut for Mutts used the ability to add additional content and organize as menu options. A page was dedicated to their fundraising toolkit that provided helpful templates for crafting personalized donation requests.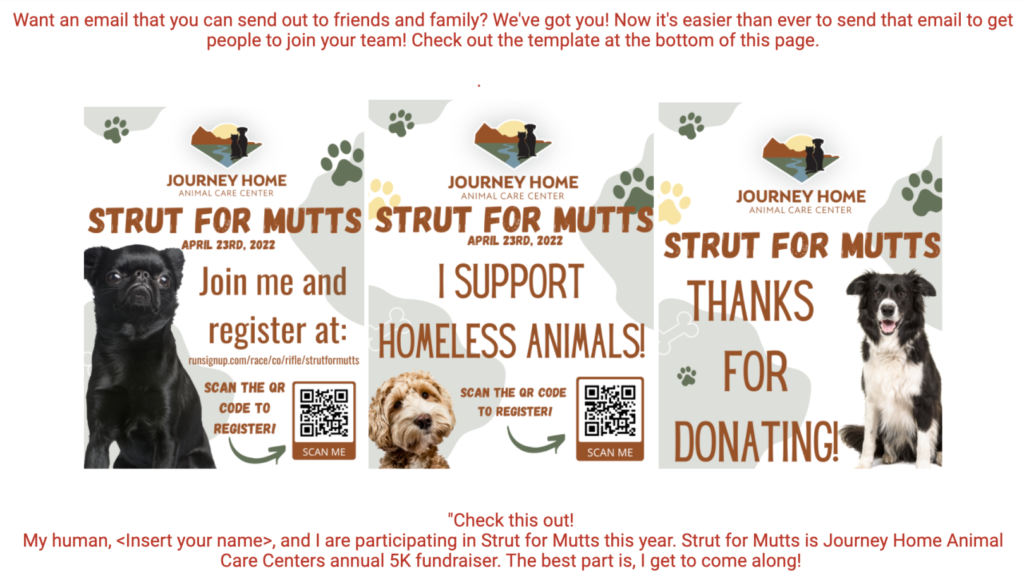 The Warrior Run is a school-focused run and walk in Little Rock, Arkansas that raises funds for a local parent/teacher organization. Benefits to teachers include professional development and staff appreciation days.
Added Dog Walk Option to Existing Race – The Warrior Run's primary focus is their human-based events but that didn't stop them from inviting their furry best friends. Adding a dog walk to an established run or walk is a great way to recruit new participants and add fun energy to event morning.

Flexible Pricing Options with or without Swag – All of The Warrior Run's registration options gave participants the option to receive or not receive a t-shirt. By offering flexible ways to support, the event appealed to price-conscious participants and saved the organization money.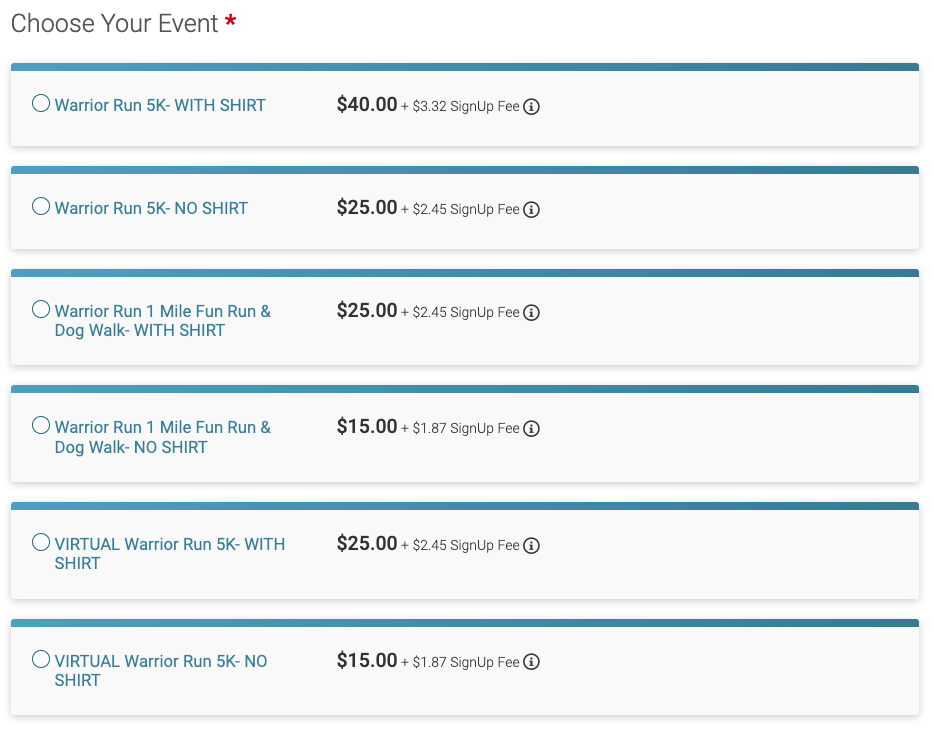 Events that save animals aren't just for runs and walks. Any type of gathering from galas to luncheons to pub (excuse me, PAW) crawls are the perfect chance to connect pet lovers and raise critical funds and awareness for an animal shelter.
Free Simple Ticket Event – The Forsyth Humane Society event offered a series of bar crawl events throughout the year for free and with just one registration option.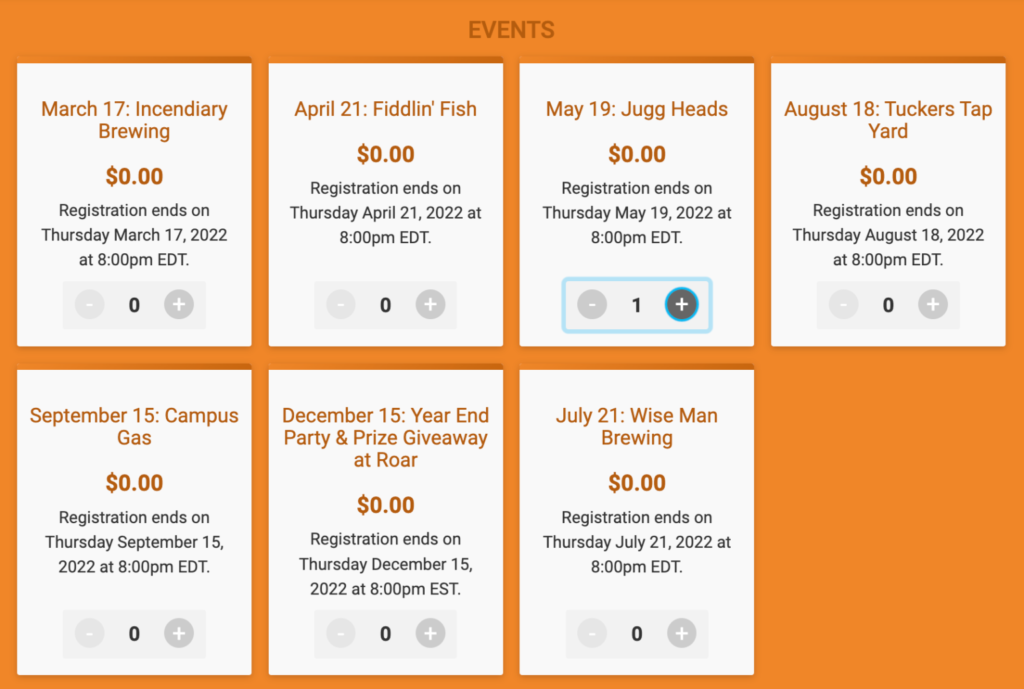 Custom Branding using a Cover Page – The Forsyth Human Society did a great job incorporating their band colors and logos with a custom Cover Page.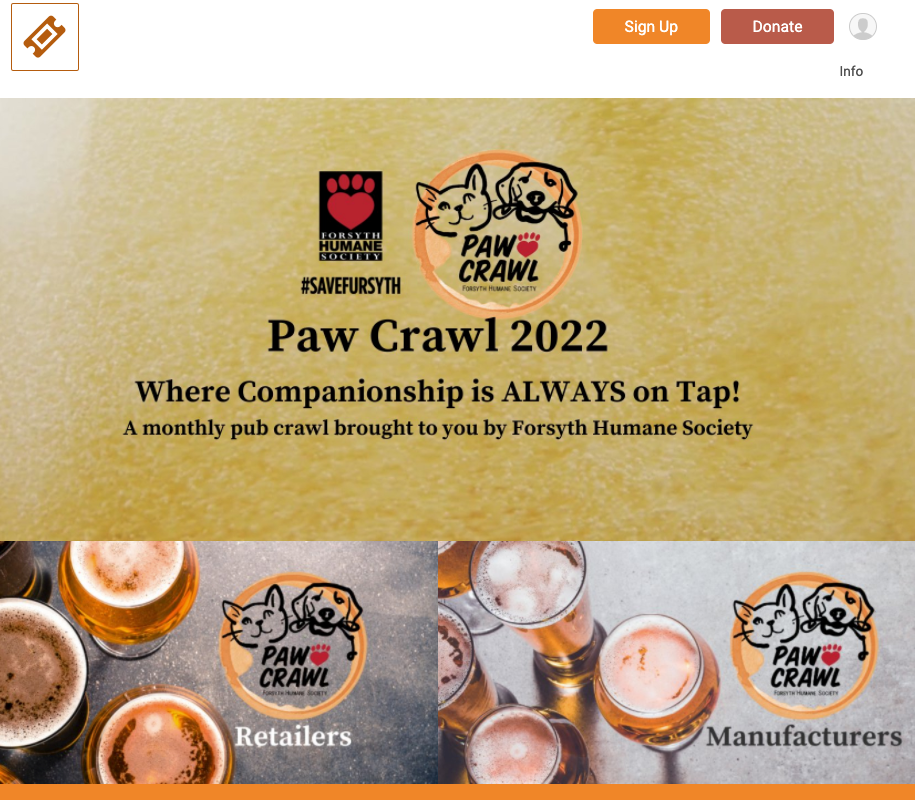 Donations within Ticket Purchase Path – While the event is free, the organization offered the opportunity to support their mission with a donation at the same time they sign up.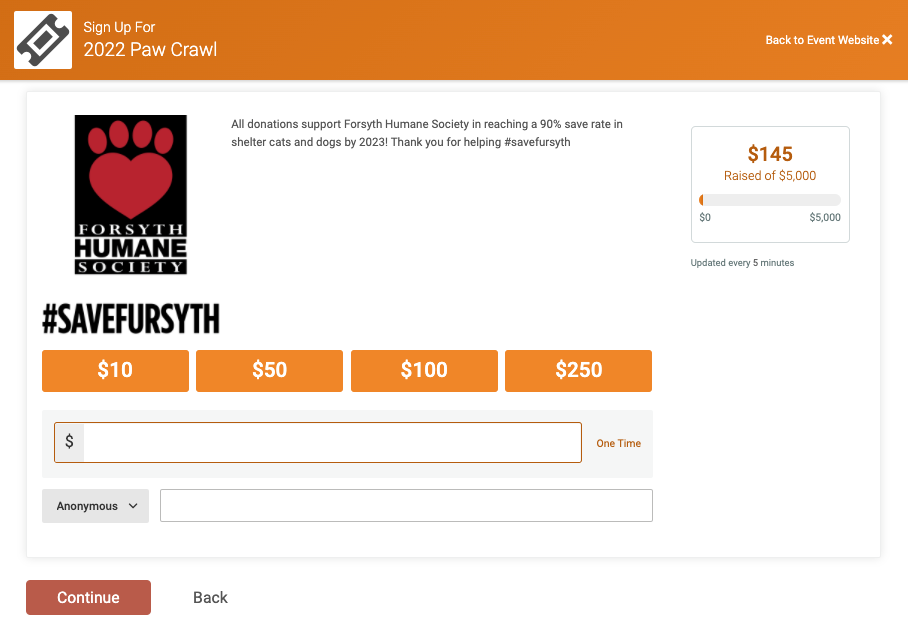 Summary
There are few events that are so universally loved as those that support the needs of animals. GiveSignup's FREE and purpose-built platform was designed for nonprofit organizations like animal shelters that need a reliable online solution for raising money. Our tools and features allow animal shelters to easily sell tickets and registrations, encourage peer-to-peer fundraising, and put a spotlight on their critical missions to save animal lives (and, often times, the lives of their human caregivers).