Q2 2023 saw several very positive trends in our business:
Race participation numbers continue to recover to pre-pandemic norms, and race prices continue to inch up, although slower than the overall inflation rate and less than many costs that races face.
RunSignup continued registration and event market share growth in the endurance market with total races up 11% and registrations up 14% from 2022 and up 40% and 28% from 2019.
TicketSignup saw 3.4X growth, although this is still a new and small business for the company.
Donations were up 14% from 2022 and 115% from 2019.
Total Transaction volume of our customers were up 24% from 2022 and 70% from 2019.
The company is back to being solidly profitable and cash flow positive even with the heavy negative cash flow caused by the R&D capitalization change that took effect in 2022 from the 2017 tax law.
Our core strategy of focusing on building great software to solve customer problems continues with our Continuous Improvement processes. We delivered over 500 new releases across our products, and we are on track for several major releases in the second half of the year.
We share our high level numbers and thoughts on the market and technology advances on a quarterly and yearly basis – 2012, 2013, 2014, 2015, 2016, 2017, 2018, 2019, 2020, 2021, 2022, and Q1 2023.
RunSignup Quarterly Numbers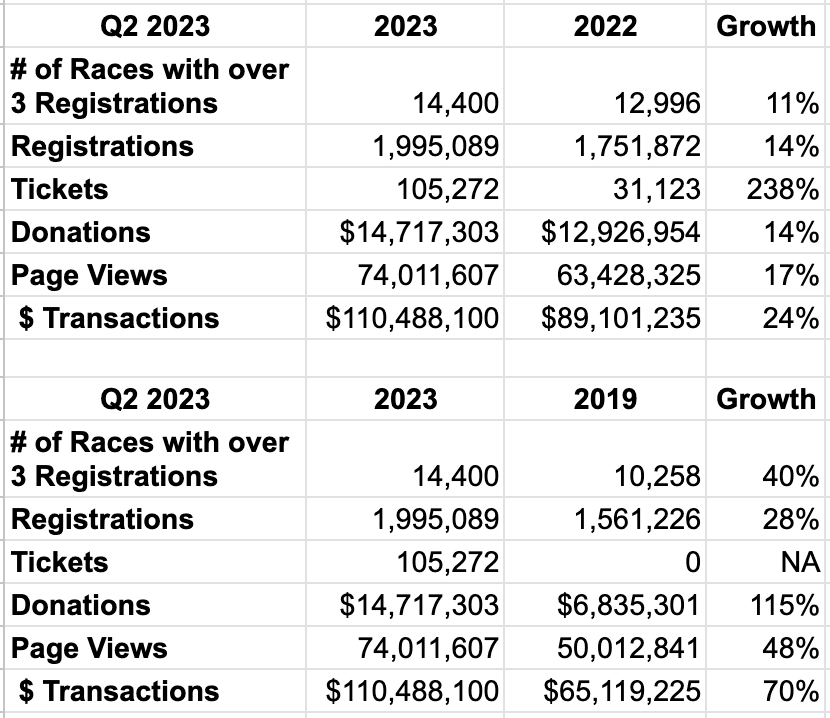 We continue to see growth from every metric – a great improvement after a tough pandemic era.
RunSignup Endurance Business
Our core RunSignup business is benefiting from several factors:
Race participation rates are up about 6% from 2022.

We have about 10% more races on our platform than last year, and continue to onboard many more new races than we lose to competitors or races coming to an end.

These two primary drivers resulted in an increase of 14% more registrations than Q2 of last year. This growth is after the loss of several large customers – Lifetime Fitness events like Miami Marathon and Leadville and Unbound Gravel moved back to Chronotrack (also owned by Lifetime), and Race Roster offering aggressive pricing to large races like Philadelphia Marathon, Oklahoma City Marathon, The Crim and Bellin Run.
As we look to the future, we see continued moderate growth in both market share and registrations as a baseline given our large advantage in technology offered to customers, stability in our business model and having a consistent low price. We see other vendors increasing prices, having very inconsistent pricing, being slow with new technology and having financial pressures.
We have been around long enough to see a number of vendors (Race Partner, SignMeUp, RaceIT, IMAthlete, RaceMine, Crowdrise, ZapEvent, Lightbox and more) go out of business – some stranding customers suddenly. We also see companies like Get Me Registered and Enmotive after inital spurts of investment after being acquired not investing in their platforms and losing market share except for captive accounts. As we look at the current registration market, we see a mix of vendors:
Supported by large companies. Large companies change investment strategies and priorities quickly on small business units that produce insignificant revenue and profit (or generate losses).
Venture backed companies, where the flow of cash and financial support has waned significantly with the rise of interest rates. There is also concern by investors because of the lack of endurance being large enough in terms of market size or growth rate. This is typically seen by early big promises like new features or staffing all of your races or building your website not happening or beginning to slip.
Small companies that can not afford the software development skills or scale to build a broad enough product and properly maintain and secure it. Many of these are local vendors that were created when registration was just registration and typically have a passionate person supporting the business, but able to scale up. Customers now expect free websites, free email, free results, race day software like checkin app and scoring for timers and free photos and txt. This puts enormous pressure on these small vendors and owner-operators.
We think that over the next 5 years, there will be more failures where customers who use another vendor will be forced to find a new vendor – and a number of those will become RunSignup customers. So we may see bursts of growth for our endurance business, although we do expect to always have competition and will likely grow from 40% market share in the US to perhaps 60% in the US. We are also beginning to evaluate moving outside the US. This might happen as early as 2024, and we will likely move into Canada first, as there seems to be some pent up demand (and Bob is at a family cottage now, and has gone to most summers of his life near Blind River, Ontario).
TicketSignup
TicketSignup is a very exciting business for us. It is still a very small (about 5%) part of our business, but with continued high growth (this quarter is up 3.4X over 2022) it will become material in the next couple of years. We feel we can use the same approach of building a better product at a lower cost to encroach on older vendors like Eventbrite.
This is very exciting from a business perspective. We have huge savings as we are able to use a single platform to serve both the endurance community and a set of event communities that offer large growth potential. This allows us to invest even more into software development and use much of that software across both the endurance and broader event markets. For example, both products use the same infrastructure (database, servers, security, etc.), so there is no extra cost to running TicketSignup. In addition, an increasing amount of the application is shared – Email V2 is the best example today, but the new website capabilities in TicketSignup will be released this year for RunSignup endurance customers, and the new store capabilities on TicketSignup will be brought to RunSignup in 2024.
Our strategy is to target specific markets with advanced solutions, much of it learned from the endurance market. As an example, you will notice an eerie similarity between our Ticket Number capability and bib numbers. We are seeing fast adoption from customers that have multi-day events with multiple timeslots – for example Haunts and Farm Events. In addition, we are seeing an increasing number of RunSignup customers use TicketSignup for other events – for example Track Meets and other sporting event spectator entry.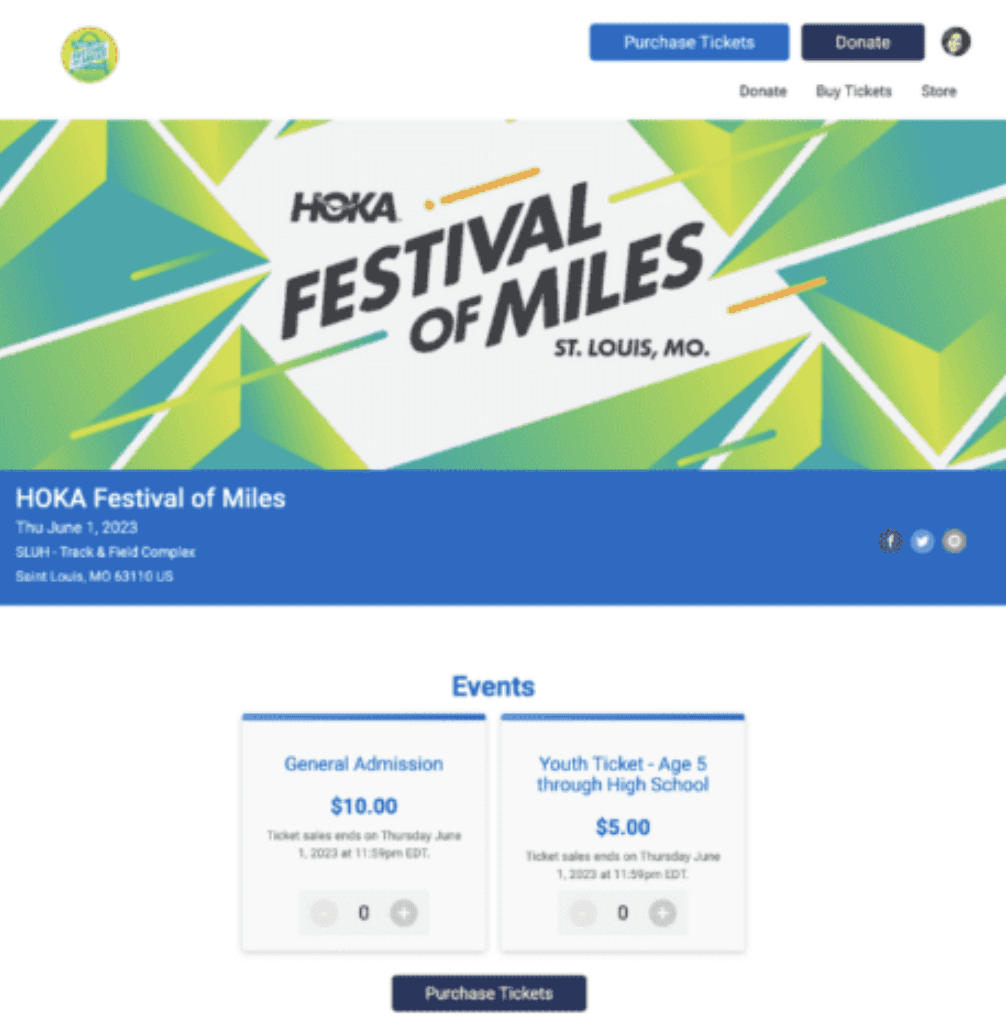 GiveSignup
GiveSignup is our Peer to Peer offering. We measure this by our donation volumes, which are up 14% from last year and up 115% from 2019. We have a number of large customers like Tunnel to Towers, and a number of smaller customers. Similar to the endurance market, this will be a slow growth market for us. Not due to our market share as we are still small compared to companies like Blackbaud, but due to nonprofit customers taking time in making decisions and being in a position to move from one platform to another.
Like TicketSignup, this uses our single infrastructure and relies on the robust registration platform we have built for RunSignup along with integrated donation and fundraising capabilities. We have distinct advantages when customers want an integrated experience for participants, fundraisers and donors. Read some case studies of some new customers like Ronald McDonald House and the DONNA Marathon.
Technology Advances
We continue to roll out new software, and keep upgrading our systems to provide the most reliable platform for registration and ticketing.
New Questions Interface for RunSignup – This was a major update for one of the most used parts of the RunSignup system. This is a great example of how we continue to improve our software to make it easier for users and keep our code base modernized.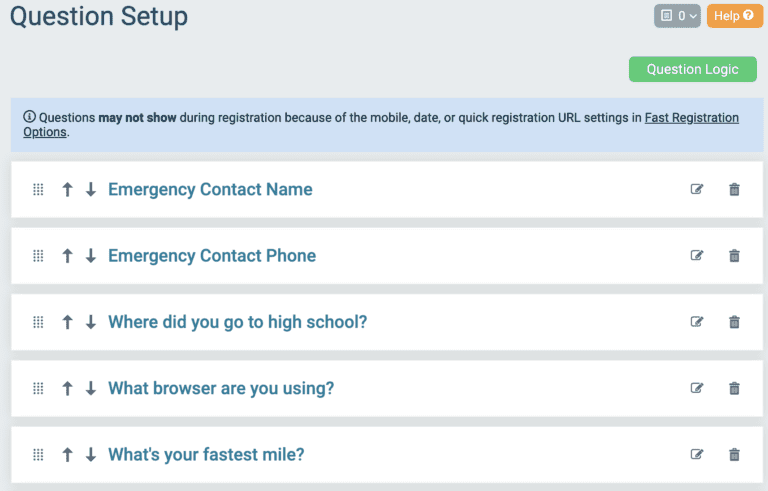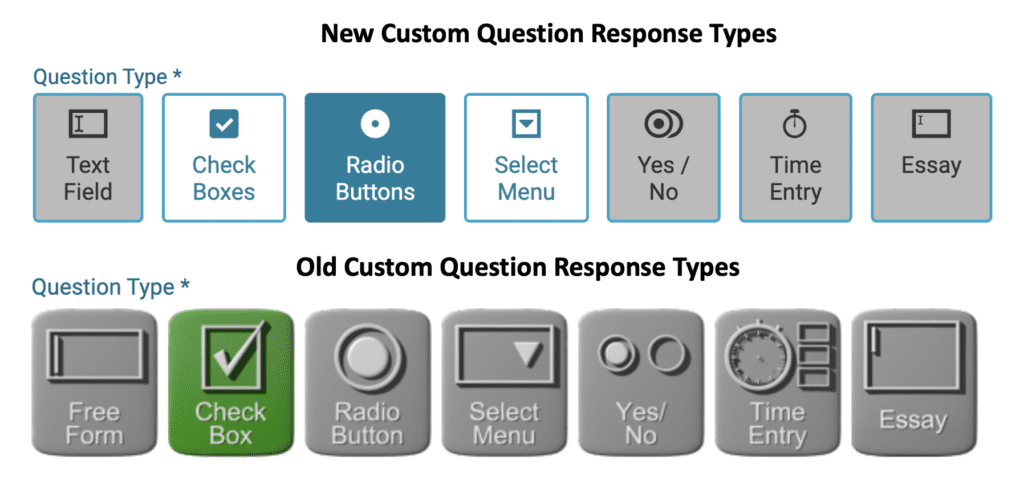 RaceDay Checkin App Adds Kiosk Mode – This includes the ability for events to use the app as a dedicated Results Kiosk enabling participants to access their own results effortlessly with keyboard or camera.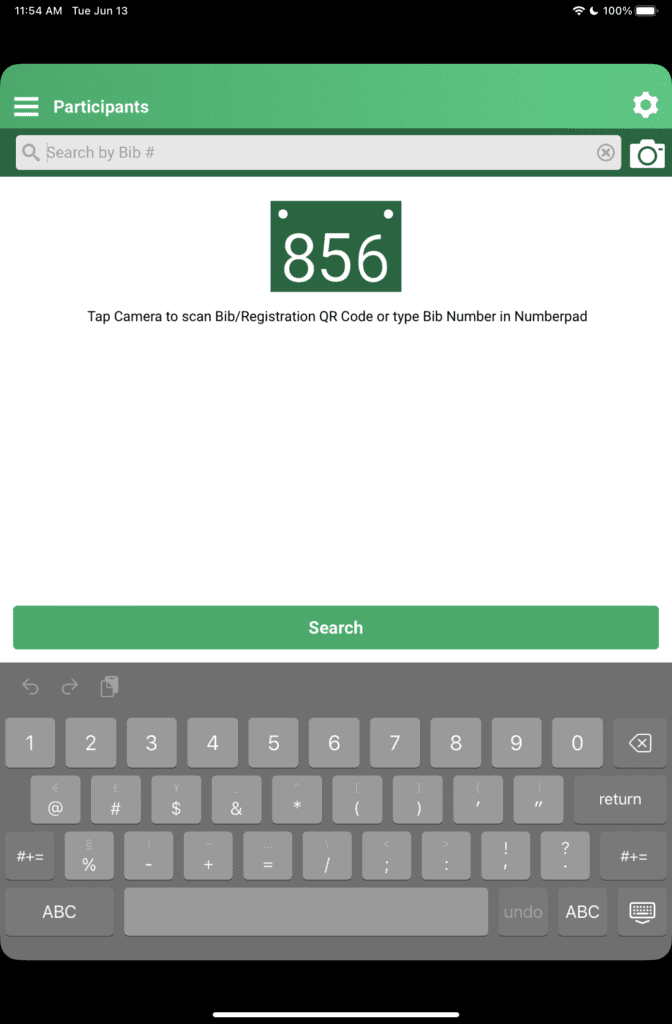 Updating Race Renewals – We have not fully released this, but we are in the process of updating our Race Renewal process to make it simpler and more complete. We have already rolled out some small features, like the default of removing inventory values for giveaways. Coming soon is a whole new user experience, doing proper date calculation so it defaults a Saturday race to the same Saturday next year even adjusting to normal 364 day difference or leap years or holidays like Thanksgiving. It will also automatically roll over virtual race setup parameters. Watch the blog for the full release.
Email V2 Updates – Lots of updates like Save as Draft being much easier to find, 3 column layouts, powerful Header and Footer settings, Volunteer Communications, and automated registration followup for post registration drip campaigns like encouraging referrals. We have also added a Videos Page to make learning about Email easy (and fun with Andrew Sigwart and Kevin Lai).
Easy Recommended Settings – We have added 4 highly recommended settings that most every race should take advantage of at the end of the new Race and upcoming Race Renewal wizard. One of them is a new revenue source for races – participant insurance.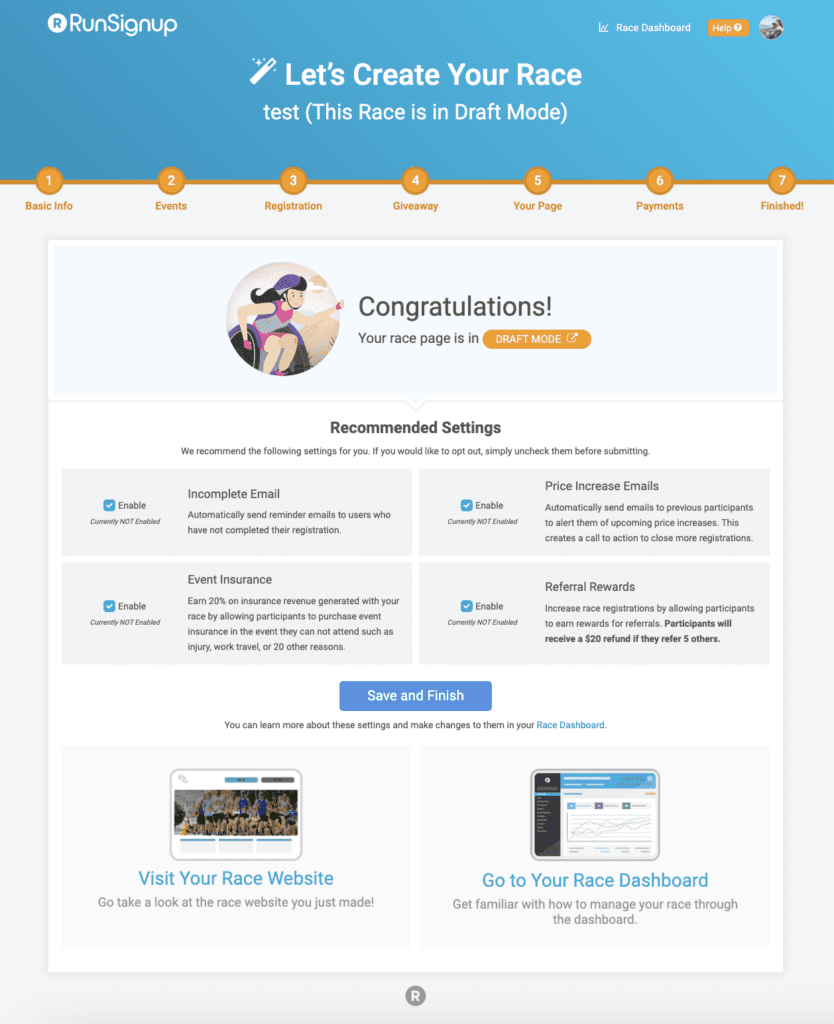 RaceJoy Native Maps – This is a very nice update as it allows for a much better offline experience. For example, trail runs can use this so that a runner or cyclist in remote areas without cell coverage will still be able to see the map of the course, get offline alerts, and improving the safety for race directors and participants.
Update to YOY Dashboard Comparison Charts – The year-over-year Transaction insights graph on your dashboard has a new update. Rather than displaying YoY transactions by calendar year, it now uses registration periods to display YoY reporting that is relevant and actionable for events. We also updated the transactions graph.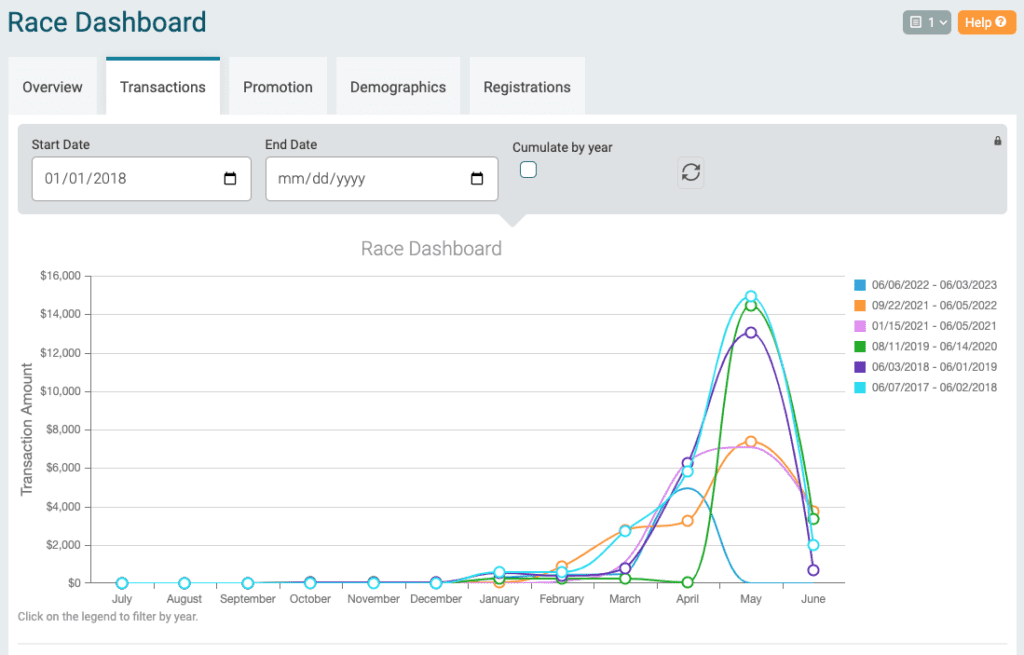 Apple Wallet for TicketSignup – This makes our checkin apps even better for events. Coming very soon to race registration as well.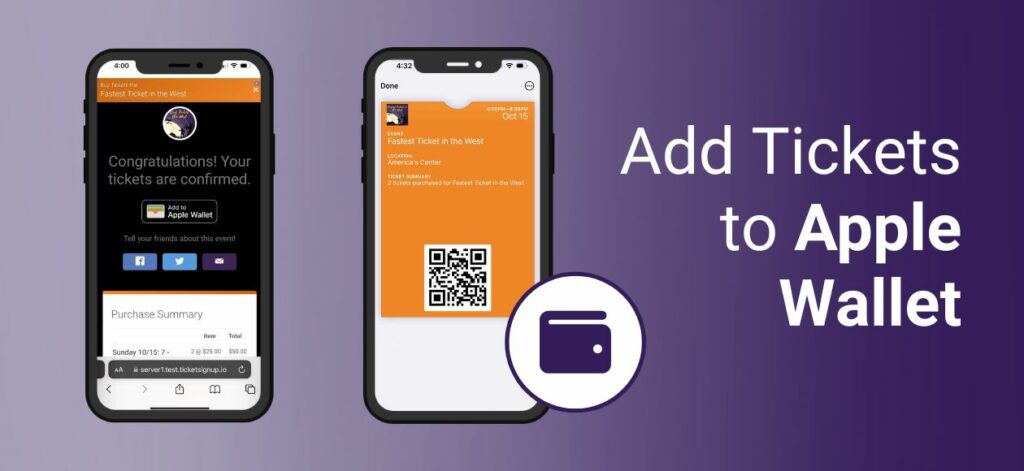 Waivers and Refund Info for TicketSignup – We have added the powerful RunSignup Registration waiver capabilities to our TicketSignup product (again, reusing software across the three products). This allows for multiple waivers (for example when the event is being sponsored by another company or organization like a health care provider who requires their own waiver). It also includes default No Refund policies that make it simpler and more effective for us to fight chargebacks.
What's Next?
We have several very exciting projects that we plan on releasing before the end of the year:
RaceDay Scoring V4
We first introduced RaceDay Scoring in December, 2018. Since then, we have had over 100 minor releases and three major releases. We planned on making it superior to our other scoring offering The Race Director over time, and we have achieved that and more. With V4, we will be introducing a new way of processing chip reads and producing results, which will enable RaceDay Scoring to handle even the largest of races. We knew it would take time to build a quality product, and in 2018 we announced that we would continue to update Roger Bradshaw's creation The Race Director thru the end of 2023. That date is coming, and fortunately Roger intends to keep working with us. While most of his time these days is spent on Race Day Scoring, he will continue to make sure The Race Director keeps running – although he will not be adding functionality to it.
This winter we will be holding 4 training sessions in different cities around the US to help timers continue to migrate. Many of the timers who have migrated are actually coming from other systems. For example, Ryan Walsh of Bryn Mawr Timing explains his reason for moving to RaceDay Scoring from RunScore in this podcast video.
Next Gen Website for RunSignup
Just as we did with Email, we will be introducing a V2 Website capability for Races. While races have full website capability today, the new version will be more powerful and much easier to understand and use. It is based on the same drag and drop website capability we have for Tickets and organizations, with the added capability of controlling over 100 different components in a simpler, yet more powerful way. All races deserve a real website with menus, content they can easily change, and a mixture of content and dynamic data about the race like countdown clocks, donations raised, results, find a participant, photos, your own domain, and more. This is a huge project, but we hope to have it released by the end of the year.
Apple Pay and Apple Wallet
We introduced the first step of this with Apple Wallet for TicketSignup. We will be rolling out both ApplePay and Apple Wallet for both TicketSignup and RunSignup in the coming weeks.
Next Gen TicketSignup Recurring Multi-day Event Option
We will not say too much about this right now as we are in the process of seeking a patent on the architecture and implementation. But we want to expand on our current capabilities to make it even easier and more powerful for organizations with events that recur – whether it is a haunt that happens every day of October, boat tours that happen in the summer or a garden with ticket sales every weekend of the year. There are several very old solutions from companies like Showclix and FareHarbor and enterprise systems like Acme Ticketing that are all expensive and are not easy to manage – and they all cost a lot. Our solution will enable customers to control their events in a more intuitive way, and be able to solve a lot of pain points we have heard from this new market.
Next Gen Memberships
We did some demos of our early work at the RRCA meeting earlier this Spring. We are still hoping to get an early version out by the end of the year. It will be a complete revamp using all of the new features we are rolling out like Email V2, Websites V2, Store V2, as well as new setup and features like Apple Wallet (membership cards in your wallet!) and Apple Pay. We will bring the same integration we have with Race Registration today (discounts and buying membership and signing up for a race in one transaction) to TicketSignup as well. This combination will open up some great solutions for organizations like zoos, gardens and museums to cross-sell memberships with tickets and donations. It will also be useful for member driven organizations like public radio and service member organizations like Rotary and Kiwanis clubs who hold events to fundraise. It will take us time to learn the full needs of these organizations and refine our offerings, but they represent large business opportunities for us to grow and a way to help these customers.
RunSignup Team
Of course, none of this happens without amazing people here at RunSignup. In June we held separate meetings for the Support Team, Sales & Account Management team, and the development teams. With our very distributed team, and with even many local people working from home, these were important meetings to reconnect, learn and plan.
The support team came together and helped with all aspects of the Scott Coffee Run – the event that led Bob to create the company in Moorestown, NJ back in 2010. It helps to make us feel connected and understand what customers experience. They did everything from tag bibs to packet pickup to checkin and helping with setup and cleanup.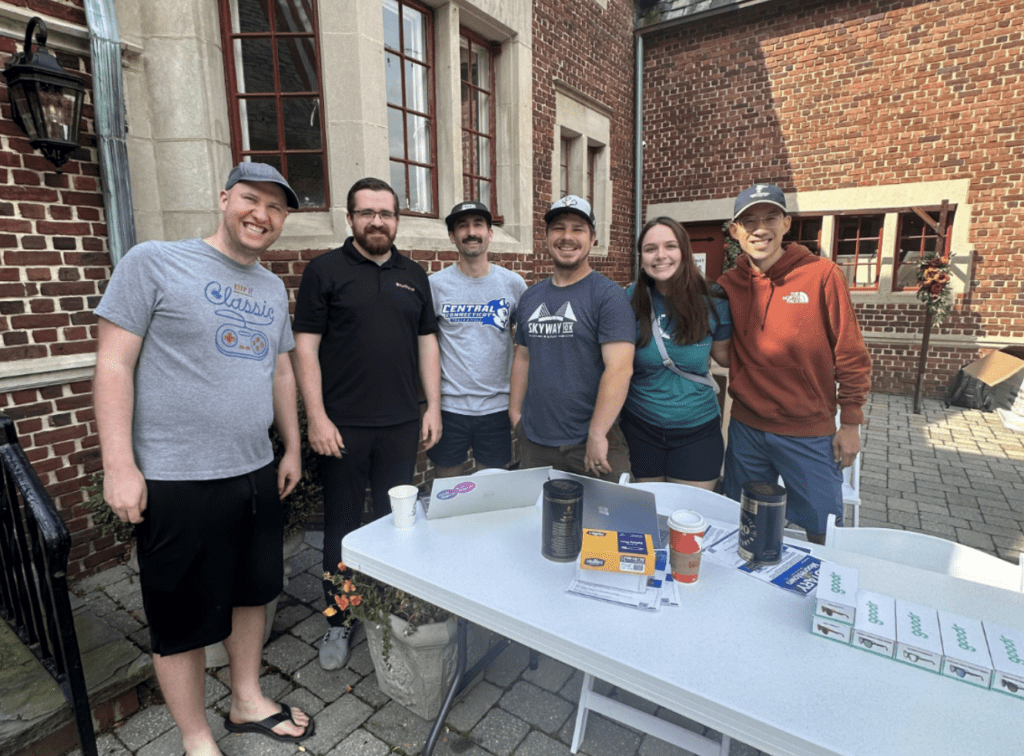 The Sales and Account Management team came together in Richmond, VA the second week of June. We were going to participate in the SportBackers Corporate Challenge Race, but Jordan was injured so we blew a bunch of smoke down from Canada to postpone the race.
The Development team came together at the end of June in Moorestown. We had Ryan Morris from Delmo Sports come in and talk with the team about how customers use our products and what they wish for from RunSignup. The best part was a slide he had of 4 wish list items he wanted. One was for a redo of the Questions dashboard page, which had just been released. He actually went over and shook Justus Fee's hand, thanking him for the development work he had done. The whole room clapped. More importantly, we all went away even more motivated to work hard for our customers. Here is his slide on the best features of RunSignup: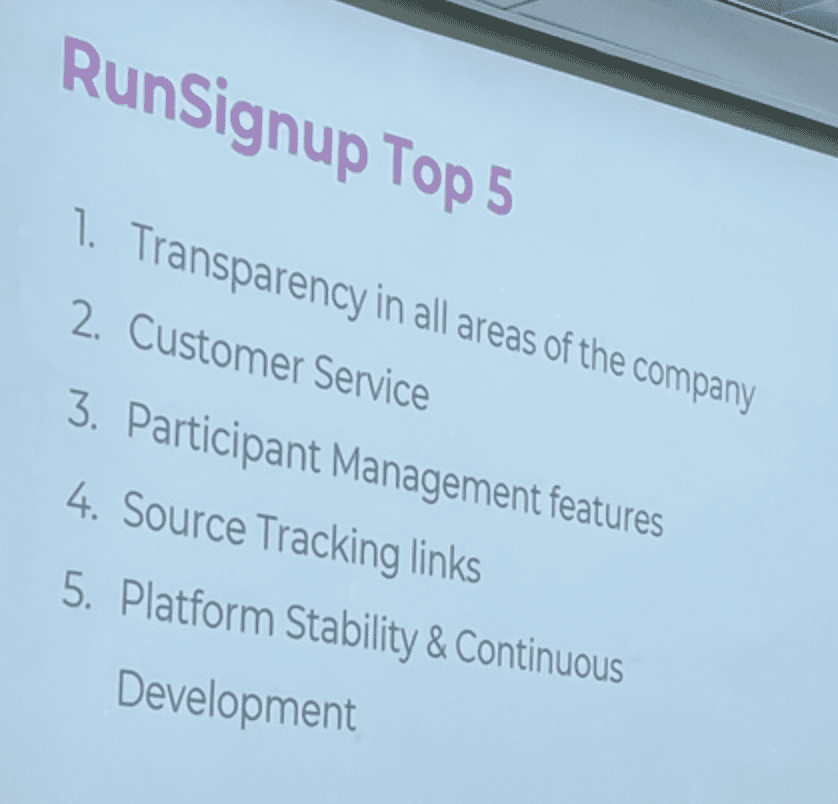 To cap things off at the development meeting, we had a Game Night. Andrew Burke puts this together and he went all in this year. Even grew a mustache and dressed up for our Ted Lasso game night, including Ted Lasso inspired Jeopardy: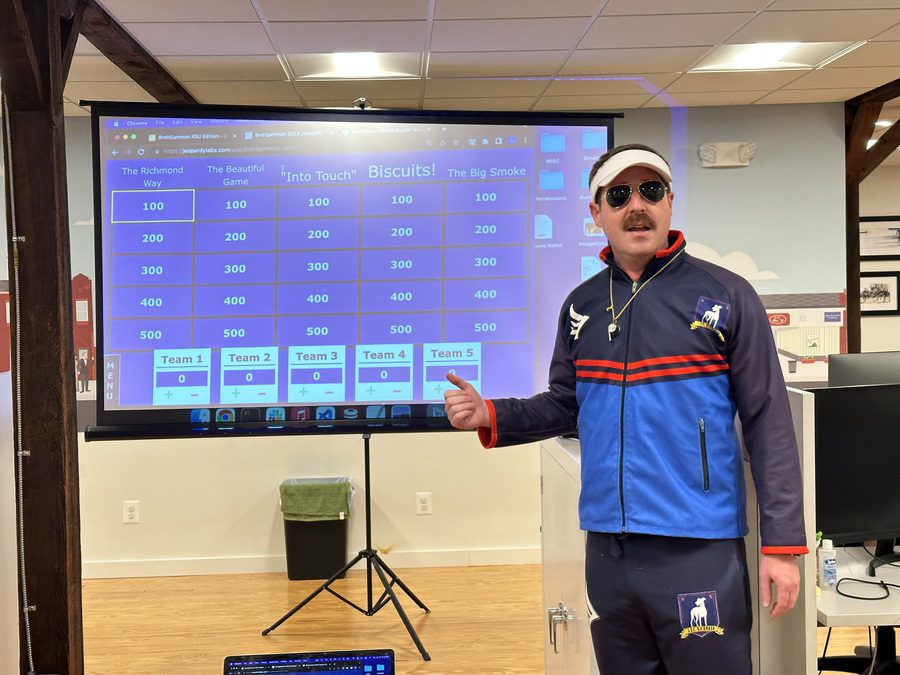 Summary
We are executing well on our long term strategy we explained in this blog. Staying focused on solving customer problems, charging a fair price, and keeping our employees motivated. The fact that we have reached stable growth rates and profitability provides comfort to our customers, employees and shareholders (all of our employees). We are in this for the long run.