Update 9/15/2023
Please see the below blog for a full explanation of the changes to Facebook Fundraisers. We will be reversing the temporary end date of 10/31 that we send to Meta on 9/18 to align with Meta's switch to Paypal for donation payouts. Following this change, only nonprofits that have switched to PayPal for donation payment processing on Meta will be able to continue using the Facebook Fundraiser integration. Learn more about the changes and what nonprofits need to do here: https://www.facebook.com/help/250021554475530?helpref=about_content.
8/31/2023
Meta abruptly announced yesterday that they are no longer covering payment processing fees for donations and are switching to PayPal for donation payment processing. They also disabled support of Facebook Fundraisers that go past 10/31. Learn more about the changes and what nonprofits need to do here: https://www.facebook.com/help/250021554475530?helpref=about_content.
This change resulted in errors when fundraisers try to create a Facebook Fundraiser on GiveSignup for an event that starts after 10/31. It also impacts ALL Facebook Fundraising on Meta's platform, including when someone creates a fundraiser on Meta.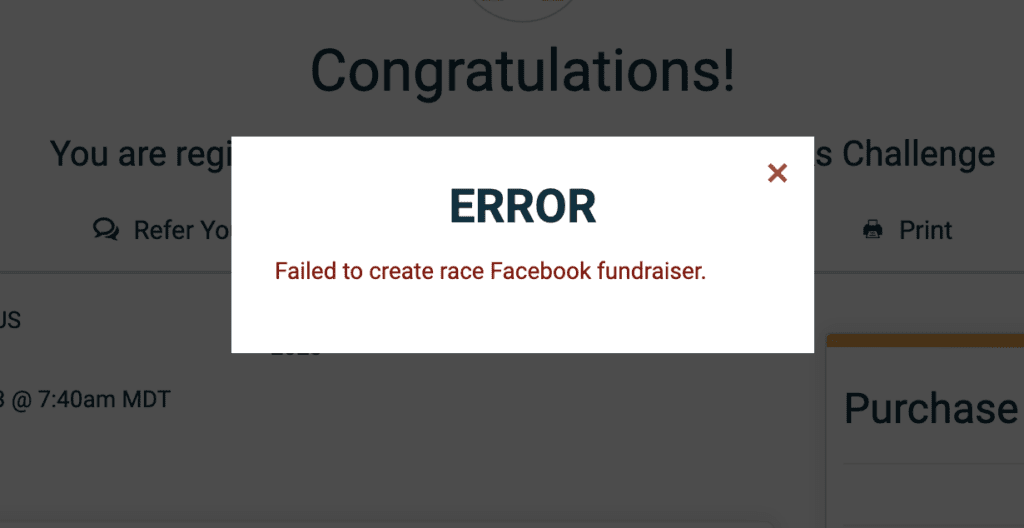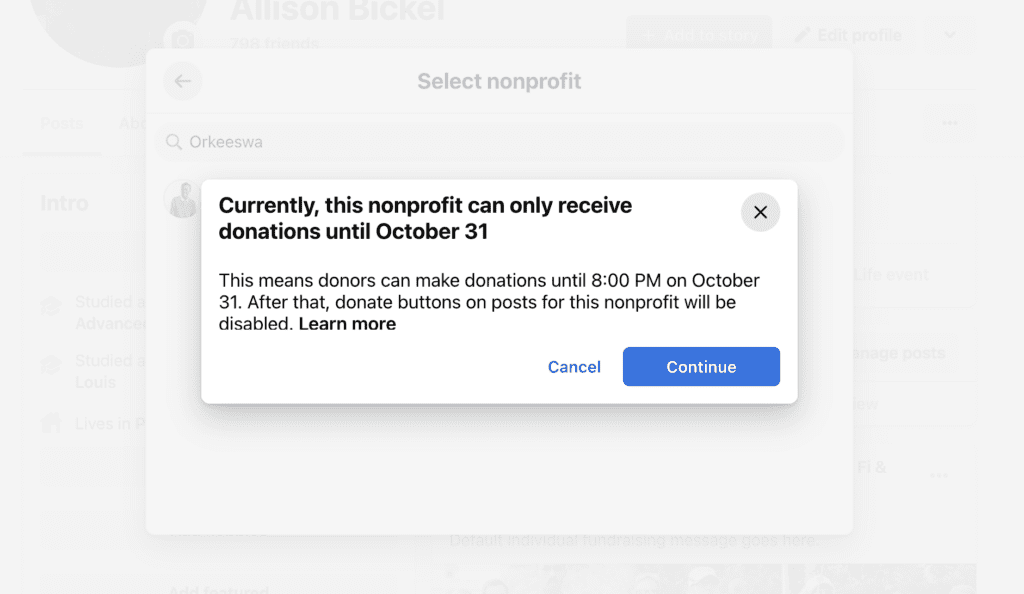 Meta's initial email to integration partners was sent after the changes had been made. They did not provide a heads up about potential errors with the GiveSignup – Facebook Fundraiser Integration.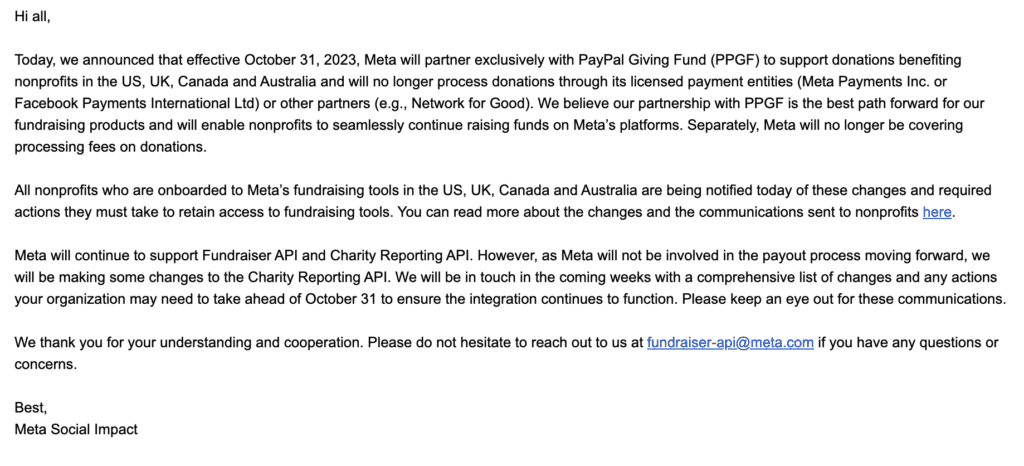 We asked Meta for a follow-up about these changes due to reported errors seen by customers. We received this email in response.

What Does This Mean?
Meta is no longer supporting nonprofits. Meta is no longer covering donation processing fees. Nonprofits will need to cover PayPal's processing fees (no option to pass them on to the donors). We've documented repeated issues with the Facebook Fundraiser integration since 2022, which emphasizes that this is not a sudden change. Nonprofits do not help Meta's strategy, so Meta will no longer support nonprofits.
Nonprofits need to switch to PayPal for fundraising on Meta by September 15th. We cannot help with this, but you can find Meta support documents here.
There is no good solution between August 30th and September 15th. As detailed in the above email, Meta has put nonprofits and platform partners like GiveSignup in a bad place. Even if nonprofits switch to PayPal today, the changes to support PayPal payment processing will not be available until September 15th. Meta's changes are causing disruptions and errors for nonprofits that use Facebook Fundraising.
GiveSignup is helping nonprofits navigate these changes. We are putting out an update today to help mitigate errors when fundraisers create a Facebook Fundraiser for an event with an end date past 10/31. We will send Meta an end date of 10/31. Their GiveSignup fundraiser will still be able to accept donations until your event's actual end date. Once Meta supports the new payment processing method, we will roll back the 10/31 end date that we send to Facebook. Nonprofits that have switched to the new PayPal payment processing will hopefully be able to continue using the GiveSignup-Facebook Fundraiser Integration. We cannot guarantee that the integration will work – that is dependent on Meta, not GiveSignup.
GiveSignup continues to invest in Peer-to-Peer Fundraising Event technology. We are really disappointed with the end of Facebook Fundraising as we know it. Back in 2019, we were the first platform to offer the integration at scale and for free. Andrew Burke actually went to the Facebook office to track down the engineers building the integration. He convinced them to work with us as their first platform partner to open up the integration beyond a few top charities! While technology changes, we continue to bring that energy to new ways that we can help nonprofits raise more money – like adding Apple Pay for standalone donations.