GiveSignup introduced Email for Organizations in 2022 to make it easier for our customers to transition away from expensive email services.
Email V2 is built into every race dashboard and all customers can access free email through their event. Email for Organizations takes email to the next step, creating a place for you to send emails across all your events. This is ideal for emails like newsletters, event summaries, or multi-event promotions. Email for Organizations is integrated into your event platform and automatically pulls in dynamic data about your event participants. More than that, GiveSignup's email platform is easy to use, looks professional, and continues to improve (did you see the recent Prebuilt Email Templates release?)
Deciding to Move to GiveSignup Organization Email
In 2023, we followed our own advice and stopped paying for expensive email services. Our paid email service cost us tens of thousands of dollars that we thought we needed to spend because email is an important part of our marketing strategy. In weighing whether or not to change, we evaluated the concerns and benefits of switching:
Benefits
Our existing platform had a lot of bells and whistles that we don't need.
Our existing platform did have a sync with our data, but there were several steps to the integration and when issues arose it could be challenging to track down where the integration went wrong.
We have large email lists, making most paid email services prohibitively expensive. GiveSignup Organization email is free for us, just like it is for our customers.
What better way to understand our technology than to use our technology?
Concerns
Keeping our data segmented and organized so we can send people what they want (and not what they don't).
The time and effort required to troubleshoot and learn new technology processes. Inertia is a big excuse for not changing!
As you can tell, the benefits clearly outweighed the concerns, and in Spring 2023 we initiated the steps to make a switch.
26 Custom Email Lists
Largest List of 150,000+
Longest List Upload: 72 Seconds
Making the Switch to GiveSignup Organization Email
Once the decision was made, we started the process of setting up our new email platform. These included:
Create a List Structure: Take stock of our current list setup and any changes we wanted to make on the new platform.
Create a Plan: Establish a protocol for keeping our lists updated. While we use some automatically updated custom lists (like registrants for our RunSignup Roadshows), many of our lists are custom lists. We implemented a process for updating lists regularly.
Export Current Data: Export all our lists from our previous platform and clean the lists up to remove bad emails.
Create Organization Email Dashboards: Setting up our GiveSignup Organization Email dashboards was simple via a quick setup wizard. You just need a GiveSignup payment account to tie it to.
Upload Lists: We created each of our custom lists and uploaded the appropriate contacts. While there is no limits on the number of lists or the number of contacts that can be on a list, there is a 100,000 limit on emails within a single upload. This meant that for our largest lists, we had to break the list into more than one upload. Luckily, the uploading speed is exceptionally fast – our longest upload took just 72 seconds.
Transition Unsubscribes: It's always important to comply with anti-spam laws and avoid sending emails to people who don't want them. We exported all our previous unsubscribe lists, and added them to the unsubscribes on the GiveSignup system.
Template Setup: Many of our emails fall into one of a few brackets, such as newsletters, webinar invites, and event invites. To make the sending process easier, we used the drag & drop email builder to create templates that would serve as a base for future emails.
Start Sending! With all the setup done, we pulled the plug on our previous email platform. We started sending all communications from GiveSignup Organization Email in late May, 2023.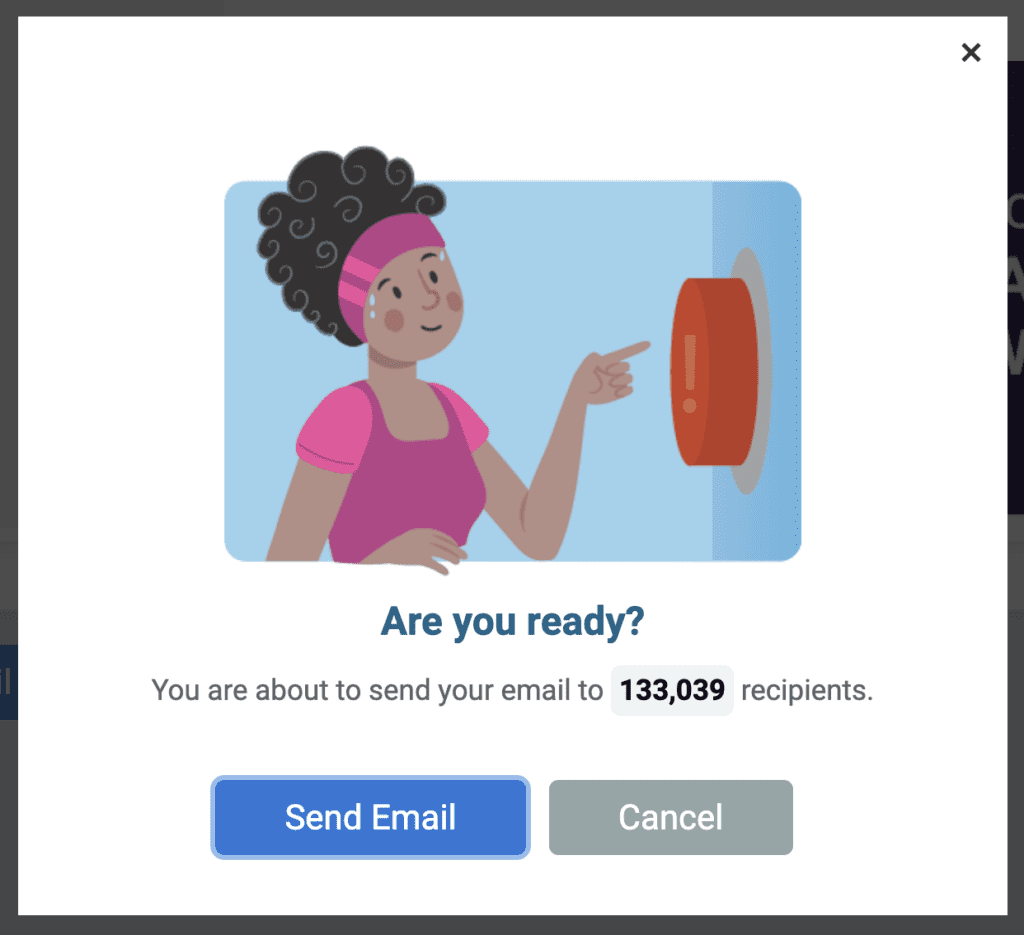 Open Rate Increased 27%-32%
Click Rate Increased 5%-10%
Bounce Rate Fell 3.2% to 2.5%
The Results
We trust our technology, but any change can be nerve-wracking. With about three months of data on our email sends, we can do what all marketers do: evaluate the numbers. In addition to switching platforms, we have reduced the number of emails we're sending to focus on more aggregated emails and improving our open and click rates.
Our early results are encouraging. We accomplished the goal of sending fewer emails (57 in 2023 compared to 91 in 2022), and our engagement improved.
Our unique open rate has increased from 27% to 32%.
Our unique click rate has doubled from 5% to 10%.
Our Bounce Rate fell from 3.2% on our old platform to 2.5% when sending from GiveSignup, and we expect that average to continue falling. In the last 7 weeks of sends, the bounce rate hovered around 0.5%.
Our unsubscribes have stayed at or below 0.01% for each send.
Emails are Easy to Create
The email builder is super-simple to use. The flexible column options (1, 2 or 3 columns) makes it easy to organize our content. And Image Gallery is already a game-changer, saving our images for easy re-use.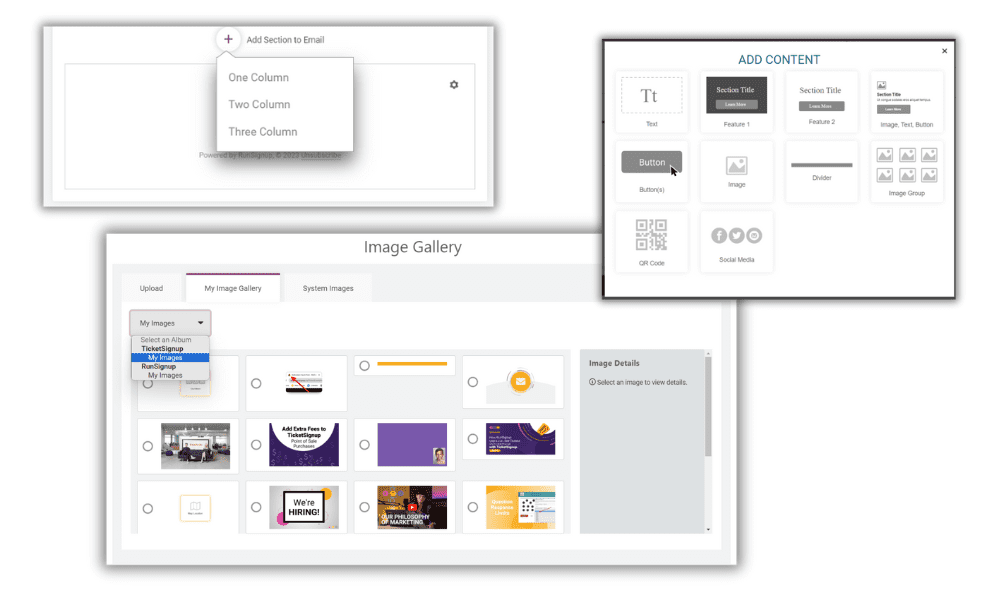 Emails Look Great
We prefer the look of our emails now compared to those on our previous platform. Each email customizable to match our products, and every email is mobile responsive for easy reading on a phone.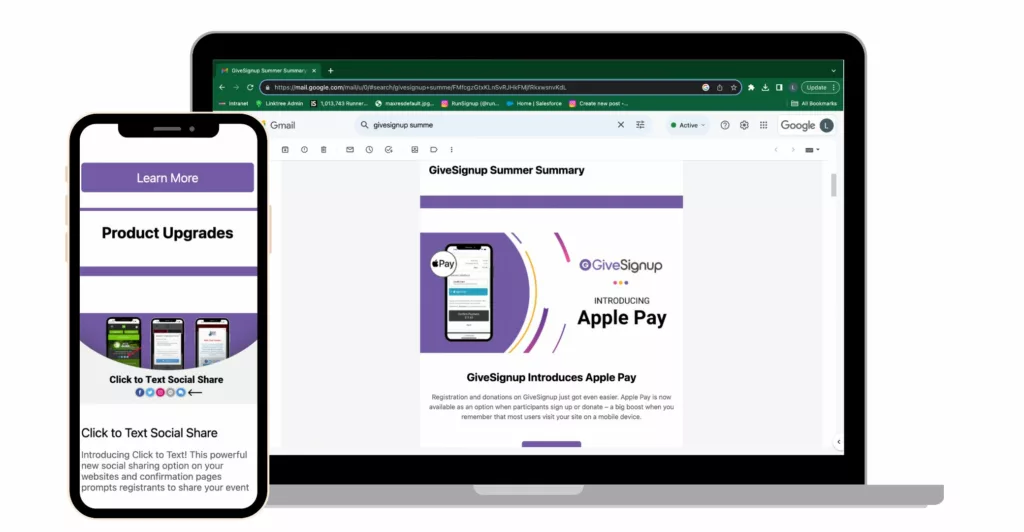 Taken together, we are thrilled with the results of moving GiveSignup to GiveSignup. Interested in saving money by moving your email to GiveSignup? Learn more about Email V2, available on your event dashboard, or get started with Email for Organizations to send email to your contacts outside of your event.
We didn't just move over our GiveSignup email marketing, we moved all digital communications pertaining to our entire company: RunSignup, TicketSignup, and GiveSignup.