As we enter a new year, we are producing multiple blogs that give a full 2021 product recap, 2021 RaceDay Recap, a 2021 business recap, a product roadmap for 2022, and this one — which will talk about our overall company goals for the future, the foundation of our company, and our strategy moving forward.
Events
Our chosen market is events. We started by building technology for endurance events. We have expanded to help nonprofits with their fundraising events. And we will be expanding further in the coming years, as our ticket and base platform can be used by commercial customers for other event types, like multi-day agritourism. We help our customers generate revenue and save them money by creating technology that they can use and control themselves, with an open platform that works with other systems our customers use.
The past two years have been challenging for our event customers. We have tried to adapt rapidly to help with our technology solutions — creating new forms of virtual events, challenges, and hybrids. We have also tried to provide education and work with customers to navigate this difficult time since it is so important for our customers to keep their relationships with their supporters active, current, and meaningful. In many ways, we are in a stronger position today because of going through these challenges with our customers — listening, learning, adapting, and continuously trying to improve.
Growth Is our Goal
What is the best way to create something positive and meaningful for our employees, customers, and investors? Our answer is simply to grow while running a profitable business.
Our overall goal is to grow the company based on the foundation of technology and guiding principles we have established over the past decade. We have a specific goal of helping our customers generate revenue and fundraise over $1 billion each year by 2026 (or maybe 2025 if we get lucky). In 2021, our customers generated over $300 million in transactions, and we forecast about $450 million in 2022.
Foundation
We have three foundations our business is built upon: technology, continuous improvement, and our guiding principles.
Simply put, we know how to build software for our specific target markets in a way that puts our customers in control of their events. We have an exceptionally robust platform, as described below. The rich set of features gives our customers power to grow their events and engage with their supporters in meaningful ways. In our chosen markets, we provide unique advantages that help customers market and support their events to maximize revenue and lower costs.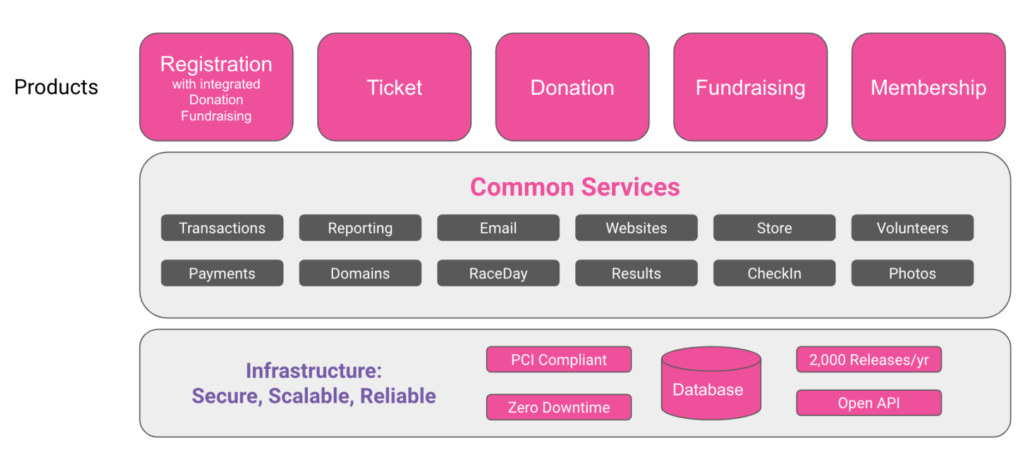 Our software also continually improves with over 2,000 releases to our SaaS service each year. And our whole company is designed around taking customer feedback and putting that into action with a development environment that allows us to change, and change quickly. This has obviously been put to the test, as we have created whole new sets of capabilities over the past two years to allow customers to have virtual engagement mechanisms and offer hybrid options. And even with all of this change, our software is stable, with only four minutes of downtime since 2015.
Of course, that technology comes from the great team and processes we have developed based on:

The first virtuous circle describes our belief of what motivates our team. We love to work hard, learn every day, and have fun. And we like to do that with a team — to share the highs and lows.
The second virtuous circle allows us to have a very efficient organization, in which everyone takes responsibility and there is trust in each other.
The third virtuous circle also goes by the name of "the three legged stool," in which there needs to be balance between the three primary parts of our community. In the past, employees have been the sole owners. As we grow, we will likely have additional outside investors. We will be careful to select positive contributors in which our entire community will benefit and grow.
Strategy
Events. We fundamentally build software for events to use during their entire lifecycle — promotion with things like free websites, free email, and referral capabilities; registration for events with participants and tickets for attendees with integrated store purchasing and advanced payment processing and reporting; advanced and tightly integrated fundraising and donation capabilities; and event day technology like checkin, photos, results, scoring, and, coming in 2022, point of sale.
Free Software Based on Efficient Payments Model. This is a new generation of business model for many customers who are used to subscriptions. It has a number of inherent advantages — all stemming from the fact that we are sitting on the same side of the table as our customers. Our common goal with our customers is to increase their revenue since we will both make more money. For example, it is why we have free and unlimited email and free website hosting. It has business benefits for us since it is lower risk for a customer to make a decision to try us out. This lowers our sales and marketing costs and allows us to have lower prices and spend more on software development. And when our customers love our technology, it lowers churn. Here is the business strategy in a graphic: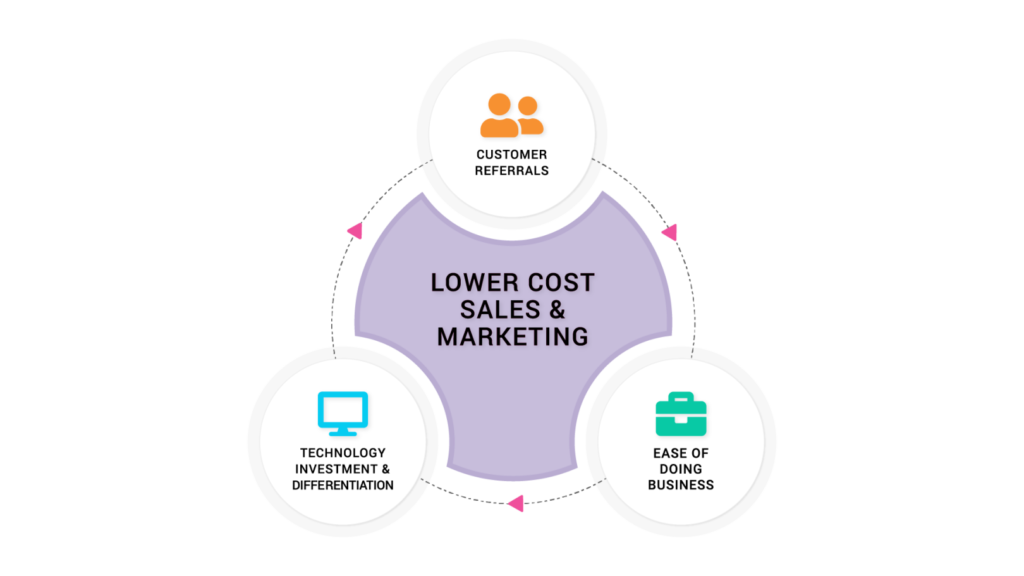 Empower Customer Self-Control. We build all of our software so our customers can do anything they want. We provide plenty of education and support to help, but this puts them in control and not waiting for some vendor to make a change to a website or to update pricing. We feel the next generation of event and nonprofit leaders will demand this level of control.
Single SaaS Platform Database, Multiple Applications, Applied to Specific Markets. Our entire set of tools is all built on a common platform and database. This allows our customers to identify and encourage repeat supporters, and makes it easy for those supporters to do multiple events with our customers. While we built a broad platform, we also make the software specific to target markets. For example, our ticket platform allows nonprofits to offer a donation discount on their tickets if a donation is made.
Multi-Year Product Strategy
We have a strong offering today with long-term plans to provide solutions for our customers to engage with their supporters.
Registration for Participants. This has been our core offering that has been tuned for the endurance market as well as for fundraising events. These types of events need features to keep track of individual participants — in the case of endurance, results, and photos, for example. In the case of fundraising, key products like individual pages that fundraisers can share and customize. There are many other use cases — for example, keeping track of teams or authenticating membership of participants.
Ticketing for Attendees. Our ticket platform has been available for a couple of years and is especially useful for nonprofits as well as multi-day events, like agritourism corn mazes.
Fundraising. In addition to fundraising events, we have also expanded into general fundraising. Whether that is a simple GivingTuesday form or a platform that allows a nonprofit to enable supporters to create and self-manage their own birthday fundraisers fully integrated with Facebook for free.
Admissions and Point of Sale. We will be introducing this in 2022.
Membership. We have a membership system that was designed for running clubs. It has very flexible features for membership types and has the benefit of being tied tightly into the registration system. This enables a club to offer membership discounts to members when they sign up for events and offer new memberships to people signing up for the event. We will be creating a next-generation membership system in 2022 that will allow running clubs, and also nonprofits like museums, zoos, and gardens, to offer membership along with tickets and on-site admissions and checkin.
Volunteer. Similar to membership, we have a volunteer system tightly integrated with our registration system that works very well for endurance and fundraising events. We plan to do a new generation of this in 2023 with more flexible and advanced features that will work with any type of event.
Sponsors. Again, we have a sponsor capability built into the registration system, and we expect sponsor capabilities to get a refresh in 2023 as well.
Cross-Capabilities
Payments & Financial Reporting. The core of our platform is moving money — underwriting our customers, processing credit card transactions, and efficiently managing payments, refunds and chargebacks. We have built a highly automated and efficient system that optimizes costs and time. And since we are a registered payment facilitator, we do it all for our customers and make reconciliation and reporting much easier than having a separate credit card merchant account. This is one of the keys to us being able to save money for our customers.
Websites. We offer free website hosting (including free SSL security) to our customers — not just a simple purchase or donation page. And it allows customers to have their own brand. Add any type of content, make beautiful cover pages, and have fully integrated data components, like photos, results, donation goal thermometers, and trophy showcases. And our customers have full control without having to hire a marketing agency or figure out how the heck WordPress works. Here is an example event that uses us (WoodlandsMarathon.com), and our founder has his own personal website hosted as well (BobBickel.com).
Email. Like websites, we offer free and unlimited email. Upload unlimited contacts, easily pick supporters from the real-time database, and send unlimited emails. We are in the process of rolling out V2 of our email system.
Supporter Database & Reporting. We have purpose-built, easy-to-use, easy-to-export reporting across the system. This makes it easy to find information and see exactly what is happening for an event or fundraising activity. In 2022, we will be adding integrated supporter database integration with our email system. This will allow our customers to send a custom email, for example, to all supporters who have been to more than five events and donated more than $250 in the past year.
Promotional and Analytical Tools. We have a host of promotional tools. One of the most powerful and unique is referral rewards, which encourages supporters to have their friends and family attend events with automated refunds when certain goals are met (e.g., four friends also sign up for the golf outing). We also have powerful social marketing tools that allow for custom Facebook ads and soon even TikTok marketing referral codes. In addition, we have built an easy-to-use and easy-to-understand (a lot easier and targeted than Google Analytics!) metrics into our websites. This allows not only pageview counts, but also specific source tracking so you know exactly where your supporters are coming from (say a specific Facebook ad or Google searches).
Open API. Everything we do is open. We do not own or share your supporter information. We do not show ads on our event websites. And all of the data is available in real time via an open API. This allows us to have tight integrations with nonprofit CRMs, like Salesforce.
Market Strategy
There are many, many ticket vendors, but most of them cast a very wide net on what they target. The market leader is Eventbrite, but their general approach does not solve the specific problems that endurance and nonprofit customers have. There are also many sub-markets where specific features are needed and specific domain knowledge experts are very valuable to customers.
Endurance. This is the market that we started in and now have greater than 35% market share by having specific focus. For example, we have an event day technology development team that has created solutions for timers, like RaceDay Scoring, photos and RaceJoy, that make the events special.
Nonprofit. We are expanding from endurance into nonprofits first because we have so many endurance customers who are nonprofits or work with nonprofits. These customers simply need better technology than Eventbrite, so they can raise more from their events.
Nonprofit Submarkets. We are working in a number of specific sub-markets, such as animal shelters, rotary clubs, and YMCAs. By working with a sub-market, we can develop specific solutions that work well for one animal shelter, but we can introduce that to many other animal shelters to help more customers.
Ticket-Specific Markets beyond Nonprofit. With the great ticket platform we have built, we have begun to work with some of our existing customers who need a ticket platform for some of their events. The one area where we seem to have built a number of nice features is multi-day events, like agritourism. We've had some nice early success with jack-o-lantern and Santa light shows this past fall. For example, we have features that make it easy to handle multiple days and time slots — setting different caps and pricing (Saturdays are more expensive than Wednesdays, for example). We also have a very nice solution that allows ticket buyers to change time slots on their own after they have their tickets, and even charge extra for changes as an additional revenue source.
Summary
Yes, we are an ambitious company. We love to build out technology that we have heard will help our customers. And we are energized when our customers grow their revenue and lower their costs.