As we enter a new year, we are producing multiple blogs that give a full 2021 product recap, 2021 RaceDay Recap, a 2021 Business recap, our Vision for 2022 and beyond, and this one — which will talk about our product roadmap for 2022.
We have a single, robust, highly available platform and integrated database that we build all of our products and features on: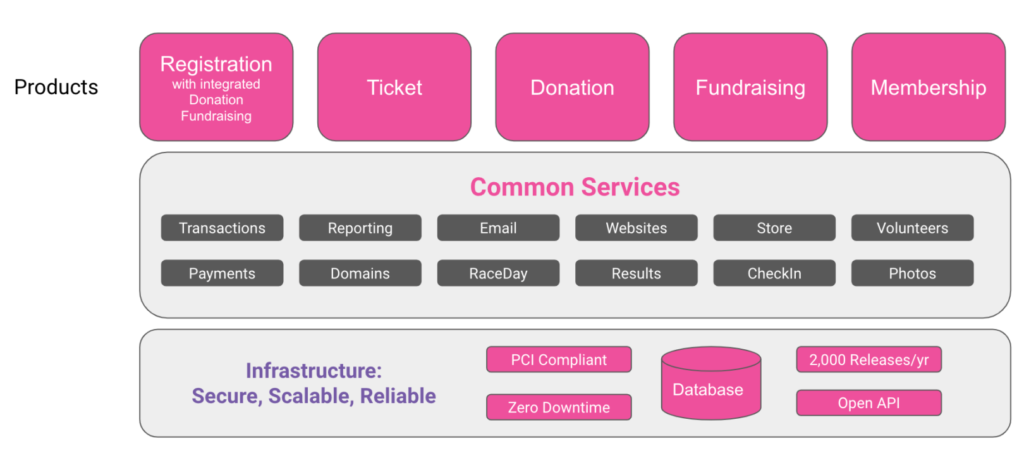 This allows us to reuse features like payment processing, email, and websites across offerings, such as registration, tickets, and fundraising. We continually make investments in the core offerings and to the specific products and features that are useful to specific markets we address, like endurance and nonprofits. Below are some of the highlights that we have planned for release in 2022.
Email
Email is one of the most used features across our platform, with customers sending over 30 million emails a month for free. We are in the midst of a major roll out of a next-generation email system. Here is the multi-phase plan. We are currently working on a new email editor and template builder with our ticket and donation/fundraising offerings that should be released this January. After that, we will create a general purpose email offering that customers will be able to use for their race registration email. Over time, we will add all of the automated email capabilities built into the race registration product.
Here is a sneak peek at the Template Creation Dashboard that enables customers to build their own reusable templates: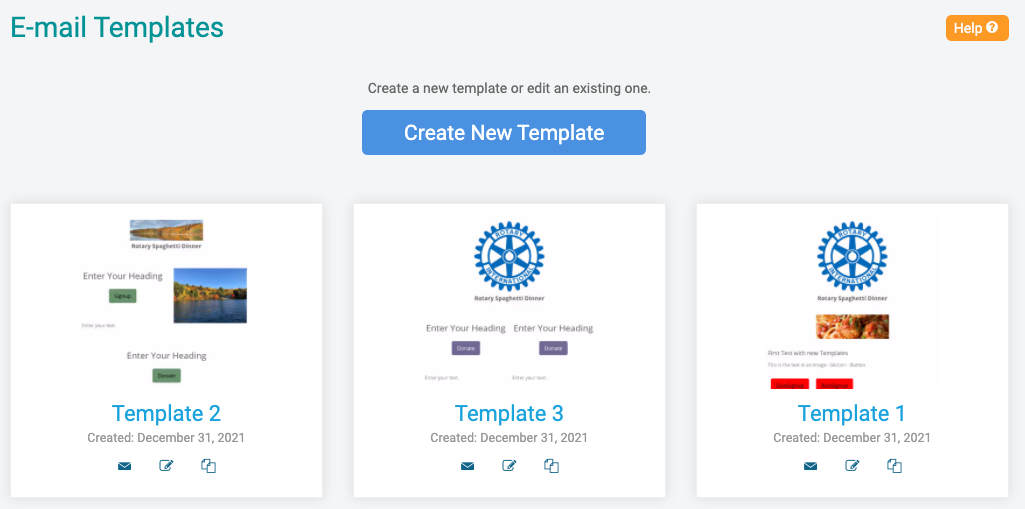 Websites
Along with email, our websites are the most used feature of our product to market an event. And like email, we are in the midst of releasing a next-generation set of capabilities. This functionality is now available on our ticket platform and our donation platform. Customers can bring their own domain, and we will host it for free with full content capabilities, as well as the integration of signup, donation, fundraising features, and data display. Unlike other solutions that limit you to a single page or even show ads for other events on your page, our customers can have a full website that is totally their own — for free.
Our next step is to allow for a website to be built standalone. This will allow customers to use our website builder for anything, and it will allow us to incrementally add partner and race features, like a calendar of events, results, and all of the feature race registration customers use in their current websites.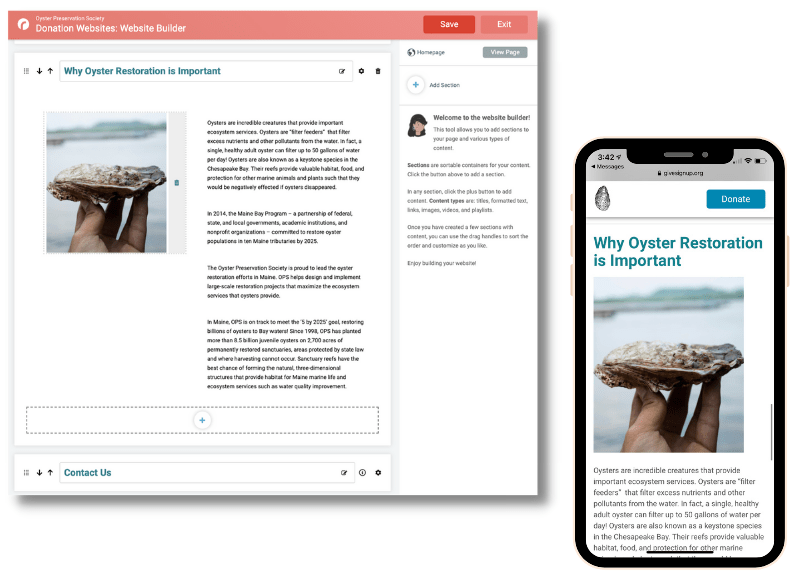 Endurance – Race Day
Our endurance customers are the core of our business. Our registration system has been built out over the past decade to be very robust with many industry first features. We have expanded this considerably over the past couple of years to create new virtual and challenge features that have been important to our customers during the pandemic. With live events coming back in the second half of 2021 and likely in 2022, we are continuing to pour efforts and resources into our RaceDay Team. Our core offering is RaceDay Scoring, used by timers to score races and post results. In 2021, we had 37 releases, including major advances for teams, cross country, and lap races. In 2022, we will continue to build out the product aggressively based on customer feedback with ease of use and cloud-based backups and integration high on the list. We will also be releasing a major new update to RaceJoy. The CheckIn apps will also continue to be updated.
In addition, the RaceDay team is being expanded to be the EventDay team and will be taking on the challenge of creating point-of-sale solutions for us.
Tickets
We have seen very large growth in the use of our ticket platform in 2021, and we have a ton of things we will be adding to help our expanding set of customers. We will also be expanding the use of the ticket platform from nonprofits to commercial customers as well (fully functional sneak peek at TicketSignup.io). We talk about this more in our 2022 and beyond vision blog. This is a partial list of some of the highlights we have planned for 2022:
Reporting. We are improving the current reporting mechanism to allow better searching, filtering, and sorting.
Store. We are working on the concept of a warehouse to be able to be used by multiple events. We will also be including a standalone store capability.
Ticket Management. We introduced some great capabilities in 2021 for customers to change their tickets, and we will be adding a number of features both for ticket purchasers as well as event directors to manage their tickets. Our experience in the registration platform will enable us to bring many features that are used in the endurance community to ticket events. It is interesting to note that many of the features our endurance customers take for granted are not available in most ticket platforms.
Improved Multi-Day Setup. We made adjustments to the Ticket Creation Wizard to simplify this for most events in 2021, but this made it harder for events with multi-day and multi-time slot customers to set up. We have some unique capabilities here, and we will make those easier to find and set up in 2022.
Improved Multi-Day Selection. We have a nice interface for customers who have multiple time slots on multiple days that shows spots remaining and auto-hides slots that are in the past or are sold out. We will be introducing additional options for display that will give our customers choice in how they setup their website purchase path.
Admissions. We will extend from fixed time slots and days to be more open. This will be useful for museums, zoos, and gardens that need to allow visitors to sign up months in advance.
Point of Sale. In addition to web-based ticket purchases, we will be adding point-of-sale capabilities that will be useful for events and venues with walk-up attendees and visitors.
Sales Tax. We will be adding sales tax capabilities to help commercial ticket sellers with sales tax collection.
Analytics. We will be bringing over features we have in our registration platform to our ticket platform.
Gamification of Fundraising
We have added a number of features to our peer-to-peer fundraising registration product as well as our standalone fundraising product in 2021 and will continue expanding the offering in 2022, with features like milestones and trophy cases.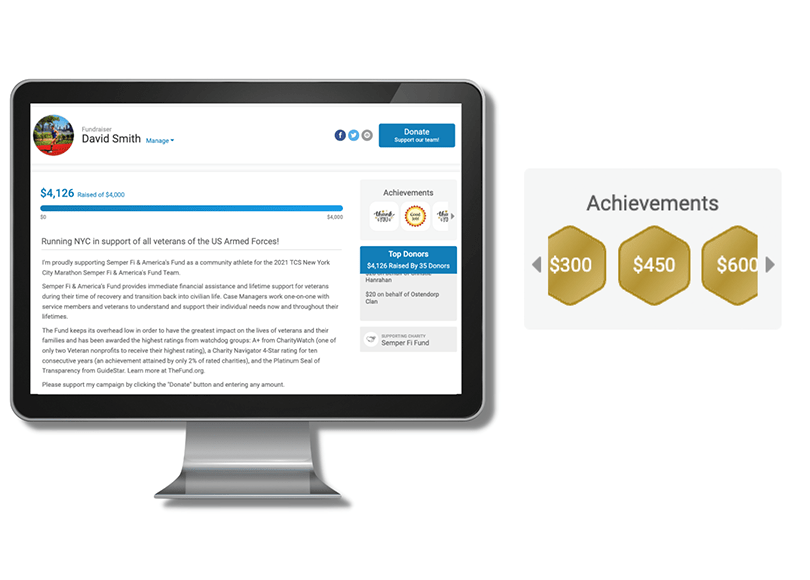 Peer-to-Peer Fundraising Improvements
We are seeing expanded use of our peer-to-peer fundraising registration product, especially with the introduction of the GiveSignup brand. We offer the perfect combination of integrated registration and fundraising capabilities for customers. Nonprofits who did not understand RunSignup see the features we offer and are blown away when compared to the cobbled together solutions, like Eventbrite and Classy, that many have been dealing with. We will continue to get feedback from these customers and work on enhancing these capabilities. In particular, we will be enhancing fundraiser milestones, improving team and category selection capabilities, and integrating our new email system, so we have a next generation of email capabilities for fundraisers to use directly.
Membership
We have a membership system that was designed for running clubs. It has very flexible features for membership types and has the benefit of being tied tightly into the registration system. This enables a club to offer membership discounts to members when they sign up for events and offer new memberships to people signing up for the event. We will be creating a next-generation membership system in 2022 that will allow not only running clubs, but also nonprofits, like museums, zoos, and gardens, to offer membership along with tickets and on-site admissions and checkin.
Text Request Service
The new TXT Service will allow our customers to provide a quick way for their supporters to engage with them from their phones via TXT. It will be available across our platform for any type of interaction. We will also include a QR code for each of these as well. For example:
To Signup for the ScottCoffeeRun, Text "R21" to 49514.
Returns "Please click the link to sign up! ScottCoffeeRun.com"
Or:
To Donate to Epilepsy Foundation of Colorado, Text "D143" to 49154
Returns "Please click the link to complete your donation to the Epilepsy Foundation of Colorado! givesignup.org/DonationWebsite/EpilepsyColoradoDonate"
Infrastructure
Of course, we will be investing in upgrading our infrastructure. We spend a great deal of time on a continual basis doing all of the hard things no one ever sees to make sure we try not to go down (like the AWS Outage on December 7) and doing monthly updates for security purposes and special updates with things like Log4J security holes open up. We make continual enhancements. For example, we recently improved the backup schemes for SQS based on observations from the December 7 AWS outage — the reliable queueing system we use. In 2022, we are going to continue an effort we started in 2021 to increase the testing and automation of new releases. Since we do over 2,000 a year, we do this pretty well already, but we have a number of improvements we want to make. As we continue to grow our development team, we need to make sure we keep enhancing our DevOps infrastructure to keep us productive.
Summary
Yes, we have another year chock full of plans. As usual, we will probably make changes to these plans based on customer feedback and the ups and downs of the event business. We will stay nimble and listen to our customers, and then work hard to try to build software that can grow your revenue and save you money and time. And we promise to continually improve every day.