GiveSignup is your all-in-one technology partner for race registration, fundraising, marketing, and event day management. With GiveSignup it's free to create your event – no subscriptions, no in-platform costs, no minimums, and no contracts. You can save your non-profit thousands with free email marketing, free websites, and a free event day app. Add in comprehensive reporting and marketing tools like referral and custom source tracking and GiveSignup is a no brainer.
See how customers are utilizing GiveSignup this October to power their peer-to-peer fundraising event.
2023 Summit for Life
Customer Snapshot
Benefits: Chris Klug Foundation (CKF)
Event Type: Nighttime Uphill Race
Donation Goal: $100,000
The 2023 Summit for life is an uphill race taking place after sunset, benefitting the Chris Klug Foundation (CKF). CKF is raises money for lifesaving organ, eye, and tissue donations.
Why We Love It
Cover Page
Your website acts as the leading visual for your event, it may be the first thing a potential participant sees when they check out your event. It's important to create a visually appealing and informative layout to best engage with website visitors and guide them to eventually register and become a fundraiser.
The 2023 Summit for Life makes great use of the many dynamic content blocks custom to GiveSignup. For example, they input a countdown clock, fundraising leader boards, custom action buttons, and sponsors.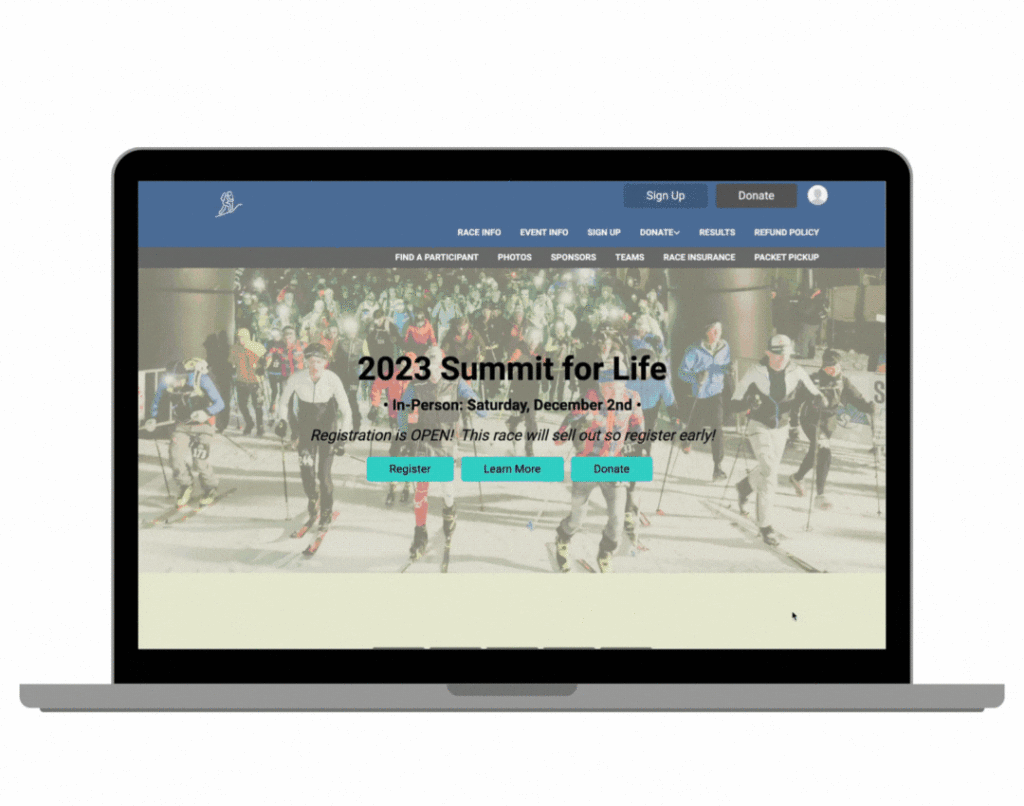 Become a Fundraiser
GiveSignup has many little features that highlight your fundraising efforts. This The Summit for Life changes the sticky header button on the donation page to nudge donors to become actual fundraisers.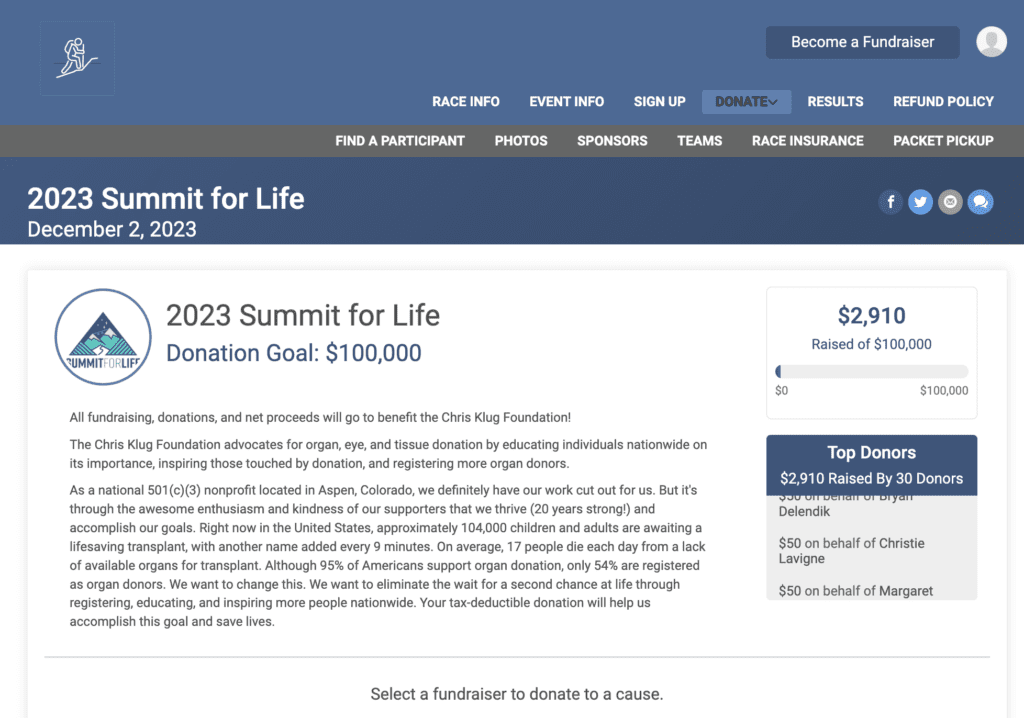 Semper Fi & America's Fund
Customer Snapshot

Benefits: Support for nation's injured service members, veterans, and military families of all branches of the U.S. Armed Forces
Event Type: Standalone Fundraiser
Donation Goal: Unlimited
The Semper Fi & America's Fund has a standalone fundraising event that allows donations all year long. The event includes a few additional outbound links for FAQ's, volunteer interest, and help getting started with hosting an event in support of the cause.
Why We Love It
All Year Fundraising
Semper Fi activates peer-to-peer fundraising events in multiple ways. Throughout the year, they engage charity bib runners at major events (Kathy Wise shares her knowledge on Charity Bibs here).
Additionally, they needed a simple solution for all year fundraising that allows for personal event fundraisers and online solicitations. To set up was as easy as disabling the typical event features. But, just because it's a simple event doesn't mean you loose out on any complex features. Semper Fi still has all of the same features to create a professional website and empower fundraisers. Learn more about GiveSignup's ability to keep fundraising available all year long.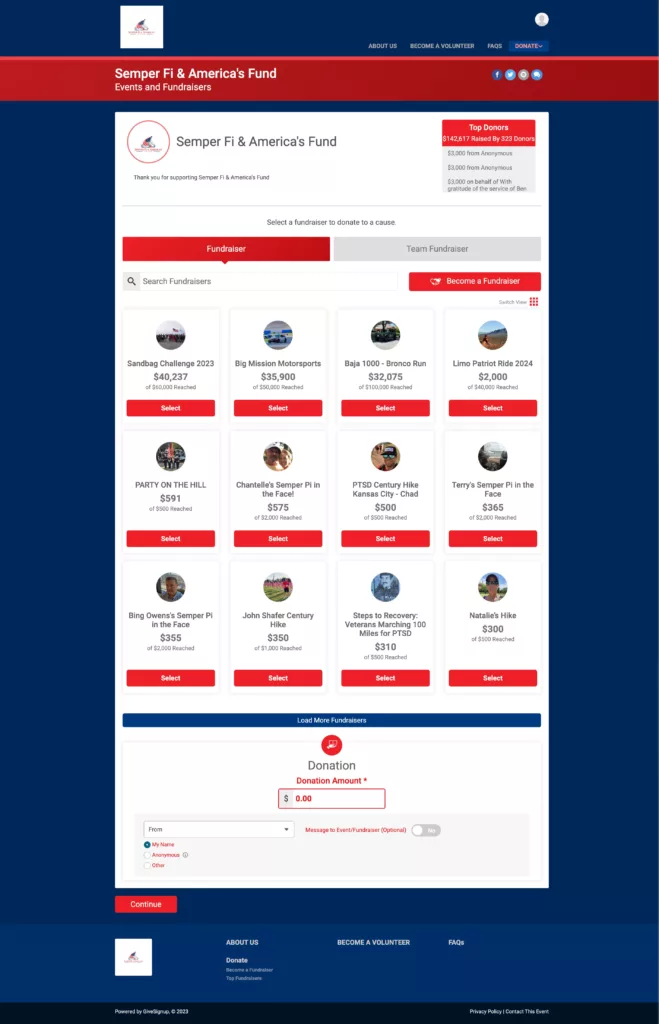 Y Turkey Trot 5K
Customer Snapshot

Benefits: Y Open Doors Financial Aid Fund
Event Type: 5K
Donation Goal: $100,000
The Y Turkey Trot 5k is a community favorite that brings everyone together for a festive morning of good fun and thanksgiving. The event is raising donations for the Y Open Doors Financial Aid Fund that enables access and inclusion in healthy Y programs for all.
Why We Love It
Fundraiser Support
The Y Turkey Trot uses their event website to create an easily accessible resources page for fundraisers. Then, from that page they link out to additional support guides for fundraisers and for participants that just want to donate. The event also has fundraising incentives setup to encourage fundraisers to reach certain milestones. Publicly demonstrating how you will support your fundraisers is a great way to entice new supporters to make the fundraising commitment.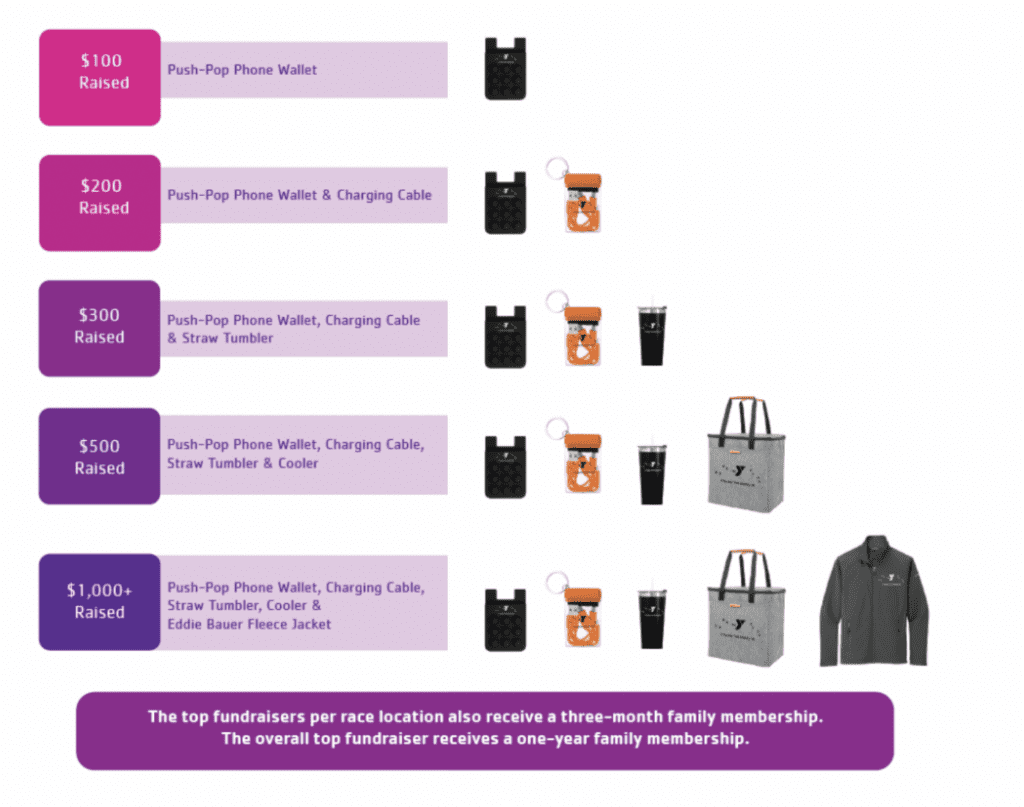 All of the Bells and Whistles
This really leveraged an array of GiveSignup's features. Their website includes multiple custom pages, drop down menus and a beautiful design. Extra effort into your event website can engage new participants as fundraisers and increase motivation. Key features that the Y Turkey Trot takes advantage of includes: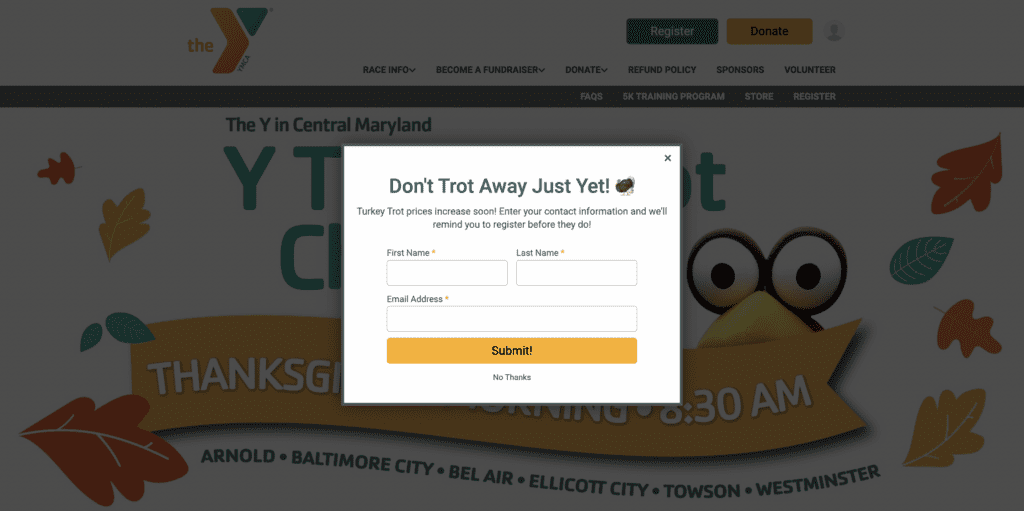 ---
Want More Fundraising Tips?
Learn how to keep your fundraising cause at the center of your event website. Your cause is the reason to participate (and fundraise)!